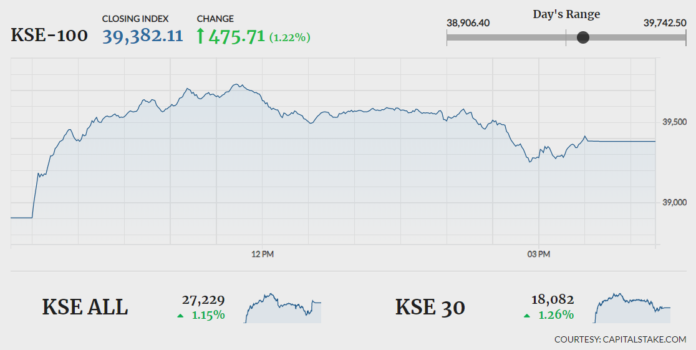 KARACHI: After two lacklustre sessions, bulls managed to regain control of the Pakistan Stock Exchange (PSX) on Thursday, as the indices headed north as soon as the opening bell rang while volumes improved significantly from the last session.
Foreign investors continued to offload equities on Wednesday, recording a net outflow of $3.81 million.
On the economic front, foreign investors during the week ended 28th Feb 2020, withdrew a net amount of Rs18.8 billion by selling local securities. According to a weekly report on Special Convertible Rupee Accounts (SCRA) released by the State Bank of Pakistan, gross sale of securities during the week under review was recorded at Rs43.58 billion, while the total purchase of securities stood at Rs24.76 billion,
Meanwhile, analysts believe that in line with the global trend, Pakistan is also likely to make a cut in its interest rate following a reduction in profit rate for government debt securities.
Gaining 836.10 points, the KSE-100 Index recorded its intraday high at 39,742.50. It closed higher by 475.71 points at 39,382.11. Among other indices, the KMI-30 Index appreciated by 1,598.34 points to end at 62,521.67, while the KSE All Share Index accumulated 309.00 points, settling at 27,228.79. Out of the total traded shares, 227 advanced and 98 declined.
The overall market volumes improved from 186.99 million shares in the previous session to 340.72 million. Fauji Cement Company Limited (FCCL +6.75pc), Unity Foods Limited (UNITY -0.21pc) and Pakistan International Bulk Terminal Limited (PIBTL +8.68pc) remained the volume leaders of the day, exchanging 29.96 million, 25.98 million and 21.49 million shares, respectively.
Sectors that painted the 100 index green included cement (+176.65 points), fertilizer (+117.12 points) and oil & gas exploration (+80.96 points). Among the companies, Lucky Cement Limited (LUCK +88.84 points), Engro Corporation Limited (ENGRO +75.07 points) and Hub Power Company Limited (HUBC +54.90 points) ended as top positive contributors.
The cement sector gained 5.88pc in its total market capitalization, with Lucky Cement Limited (LUCK +6.21pc), Maple Leaf Cement Factory Limited (MLCF +5.98pc), D G Khan Cement Company Limited (DGKC +5.62pc) and Bestway Cement Limited (BWCL +5.29pc) closing with decent gains.