If you are a woman in Pakistan, and you have a bank account, congratulations! You are one of the lucky few. This country has one of the worst figures for financial inclusion for women – no, really. Only 17% of women in Pakistan have a bank account. It is such an abysmal number that at an event held in Karachi recently, State Bank Governor Reza Baqir was mildly embarrassed just saying the figure out loud.
"Why does this persist?", he asked the audience, pointing out that it stands in sharp contrast to the South Asian regional average of 64%. And lest one think it is a 'Muslim' cultural barrier, far from it: the average for majority-Muslim countries stands at 60%, with 90% of Iranian women holding bank accounts, for example.
Still perhaps, we are being a little pessimistic; after all there has been a major improvement over the years. The number of women with a bank account in 2015 stood at only 11%; in 2008, that number was 4%.
Profit points these numbers out to provide a framework in which to think about where Pakistani women stand in the banking industry's eyes – not just now, but historically. In an old country briefing paper from the year 2000, commissioned by the Asian Development Bank, the authors noted hurdles that women have with formal financial institutions in Pakistan: "Commercial banks ignore women clients due to their preconceived views on women's creditworthiness because of their dependency on men for physical collateral, high transaction cost of small loans, and difficulties in gaining information about a borrower's reliability."
The one outlier in this bleak scene? "First Women's Bank Ltd (FWBL)… are the only banks that have small-scale credit programs that cater to women."
The First Women Bank, or FWBL, has been around for women not just since the year 2000, but since its inception in 1989.
And you can tell the bank is from 1989, based on its gaudy, pink and purple logo, with its very 80s-esque font, and its somewhat 90s-esque 'rural-woman-sewing'-type advertising. It is a bank disguised as an anachronism, that stands out amidst newer, privately run, just slicker banks, (that also have been amping up in how they cater to women). 

But before those banks, there was FWBL. When people were just catching on to the 'microfinance-is-a-net-good-for-women' bandwagon, there was FWBL. Before FINCA, before Akhuwat; it was FWBL that pioneered service and banking solutions for women. Since its inception, the bank has catered to 51,661 customers, who received loans worth of Rs66,662 million, with over 90,000 customers who maintain savings accounts at the bank.
It is important to recognize why FWBL is so important, even if for most of the last decade, it has had a pretty unimpressive growth record. But last year, after years of either sluggish growth or abject losses, FWBL actually managed to record a generous profit. Profit spoke to acting CEO Naushaba Shahzad, who was appointed to that position in October 2018. 
First, some history
FWBL was set up on November 21, 1989 by Prime Minister Benazir Bhutto, the first woman to become head of government of a Muslim-majority nation, with much fanfare.
"Let the Women's Bank be a pioneer in helping Muslim women secure economic independence and career satisfaction, within the cultural ambiance and social values of an Islamic society." she said, at the bank's commencement on December 2.
Cultural pandering aside, FWBL quickly got to work. The premise of the bank was simple: it would cater to women at all levels of economic activity, including micro, small, medium and corporate. It was the first commercial bank to launch microcredit in Pakistan. 
The bank's unique credit policies mean that it finances businesses where either women have 50% shareholding, a woman is the managing director or women employees make up 50% or more of the total workforce. It is also the only bank in Pakistan which offers women single and joint accounts, without any minimum balance requirements or penalties on low balances.
FWBL had an initial paid up capital of Rs100 million. About 90% of that came from the five state-owned banks at the time: the National Bank of Pakistan, Habib Bank, Muslim Commercial Bank (now MCB Bank), United Bank, and Allied Bank. The remaining 10% came from the federal government. 
While the minimum capital requirement to run a commercial bank in Pakistan is Rs10 billion. The State Bank of Pakistan relaxed these rules for FWBL, and changed it to Rs3 billion. 

The bank's first president was Akram Khatoon, a former banker at Muslim Commercial Bank. In what would prove to be a serendipitous move that would pay off much later, Khatoon convinced another, much more junior banker at MCB to follow her: Tahira Raza. 
A Peshawar University graduate, Raza had joined MCB in 1975 right after her graduation. Her first job was an entry-level officer at MCB's Peshawar Branch, where she handled cheques and daily ledgers. 
However, over the years she had increasingly become annoyed at how her male peers seemed to be getting ahead in their careers, while her own promotions (and salaries) seemed stalled. Raza jumped at the chance to be a part of a women-led organization, and became an assistant vice-president at FWBL. She also set up the bank's credit department (more on her later). 
When most people think of FWBL, they think of two names: Tahira Raza, mentioned before, and Shafqat Sultana. 
Shafqat Sultana had started her career at the exact same time as Raza in 1975, except in her case, at UBL. She was manager of the UBL branch at Pearl Continental in Rawalpindi in 1988, when she too, jumped at the chance to be assistant vice president at FWBL. Her first task was to set up the FWBL branch in Rawalpindi. 
Sultana quickly became the 'branch expert'. Between 1990 and 2001, Sultana established 13 branches in Khyber-Pakhtunkhwa and Islamabad (she was posted in Islamabad). Then between 2001 and 2009, she established 15 branches, while posted in Sindh.
In 2009, Sultana was appointed the President of FWBL, a position she held until 2014. It makes sense that as the resident branch expert, one of her first tasks as president was to start a decentralization policy. Previously, branches were divided into four sectors and managed by three regional chiefs. Sultana instead told managers to be in charge of clusters of 4 branches in different areas. 

It is also under Sultana that the bank became a solely public sector financial institution. After four of the five major state-owned banks were privatised, FWBL's shareholding also moved from public to private. In 2010, MCB Bank held 26.8% of shares; Habib Bank, 25.32%; the National Bank of Pakistan, 8.93%; UBL at 8.93%; ABL, 8.96% and the Ministry of Women Development, 19.62%.
For comparison, today, the Ministry of Finance holds an 82.64% share in the bank. Habib Bank has a 5.78% stake; MCB Bank, 5.78%; Allied Bank, 1.94%; National Bank of Pakistan, 1.93%; and UBL, 1.93%.
But despite the changes implemented, FWBL continued to grow at a sluggish pace. Consider, when Sultana started out, in 1989, FWBL had five branches across Pakistan. By 1993, this had expanded to 23.  But in 2010, the bank had only grown to 38 branches; by the time Sultana left in 2014, the bank had only 41 branches. Under Sultana, the bank declared a profit before tax of Rs95 million in 2012, but then also saw a loss before tax in 2013, at Rs222 million.
Instead, Raza was brought in. She had worked at FWBL until 2003, when she pivoted to National Bank of Pakistan. She became senior vice president at NBP in 2012, before leaving in 2014 to become the president of FWBL in 2014. Under Raza, FWBL had around 420 banking employees, 290 of whom were women. It saw around 68% of its 100,000 account holders be women. Also, under Raza, FWBL took the decision in 2016 to also offer loans to men.
The Raza years also saw some pretty dismal financial statements, the worst being 2018. According to the company's latest financial documents, the bank declared a loss before tax of Rs666 million in 2014. It then somewhat improved, declaring profit before tax of Rs34 million in 2015, and Rs4 million in 2016, before once again nosediving and recording a loss before tax of Rs116 million in 2017. 

The loss before taxation for the period ending 30 September 2018 (the most recent publicly available financial statement) was Rs105.4 million (just for comparison, the loss before tax for the preceding period was Rs139 million).
Non-performing loans also shot up during this time period. NPLs shot up from Rs763 million in 2013, to Rs1.4 billion in 2014, to an all-time high of Rs1.96 billion in 2016. For the period ending 30 September 2018, NPLs remained at Rs1.7 billion. The bank was only able to recover Rs178.4 million. (In 2017, it was able to recover Rs201 million out of the Rs1.6 billion worth of NPLs). 
It was in the years of 2017 and 2018 that there was talk of closing the bank for good. 
But enter Naushaba Shahzad
Naushaba Shahzad is very much a part of the FWBL original family. An MBA holder from IBA, and gold medalist at Punjab University in statistics, Shahzad spent 25 years at FWBL.  For most of that time, she headed the risk management division, financial services desk and the bank's credit portfolio. During her time, there was a threefold increase in the bank's credit portfolio, while the classified portfolio was reduced to 1.51%.
Shahzad, on FBWLs's website, is literally described as 'a woman who delivers in crises'. And did she deliver. One of the things Shahzad is most proud of is the fast turn around of the bank. 
"When I took over the charge as acting CEO/President in October 2018 the bank was running in losses in excess of Rs200 million. By taking the right steps in the right direction and working hard day and night, the bank has now turned into profits and has recorded pre-tax profits of Rs282 million." Shahzad said. 
Let us pause to actually consider just how amazing this is. FWBL in the last eight years did not see anything close to that range of profits. According to Shahzad, the remarkable performance convinced the external rating agency to improve its rating outlook from 'negative' to 'positive', based on just six months of performance. 

Not only did pre-tax profit increase by 372%, but advances increased from Rs10,740 million to Rs11,624 million. Shareholders equity rose from Rs3527 million to Rs3793 million, total assets from Rs23,351 million to Rs23,901 million, while profit per share increased by 200%.
How was this achieved? Shahzad credits her years within the FWBL system as preparing her for this: it was almost like she was waiting to implement her changes. "Since I have a long association with the bank and am fully aware of its strengths and weaknesses, that gave me an edge to quickly come up with the most appropriate strategy and corrective action plan." Shahzad said. 
According to Shahzad, the bank focused on changes in business growth, product innovation, improving internet banking, a 24×7 call center, the relocation of branches, and the furthering of brand image and visibility.
While all of that is great, one can also thank the extremely high interest rates that have been prevailing since the latter half of 2019. As Shahzad herself explains: "There is a strong and positive correlation between the interest rates and the commercial banks' profitability. It means if the value of interest rate increases /decreases, the value of banks' profitability will also increase/decrease. So we also got the benefit of it with the prevailing situation". 
"If banks' interest margin increases they are in benefit but it will have a negative impact on the lenders and  borrowers. Throughout the last decade an increasing trend in interest margin has been observed. In terms of assets, we did alter our strategy and introduced new retail products, which have comparably higher margins."
Shahzad is even a little upbeat about the bank's CASA ratio, or how many current and saving account deposits a bank has, out of the total number of deposits. "We have formulated a strategy for expanding the retail book with an aim to improve our CASA ratio and so far we have managed to improve the CASA ratio to a level of 66%, which is not bad for a bank of our size."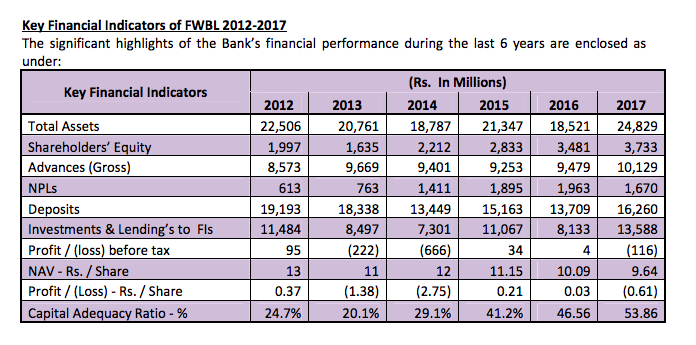 She also said that the bank introduced a BDO model last year to improve and generate CASA deposits. "To improve our outreach to the customers our sales staff goes to the customer with the mobile devices and thus facilitates them at their doorstep to open the account…apart from this we have also incentivized our team other than BDO by offering them a percentage of the profits."
Shahzad was also quick to note the improvements on the compliance front: "You are well aware of the strict regulatory environment that Pakistan faces under the FATF. We strengthened the control environment, and have not faced any penalties from the regulator in terms of compliance."
As for NPLs, Shahzad was brief. "In the past political pressures resulted in NPLs of Rs2 billion on a loan book of just Rs10 billion. Currently NPLs ratio is 13% as compared to 15.75% in December 2018."
Moving forward
So, what is next for the bank?
First, just so that we can say we were vindicated when complaining about the bank's color scheme, apparently we were not the only ones that noticed. According to Shahzad: "A brand is the very identity of a company. In a study titled "Impact of color on marketing," researchers found that up to 90% of snap judgments made about products can be based on color alone."
No kidding, which is why since 2016, when men were also allowed to avail loans, the rebranding of the bank was considered essential. Which is why – and drum roll please – the bank is transitioning from pink to blue. While this seems incredibly on the nose advertising, according to Shahzad, "Blue is the color of the sky and sea, and is associated with depth and stability."
Second, with the rise of micro credit banks that cater to low income communities in the last few decades, FWBL is trying to  redefine itself as a niche player, with a focus on the "S" of the SME market segment. According to Shahzad, Nikhar, a product for women, men and transgender communities associated with the beauty industry, is particularly popular. The salary loan, which allows for quick short term financing, is another popular product.  "We are working extensively on the designing of new innovative financial products and competitive solutions to attract new customers towards the bank." said Shahzad. 
Third, the bank is looking to increase digitization. Shahzad is frank about the low number of branches: "With only 42 branches, we cannot cover the entire un-banked women population of the country, which means, we must have digital banking solutions for our services and products. The deployment of technology has helped in overcoming the limited number of branches."

In fact, perhaps it would be better to stop focusing on branches altogether. To increase profitability for 2020, Shahzad said that unproductive branches will be streamlined with new staff, or shifted to other commercially viable places. "We cannot allow ill-performing units to cast their shadows on well-performing branches of the bank."
Digitization is almost inevitable, and even welcomed. "We are aware of the challenges that if you do not step into digital banking soon, we will stand nowhere. We are in talks with various partners to start offering e-commerce, mobile banking and other innovative products to our customers, but obviously we do understand that given limitations of the existing system any such offerings would not be possible. Therefore we have planned to invest in one of the best systems in the market, because we see the bank as a going concern."
Throughout these changes, Shahzad remains committed to the core mission of the bank. "We are the only bank for women in the country, we have an edge as we are meant for women, have a separate identity…a symbol of support to women."
According to her, women in Pakistan still feel more comfortable dealing with other women bankers. "Due to this I see a lot of potential for the bank to grow in the next 30 years."