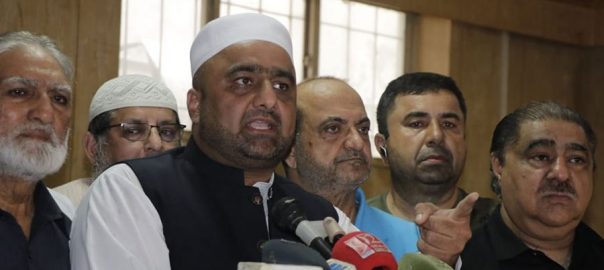 LAHORE: The All Pakistan Anjuman-e-Tajran (APAT) on Sunday demanded the opening of markets seven days a week for full hours to avoid rush in the markets due to limited time.
APAT secretary general Naeem Mir, addressing a press conference at the Lahore Press Club, said due to limited time for opening of markets, a rush is being witnessed. If the pandemic spreads because of rush the government would be responsible for that, therefore all markets should be opened for 24/7, he said.
"The government should fight with the coronavirus and not with the traders and we traders) would support the government."
Mir alleged that the three-day lockown is aimed at getting aid. "Who says the corona is asleep four days a week? We have been demanding since day first that all markets should be opened for 24 hours and seven days a week," he added.
He sarcastically questioned which science could establish that the corona spreads after 5 pm and in three days a week. "With the opening of public transport there will be an increase in the rush in the larger cities. There is already a rush in the markets due to limited time."
The government, Mir said, triggered the lockdown for more than sixty days and the media also played its role in spreading awareness regarding it, but now the government should seriously think why the pandemic could not be controlled?"
Naeem Mir along with other traders were of the view that the public did not find the government's narrative regarding corona and got the public confused.
"Prime Minister Imran Khan is not only confused himself over corona, but he also got public too and that is why the people are negating the virus now while saying that there is no such corona," Mir added.
"If the government does not open markets and extend the time the corona will surely spread rapidly. So the government should judge the situation and take decision accordingly," he suggested.