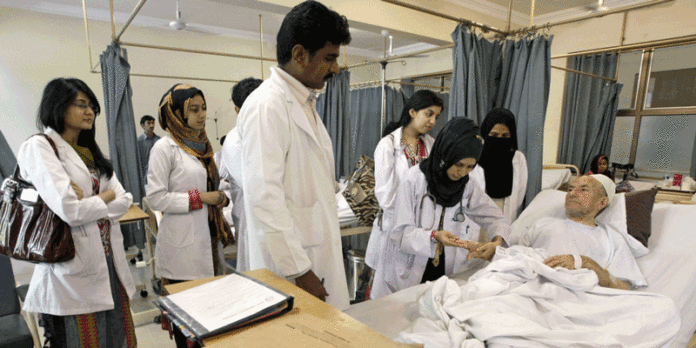 LAHORE: A report released by Fitch Solutions on Thursday said that the government is making efforts to improve the healthcare system in Pakistan and has undertaken several reforms which will take time to deliver gains.
However, Fitch Solutions stated that akin to many of its neighbouring emerging Asian markets, Pakistan is striving to achieve universal healthcare access to quality essential health services, with a specific focus on vulnerable groups.
In its assessment, it warned that opportunities for multinational drugmakers will be marred by fundamental issues which exist in the healthcare system and underperformance of the public sector healthcare system will drive the growth of private healthcare.
"Pakistan Vision 2025 reflects the government's commitment to investing in the social sector including health as a top priority and the National Health Vision (NHV) 2025 provides a single, shared vision for universal health care, especially for women and children in the country," it said.
Meanwhile, it highlighted that one of the key actions under the NHV is the formulation of the Pakistan Human Resources for Health Vision 2018-2030 to address the health workforce challenges.
In an emailed response to Profit, Sakshi Sikka, Senior Pharmaceuticals & Healthcare Analyst, Fitch Solutions said, "Government efforts to speed up reforms in the public healthcare sector will lead to improved healthcare accessibility. Prime Minister Imran Khan re-launched the first phase of the health insurance scheme in February 2019 – which had been introduced by the previous Pakistan Muslim League-Nawaz government as Prime Minister National Health Programme (PMNHP) in 2015 – under the new title of Sehat Insaf Card. Under the programme, vulnerable families can benefit from free treatment up to over PKR720,000 (USD5,151) annually in 150 government and private hospitals."
"A wide range of both medical and surgical in-patient services are included in the scheme, including surgeries, stunts, chemotherapy, radiotherapy, dialysis, maternity and other medical and surgical services.
As such, the Sehat Insaf Program will benefit approximately 15mn people currently living below the poverty line. The Ministry of National Health Services, Regulations and Coordination under the leadership of Federal Health Minister has completed an important step to expand the ambit of Social Health Protection Initiative (Sehat Insaf) to poor families across Pakistan. It is expected that upon completion of the programme a total of 14mn families will be enrolled in the scheme," she added.
"According to the health minister, the scheme will be launched in Punjab, Gilgit Baltistan, Islamabad, Federally Administered Tribal Areas and Islamabad.
Each family in the tribal districts will be provided with Sehat Insaf cards, whereas 85,000 families in Islamabad will also be given cards. Each cardholder will also be provided for the cost of transport up to PKR1,000 (USD7.1) for each hospital visit," said Ms Sakshi.
"Despite the increasing political will in Pakistan to develop the healthcare sector, given the government's poor track record of implementing planned healthcare sector reforms, there is a possibility that the implementation of such improvements will be delayed," it warned.
"There are numerous weaknesses which will affect the sector's development, including poor governance, lack of access and unequal resources, poor health information management systems, corruption in the health system, a lack of monitoring in health policy and health planning, and a lack of trained staff," said Fitch Solutions.
However, the Covid-19 pandemic has accelerated the critical need to ramp up efforts for universal healthcare in Pakistan.
It highlighted that the country's healthcare system remains significantly underfunded which inhibits the provision of high-quality care and hence limiting the chances for high-value medicine sales.
Also, Fitch Solutions shared healthcare standards in Pakistan remain poor by global standards, with 78% of the population paying for healthcare expenditure out-of-pocket.
According to a Lancet study, Pakistan ranked 154th among 195 countries in terms of quality and accessibility of healthcare lagging behind Bangladesh, India and Sri Lanka, it observed.
"Additionally, Pakistan has one of the lowest densities of health workers in the region and globally, with a doctor to patient ratio of 1:1300, doctor to nurse ratio is 1:2.7. With such low levels of staffing, Pakistan is listed as one of 57 countries with a critical health workforce deficiency.
The impact of these weaknesses has been perpetuated by the Covid-19 crisis, which reinforces the need to ensure effective crisis management and fast-track progress toward universal healthcare. Preference for private healthcare in Pakistan," it noted.
"On the upside, the underperformance of the public sector healthcare system in Pakistan has created a room for private sector to grow, which has become popular in health service delivery.
Moreover, pressures on public health institutions from a rapidly growing population have allowed the private sector to service the gap created by an ever-increasing demand and limited public health facilities," said Fitch Solutions.
"Private expenditure on healthcare accounted for 70.2% of total health spending in 2019, having risen in relation to the previous year," it concluded.