In January of last year, in a letter to investors, Netflix said that it was not worried about the growing competition it was getting from companies like Disney and WarnerMedia launching their own Streaming Video on Demand (SVOD) services. Why? Because according to Netflix, they had a bigger competitor – Fortnite.
The online video game that swept audiences of a diverse age group was eating into the time that Netflix wants its viewers to be spending on their streaming service. For Netflix, the competition was not another streaming service like Amazon Prime, it was other forms of entertainment. Or as a 2017 study published in the British newspaper The Guardian stated, for Netflix, the competition was sleep. 
On one hand, we have this kind of forward-thinking and cutting edge competitiveness. On the other, we have the government of Pakistan, with their censorship fantasies and dreams of owning the internet. After initial seed sowing by people like journalist Arshad Sharif for 'local' versions of Facebook and WhatsApp under the (despotic) China model, now government ministers have gotten in on the game.
Recently, Science and Technology Minister Fawad Chaudhry announced that not only was the government working on a local version of Netflix, it had already completed the technology part of the project. What part is left? According to Fawad Chaudhry, the ministry has asked PEMRA to prepare a guideline on content so that the platform can launch in Public-Private Partnership. And therein, ladies and gentlemen lies the rub. 
For the Pakistan government, a local version of Netflix means they have complete control of the content. But there is one other problem that would determine the fate of this project. Will people pay for this service?
Conventional wisdom holds that "why will Pakistanis pay for content when they can just get it for free?". That 'conventional wisdom' is also known as the drawing-room bloviating, WhatsApp-forwarding wisdom. Like most of the nuggets that come out of that segment of the population, it is wrong.
Article continues after this advertisement
It turns out that Pakistanis are willing to pay for content platforms that work well and have a large content library. By Profit's estimates based on publicly reported and disclosed data, Netflix – the biggest streaming service doing business in Pakistan – is on track to make Rs1.2 billion ($7.1 million) in revenue from Pakistan this year, its sixth operating in the country. 
That may be chump change for Netflix, but consider the following: Hum Networks, Pakistan's largest entertainment television network, made a total of Rs4 billion ($29.2 million) in 2019 after having been in business for 15 years and owning four television channels and a movie studio. In other words, Netflix is already bigger than most smaller entertainment channels, and may be on its way to overtaking some of the biggest players in Pakistan.
And Netflix is just getting started. There are other services that Pakistanis also pay for, despite the existence of many illegal avenues to download pirated content for free. It turns out that if you offer a solid product at the right price, Pakistanis will very much want in.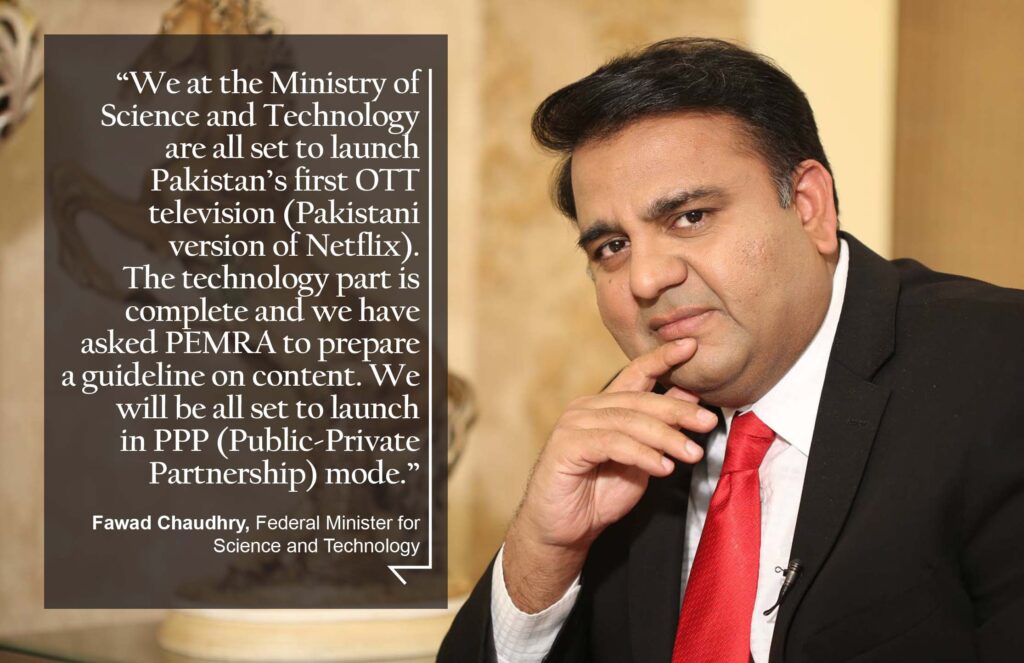 So what does this mean for the Pakistani content market? Three things: more revenue sources for both content owners and producers, and therefore a much wider diversity of content for viewers, including a wider range of local content (think Churails on Zee5).
It is an exciting time to be in the content business in Pakistan, and an exciting time to be a fan of the cinematic and television arts. So, naturally, the government of Pakistan thinks to itself: "how can we completely destroy this nice thing?" Why have the freedom to create when you can have a stifling dictatorship instead? 
Who owns the streaming space in Pakistan?
The biggest player in Pakistan right now, hands down, is Netflix. With its vast library of content that includes top names in Hollywood, Bollywood and local Pakistani content at around Rs1,500 a month for a premium account (and Rs950 for a basic one), there is no better option, and none so widely used as Netflix. The content ranges based on what location you use your account in. The platform houses their own original movies and series in addition to independently produced content. The platform also makes the task of watching foreign language content easier with English language dubbing and subtitles, case in point, La Casa de Papel or Money Heist as we all know it.
Netflix, being an intuitively designed platform, uses its smart learning and data to provide sophisticated recommendations based on watch and search history. In order to compete in terms of pricing, there are three main subscription options, Basic, Standard, and Premium that determine the number of screens a user can view simultaneously (yes, Netflix knows you share your passwords, and charges you a higher price for sharing it with more people).
Its main global competitor that operates in Pakistan is Amazon Prime. Known for its intuitive algorithm that gives excellent suggestions, Prime costs around Rs1,000 a month for its premium account. While it comes with features such as X-ray, which gives you the characters and background information on any scene in a movie or show, it is not compatible with Google Chromecast, has very little local Pakistani content (though it has a significant library of Indian content popular with Pakistani audiences), and does not have a party watching option. Despite this, Amazon Prime has made a relevantly successful entry into Pakistan with its limited content library. Other than these two global players, there are also a few regional services on the market. 
One of these is Iflix, which is based in Kuala Lampur. When it was first launched, Iflix made a name for itself due to the fact that the subscription cost was cheaper and the content library included popular Pakistani TV dramas and movies, as well as international content. The platform was also known for its variety of children's content, and soon became known as a family service. 
The other streaming on demand service closer to home is Starz Play, which is more popular in the Middle East and North Africa (MENA) region. Created in the mena but brought to Pakistan through a partnership by Cinepax, it enables subscribers to stream Hollywood movies, TV shows, documentaries, and children's content, and watch series as they are released in the US. The platform also houses dedicated Arabic, Bollywood, and Pakistani content. The platform is available in 20 countries across MENA and Pakistan. Payment packages vary whereby consumers are able to choose between daily, weekly and monthly bundles.
Then there are the Indian streaming services, specifically Zee5, which are also trying to dabble in the Pakistani market. Zee5 even went to the extent of buying a Pakistan's first show launched directly onto a streaming platform: Churails.
Unfortunately, the experiment with Churails is likely to be a short-lived one for Zee5. The ideological bent of the ruling Pakistan Tehrik-e-Insaf (PTI) means that the idea of Indian companies doing business in Pakistan is intolerable to the current administration, and hence the move by the government to prevent payments from being processed for all Indian streaming services.
The size of the Pakistani streaming market
This is the real question. Pakistanis are already spending money on these services. According to a recent report in Dawn, this trend has seen a massive uptake because of the Covid-19 pandemic. The report states that back in February, 36,000 people were using Netflix. The platform now has over 87,000 people using the media streaming service in Pakistan. A recent story in Arab News mentioned that Netflix may have already increased its subscriber base to 100,000 in Pakistan.
Assuming that most Pakistanis only subscribe to the very basic level of subscription, that implies that Netflix is on track to make at least Rs1.2 billion ($7.1 million) in revenue from Pakistan this year. And at the pace that it has started growing – given the fact that more people have become comfortable with e-commerce and electronic payments during the coronavirus pandemic – it has the potential to become the largest entertainment company in Pakistan by revenue.
That increase in revenues has come after substantial investment on the part of Netflix and other streaming services to acquire the licenses to Pakistani content. For instance, one of the networks  that is most sophisticated about working with streaming services is Hum Networks, one of the largest entertainment companies in Pakistan, and probably one that has invested most heavily in establishing a digital future for itself that does not rely on advertising-based revenues from its cable television channels.
"Hum Network has a well-established digital wing to entertain the ever-increasing number of broadband users within the country as well as the audience worldwide, who are increasingly turning to online sources for viewing and purchasing of content through video on demand platforms," read the Hum Networks 2019 Annual Report. "Hum Network has also been the first Pakistani channel to have its content available on Netflix and Iflix, first to collaborate with ErosNow and first to have direct channels on YouTube and DailyMotion," it goes on to say.

But it is not just nice statements: that strategy has a real dollar-and-cents value to Hum Networks. For the 12 months ending March 31, 2020, Hum Networks earned Rs651 million in subscription revenue, and Rs43 million in digital revenue. This includes the licensing fee and income HUMNL earns from its content being streamed on streaming video-on-demand (SVOD) services including Netflix and Iflix.
Netflix even had to make decisions based on this increase, and decided to match the increasing demand by removing the highest bandwidth streams in Pakistan. The decision has been taken to reduce traffic so that more users can avail the service.
What is driving the shift towards streaming?
One of the reasons Netflix has done so well is because it can also be used as family entertainment. You do not even need a smart TV for this, since through devices like the Google Chromecast and the Mi Box, Netflix can be browsed and watched on regular televisions, making for good family viewing. 
Right now, the Pakistani drama industry still works on an outdated model of spaced out episodes and single season serials, with the best dramas only getting one episode per week. Netflix and the other streaming services allow for binge watching, which is as popular in Pakistan as elsewhere in the world.
Watching television together is a dearly held tradition in Pakistan. All of the generation from the 1970s up to the early 2010s, when television penetrated most households, grew up on VHS tapes and watching cable or satellite TV together. A television set by its very nature is a communal watching object. Even now, television is the main source of entertainment for most people, and watching television with family remains the way things are done. Netflix has changed that to some extent, but more importantly, it is changing how people watch foreign content. 
Until before Netflix, the only way Pakistanis could do this was to steal. For years families bought and traded pirated cassette tapes and CDs of televisions dramas and movies. In the digital age, torrenting and free online streaming full of ads were your best friends. That is because it was far too expensive to watch content directly from the source. SVODs change this. 
Not only have copyright laws around the world become more stringent, but also because watching content on SVODs is no longer highly expensive. "The market is mature and will be ready to pay for content. It is important to understand the population of our country," notes Ali Hasan, former head of strategy at a leading SVOD. "We will not have Netflix for the mass audience but will have cheaper alternatives. We are a price sensitive nation with limited buying power. SVOD services will eventually offer such cheap solutions to customers that it will not matter to customers." 
"The only important element to a good successful SVOD service is the content library which has to be vibrant, thorough and entertaining. People will pay if it is worth watching," he adds. However, adding to the price elasticity comment, it is pertinent to note that Starz play has adjusted its payment mechanism keeping in mind the local dynamics whereby subscribers can pay Rs8 to watch content for a day, Rs59 for a week, or Rs239 for the whole month. This pricing point gives it an advantage due to which the platform has been able to record a 400% increase in consumption during the pandemic.
However, a concern for Pakistanis while choosing platforms remains the daunting process of paying through credit cards. Credit card penetration with the country is even lower than 1% of the population. As a result, a number of these platforms either sell their subscriptions via daraz, or partner with telecom service providers.
Hasan Javed, Marketing Head at Starz play, feels that this gives them an edge. He believes that mobile payment options remain a differentiator from Netflix as this is more adapted to the local market and is a step away from the US mindset. In fact, in Pakistan, people often buy multiple Netflix subscriptions and then sell them for cash to people that do not have or are still uncomfortable with card purchases. 
Speaking to Profit, one Netflix user explained that for international shows, she relied on Netflix, for Pakistani serials she relied on YouTube, and for the news, she relied on News Apps built by the channels themselves. According to this user, getting an individual screen on Netflix cost her less than what her local cable operator was charging. This way she could access the content on the go rather than only in front of her TV screen. 
But the key point here is YouTube. Much like Netflix, it can be used on a television through Chromecast, and more importantly, all major television networks upload their dramas there, making it the prime place where these dramas are watched. Television has been on its way out for at least five years now, which is why the government also wants to step into the SVOD space. But YouTube has been around for much longer. The government has had a tumultuous relationship with it, but Pakistanis are comfortable with it. And most importantly, it is free.
Hold the train for YouTube 
With YouTube around, it makes very little sense for someone to buy an SVOD subscription for just Pakistani content, since all Pakistani dramas are uploaded there. Sure, YouTube has some issues like buffering, advertisements, and video quality, but not only is the YouTube platform easy to use and intuitive, it does not require anyone to sign up, make payments, or go through any hassle to watch content.
"I think there is a bright future for streaming services in Pakistan. Linear TV will decline everywhere in the world and the same will be in the case of Pakistan. By decline, I mean linear TV and the content supply chain will evolve which is already taking place with YouTube being on the forefront. Local content providers will also start their migration once they are able to see the benefits of SVOD," explains Hassan.
"Zee5 will eventually force the likes of HUM, ARY, Geo to come up with their own SVOD services [rather than putting up their content for free on YouTube]. For now these companies post their content on YouTube but will realize sooner or later that they are getting cents on the dollar which will push them into the [SVOD] sector," adds Hasan. Already Zee5 has given the Pakistani drama industry a good scare with the popularity of Churails. 
However, YouTube is making it harder for SVOD platforms to market Pakistani drama serials to lure in subscribers. And it will continue to do so. "Pakistani content does not do well on platforms because the TV shows are primarily placed on YouTube by their producers. Hollywood TV shows, however, are the ones that are binged watched," explains Javed.
He adds that Starz play does have famous Pakistani movies on it, in addition to a Starz play original series called Kaash Keh that is developed in Pakistan. This production is a collection of short dramas with common themes addressing taboo topics in Pakistan.
Of course, what the current government will be itching to do is ban YouTube again, and Arshad Sharif and his hordes will no doubt tout for a Chinese style Pakistani version of YouTube. Essentially, the government wants to control what we watch and make us pay for it by restricting all of our other options. That is dangerous not just on a financial level, but more importantly, on a much more fundamental level. Censorship is a serious threat, and the ability to do so will probably also be what is so attractive for the government and the powers that be. 
"There is a huge upcoming risk for Netflix, Amazon Prime, and other international SVOD – censorship. Currently there is no barrier as it is targeting a niche. Someone is going to soon enough raise concern with regards to the content available on Netflix. Saudi Arabia banned an episode of Hasan Minhaj. Censorship laws will eventually haunt these services in a country like Pakistan as local cinemas and linear TV have to strictly follow PEMRA regulations," explains Hassan.
"State involvement or a public sector push will never lead to a successful Pakistani Netflix," states Hasan. It comes as no surprise that regulation is bad for this industry, just like it is for a number of other industries. 
The Pakistani cinema has had to suffer primarily due to this over regulation and censorship. When the country was not hit with a pandemic, cinemas struggled to lure in housefull due to the ban on Indian content in Pakistan and strict censorship requirements. On November 12, 2020, the SBP instructed banks to stop processing payments and subscriptions for Indian content platforms, specifically mentioning Zee5. This was based off the directions of the Cabinet division in order to restrict Indian content in Pakistan.  This is in addition to Islamic Banks that had decided not to allow payments for Netflix or other SVODs through their banks. 
As a result of these restrictions, content like Zindagi Tamasha could not be released in Pakistan, nor could Churails even consider being bought by a big television network.
But if the government is willing to do all of this, which it very much will be given their tyrannical fantasies, the only question remains, will the Pakistani media move towards the SVOD format?
Is the Pakistani media ready for this change? 
What Pakistani channels are failing to acknowledge is that unless the diaspora is watching their content for free on YouTube, they have to pay additional for Pakistani channels. Placing their premium content on SVODs will enable them to capture a larger audience.
While a number of individuals compare Pakistan to India with regards to content, the fact remains that the market for Indian content is bigger and will always remain bigger considering their large population within the country and across the globe. The broadband penetration and telecom users further enables India to take precedence over Pakistan. 
Moreover, the amount of content produced by their industry is significantly greater than the volume with which Pakistani content is pushed out. One can also not deny the fact that internationally, Netflix and its counterparts believe that content made to be marketed in India can also be marketed in Pakistan considering the appetite for Indian content. And over the years, this has proven true, with Netflix originals like Sacred Games and even Amazon Prime originals like Mirzapur being vastly popular in Pakistan. The capacity for this popularity was made even more clear through Churails, which became the talk of the town in Pakistan despite being on a relatively smaller Indian streaming service.
The potential
As mentioned earlier, Netflix users in Pakistan have nearly tripled in the last few months. This is not just because of the pandemic, but because internet coverage has vastly improved in Pakistan. As of 2019-2020, the PTA states that Pakistan has 167 million cellular subscribers and a total of 83 million broadband subscribers in Pakistan.
While the number of broadband users in Pakistan remains low, the number is increasing and has been increasing over the years. As this statistic grows, the market for these SVOD will grow too.
Internationally, the industry is in its growth stages with a strong compound growth rate of 17% from 2017 onto 2035. A number of new entrants include Amazon, Hulu, HBO, Apple, Disney, and Google who have either entered the market or diversified from their existing services.
While it is great that there are no major barriers to entry, the flipside is that there are no major barriers to entry other than capital requirement. As a customer, it cost nothing to change subscriptions because no additional equipment is needed. This means that subscribers can switch services at a whim without incurring any additional hardware costs.
Any entrant in the SVOD space needs to know that there is a reason Netflix is in the lead. Netflix is the king of content with 112 Emmy nominations in 2018 beating HBOs 17 year run as the top nominated network. With content ranging from hit movies and series to Bollywood original Netflix content like Lust Stories, Netflix has something for everyone. In addition to this, it also uses big data and analytics to manage its recommendations according to viewership patterns. This is something all other platforms are struggling with.
Moreover, with its vast integration within popular culture, Netflix manages to market its content through the power of being mainstream. While Pakistani dramas have become major hits and topics of discussion such as Humsafar, Zindagi Gulzar hai, Meri Zaat Zara e Benishan, and the infamous Mere paas tum ho, they have not managed to live largely beyond their screen time.
Once watched, the chances of an individual binge watching the series again is relatively low. Rebroadcasting therefore makes very little sense in Pakistan other than drama channels showing these dramas on their spinoff channels such as Hum sitaray, Geo Kahani, etc. Very few dramas, such as Alpha Bravo Charlie and old classics have that charisma to be binged again.
Unfortunately for Fawad Chaudhry, the fact remains that variety of content remains a strong reason behind an individual's choice to subscribe to an SVOD. Limiting viewers to just Pakistani content or morally policed content will not bring in users and will ultimately mean dampened revenues. However, with less regulations on the media industry and greater encouragement of digital content, the industry can create a spillover effect into employment, and ad revenue generation. But if it is censorship and forcing content down its citizens throats that the government has embarked on this plan, then we may be in for it.