For nearly three decades, the Nestlé media investment has been managed by GroupM Pakistan through its media agency Maxus, soon to be rebranded as Wavemaker. Globally and regionally, GroupM and its sister media agencies have managed media buying and planning for the Swiss multinational food and drink processing conglomerate corporation, making the partnership with the media investment firm strengthen with time.
While Nestlé has held reviews of its media strategy and relationships in Pakistan and other markets, GroupM has always managed to retain the account due to its size and scope. In the Pakistan market, for instance, GroupM Pakistan is the only globally owned media agency, with the rest being either affiliates or family-owned entities with no regional oversight and accountability on the actions of senior leadership.
In the last decade, Z2C Ltd, a subsidiary of Bee Squared Pte Ltd, the Singapore-headquartered ad agency, has emerged as somewhat of a true contender to GroupM Pakistan, possibly giving the WPP-owned media investment firm a worthy opponent. With the departure of Sarwar Khan as the managing director of Maxus Pakistan and his co-creation of IG Square which has given a bit of a hard time to GroupM Pakistan – there could be more blood in the water. Will GroupM no longer remain the untouchable market leader it is long held to be?
In this report, Profit looks at the media review by Nestle which will determine how the global food giant spends its ad budget in the coming years, and which agency will get to manage that spending. It represents 1% of the Pakistan advertising industry. We examine the suggested strategy for the incumbent agency and other participants, and the best practices for Nestlé as it attempts to position itself as a strategic investor of media.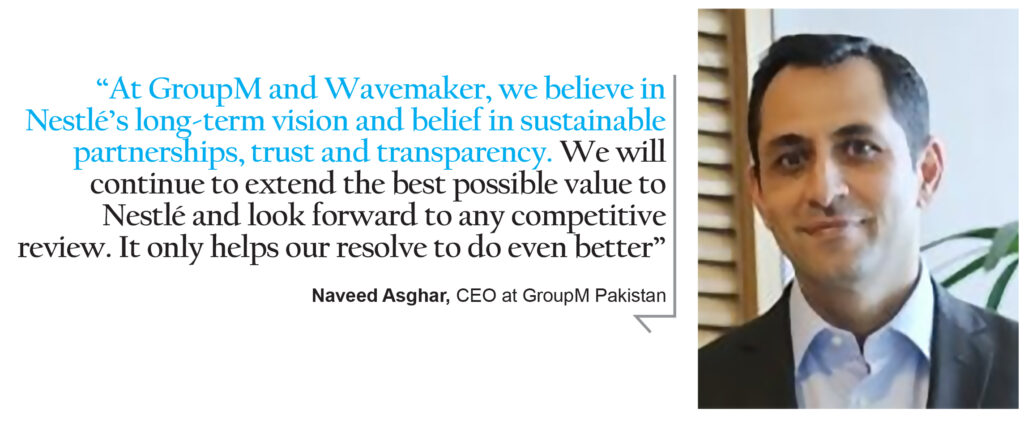 But before we get into the Pakistani landscape and the implications of Nestle's decisions, let us first take a look at who are the Big Four advertising agencies, and what are their competitive advantages in both the local and global markets.
Article continues after this advertisement
The four horsemen of GroupM's apocalypse
According to The Forrester Wave™️ Global Media Agencies for Q2 2020, the media agencies considered market leaders are UM by IPG Mediabrands, OMD by the Omnicom Media Group, Carat by Dentsu, and Starcom by the Publicis Groupe. Zenith and Wavemaker were among the media agencies regarded as strong performers.
In the Pakistan market, Orient Advertising operates UM, Manhattan Communications operates OMD, Synergy Advertising operates Carat, Adcom Media operates Zenith, and Z2C Limited operates Starcom. From a global standpoint, only IPG Mediabrands, Dentsu, and the Publicis Groupe have relationships with Nestlé worldwide.
Starcom and Zenith by the Publicis Groupe: "Starcom operationalizes human-centric media solutions," said Forrester analysts Jay Pattisall, Keith Johnston, Alex Sobchuk, and Rachel Birrell who authored the report. "Starcom is a good fit for CMOs needing media orchestration across multiple regions. Compared with other media agencies we evaluated, Starcom shows strength in its human-centered approach to media and its agency and publisher partnership capabilities, which serve as a media agency of record for ten integrated Publicis Groupe client solution teams."
The study found that advertisers prefer Starcom for its data and technology strategy as well as its approach to private marketplaces. 
"Zenith is a good fit for CMOs wrangling complex marketing challenges with ROI-driven solutions," said the analysts. "Zenith shows strength in its overall strategic vision and resources dedicated to technology and measurement. Clients would like to see more analytics capabilities and commerce services.
Based on data from the Pakistan Broadcasters Association, Profit believes that Starcom is the second-largest media agency in Pakistan after GroupM while Zenith is roughly in the top five.
Carat by Dentsu: "Carat is a good fit for CMOs at multinational companies needing global media services and regional media approaches in global markets," said the analysts. "[Advertisers that work with Carat] would like to see more emphasis on emerging technologies and private marketplaces. We like Carat's focus on scaling media experiences to people and empathetic planning approach. We would like to see tighter integrations to content and creativity."
Based on data from the Pakistan Broadcasters Association, Profit believes that Synergy Advertising is in the top 25 for traditional media and the top ten for digital media.
UM by IPG Mediabrands: "The former media arm of McCann Worldgroup, UM is shifting its strategy from purely media services to marketing consulting," said the analysts. "[Advertisers like UM] for its application of emerging technologies, its partnership with agencies and publishers, and its data technology strategy."
As stated above, IG Square will likely be representing IPG Mediabrands in Pakistan alongside Orient Advertising which already does so with media agencies McCann, UM, and Initiative. Regardless of which media agency brand is handed to IG Square, it is expected to develop and tap into the entire set of capabilities at the IPG Mediabrands and exhibit strengths akin to those of UM.
The landscape
Following a regional media review in 2018, Nestlé moved its media account for Singapore and Malaysia from Mindshare – which held the account for around two decades – to Zenith and Publicis One. Zenith also holds media accounts for Nestlé in Vietnam and the Philippines. Nestlé also consolidated its media buying with Mindshare in China, expanding media buying responsibilities. A month ago, Mindshare lost the $300 million media contract in a review to Dentsu in China.
The shift away from the media agencies of WPP, which have retained Nestlé as a client for decades at a time, has raised the question of which media agency in Pakistan could be next?

By the first quarter of 2021, Nestlé Pakistan will float a $17.5 million media brief to the top four media agencies in Pakistan. With Maxus – soon to be renamed as Wavemaker – as the incumbent under WPP, Profit has learned that Adcom Media will bid from the Publicis Groupe side, while Synergy Advertising will bid from the Dentsu side. Representatives of Orient McCann, which also represent IPG Mediabrands in Pakistan, declined to confirm their nomination.
As speculated by Profit, IG Square co-founder Sarwar Khan is in the process of securing an affiliation with IPG Mediabrands global network, possibly for BPN which operates on an agency model that is secured against the 2022 cookie erosion. Managing over $1 billion in annual billings, BPN partners with over 200 global clients and builds audience engagement across all touchpoints by proactively managing the media investment and adjusting to market.
Representatives from Z2C Limited said that the media investment and technology firm fully intends to bid for the Nestlé media account through Starcom.
Despite offering ample time to do so, representatives of IG Square, Synergy Advertising, and Adcom Media did not respond in time for this story.
"We are in the process of transforming [Maxus] into Wavemaker, which is a customer centric organization to deliver the best in class value and services to our esteemed clients," said Naveed Asghar, the chief executive officer at GroupM Pakistan. "With unprecedented access to top-of-the-line resources, data and tools for a prized client like Nestlé we are confident and actively working on building the capacity and capability to deliver even more than what we have done in the past."
As the only media agency in Pakistan with global ownership, GroupM Pakistan is banking on its size, track record in delivering commercial outcomes against media investments, and its annual audits that ensure everyone from the top leadership to the junior staff are in line. 
Given that the remainder media agencies in Pakistan are global affiliates and are sole proprietorships or family-owned businesses, the concept of auditing the behavior and actions of top leadership is unheard of.
"At GroupM and Wavemaker, we believe in Nestlé's long-term vision and belief in sustainable partnerships, trust and transparency," said Asghar. "We will continue to extend the best possible value to Nestlé and look forward to any competitive review. It only helps our resolve to do even better."
After retaining Nestlé Pakistan for over two decades through Maxus, GroupM Pakistan is preparing to potentially face off against IG Square which is co-led by the media leader with the deepest ties and relationships with the Swiss conglomerate.
Suggested game plan for participating media agencies
"For an apple to apple comparison, audience, period under review and data set should have a consistent source," said Mehwish Aslam, the current project manager for bSecure and former media leader at Spark SMG and Starcom MediaVest Group. "The participating media agencies must ensure that a media plan is not skewed towards a certain gender or location or age group."
She told Profit that good media planning ensures that if the media efforts are split and audiences are broken down, the numbers on each audience variable is representative. She said that external factors like events, news, and uncontrollable environmental factors like urban flooding have a great impact on viewership. 
"The results should include the impact of these factors and the percentage increase and decrease in the KPIs due to them, should be actively measured," she said. "The impact of branded entertainment – such as Knorr Boriyat Busters or Coke Studio – can be evaluated by plotting variables like top of mind (TOM) against media KPIs. These programs ensure in maintaining TOM and in my opinion a consistent TOM is always better than a fluctuating one." 
She said that media agencies need to work continuously on maximizing the impact of different media used for each campaign, especially how digital, especially vidéo, is used in sync with conventional television. To solve the case study or test that may be part of the Nestlé Pakistan media review process, she recommended that category specific lenses need to be used to see the world instead of blind benchmarking.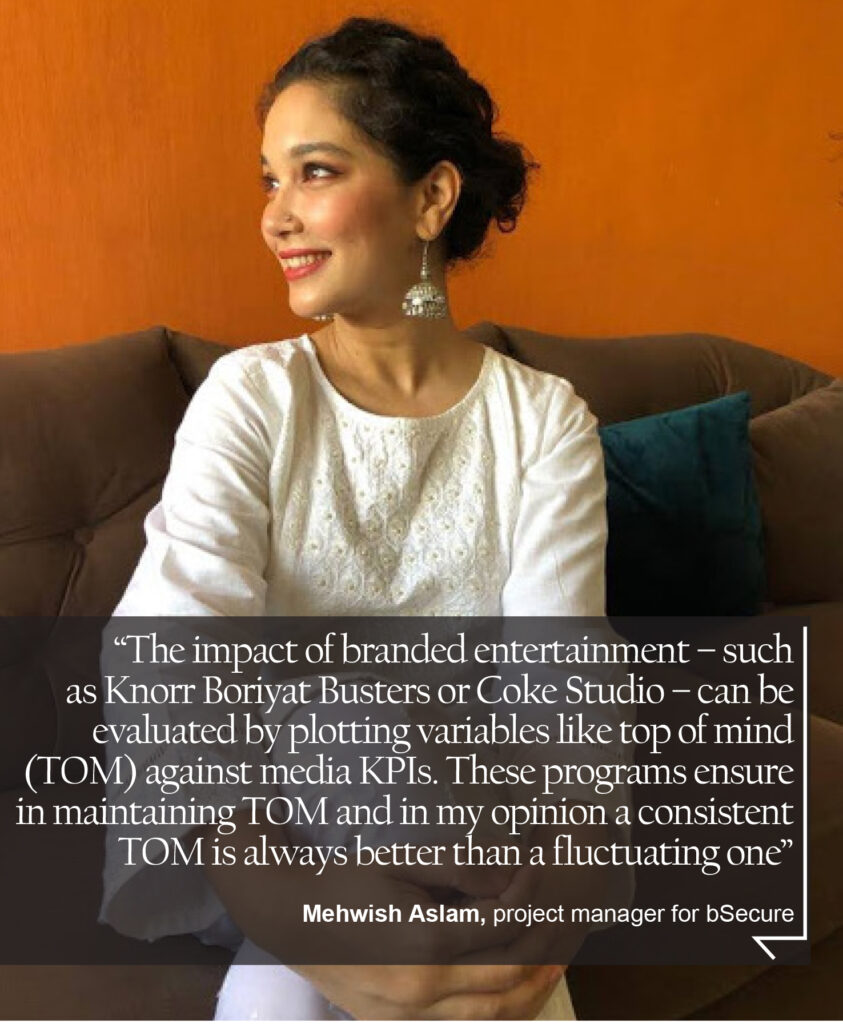 "What's right for the market leader in a category, say share of voice, may not be right for a smaller player in the same category," she said.
Suggested game plan for Nestlé Pakistan (and all advertisers)
According to the Media Agency Management best practice guidelines by the Incorporated Society of British Advertisers (ISBA) in conjunction with media consultancy ID Comms, there are key areas where advertisers need to act to ensure they get the best value and best results from their media agency partners.
"We know from our work with some of the most accomplished and progressive media thinking brands around the world, the importance of establishing the correct media management principles and behaviours in minimising wastage and extracting the most value from media investments," said David Indo, co-founder and CEO of ID Comms. "There is a direct correlation between good media management behaviours and return on media investment and the ability to secure competitive advantage."
The study concluded that the root cause behind poor media agency relationships are often the result of internal misalignment between stakeholders, resulting in inconsistent communication, and inefficient ways of working. This is resolved by positioning media as a key lever of business growth, clarifying the role of media within the organisation, unifying teams across marketing and procurement, and inspiring excellence in all areas of media management.
"Every media review from Nestlé Pakistan since the last three decades has been cost-driven," said a former business leader of GroupM Pakistan. "Cost-driven pitches tell media agencies that the client organisation sees media agencies as vendors and not as strategic partners – and that the client organization has no internal alignment on how media is seen. If the upcoming Nestlé Pakistan is cost-driven and media agencies participate, then are mistreated, they have only themselves to blame. If the new media leader at Nestlé Pakistan wants to be taken seriously, he must not phrase the review document around cheaper media prices, lower agency fees, and the extraction of hard savings often to the bottom line."
To be taken seriously, Nestlé Pakistan is advised to balance strategic value creation with commercial and cost requirements. In doing so, the pitch will challenge media agencies with business-critical strategic questions and test the participants on several areas beyond cost alone. These are the types of pitches that inspire the media agency community
ID Comms recommends that advertisers take time to design a robust pitch process that includes clear stage gates, a transparent evaluation methodology and criteria, and high-quality agency briefing materials. The study by ISBA found that global advertisers ranked quality and depth of talent, and technological capabilities, and the cost of services as the most important factors in agency selection. 
If Nestlé Pakistan demonstrates the same priorities, it will need to translate these factors into robust and transparent evaluation criteria, so that participating agencies can enter the pitch process with an understanding of the areas they need to show strength to succeed. 
"To set an example, Nestlé Pakistan ought to set a remuneration model that is outcome based – whereby the media agency earns a profit based on the delivery of specific outcomes," said a former business leader of GroupM Pakistan. "This ensures the media agency is focused on delivering value in the areas that matter the most."
"The media agencies today have become media investment brokers without giving transparency to the investor on the monetary returns the agency receives from media creators," said Rizwan Merchant, the founder and CEO of M2 Pakistan, a media auditing firm. "So yes, transparency in media transactions is a must when it comes to new pitches."
He said that every media agency contract should include audit clauses where media agencies are required to share the financial statements along with transparency on related party transactions specific to media investments. 
"A similar area is the payment terms, where the advertisers are usually allowed a 60 day payment term by the agency, however the media agencies on many occasions do not pay the media after receiving the money from the advertiser," said Merchant. "This money held by the media agencies is then adjusted as a rebate to be received from the media company. An audit of such financial transactions will help advertisers bring transparency on rebates as well."
Agreeing that the push to reduce the service fee leads media agencies to seek alternative revenue propositions, Merchant suggested that advertisers such as Nestlé Pakistan should set robust KPIs along with a year on year improvement clause enabling them to reach more relevant audiences in the same dollar value rather than persuading the agencies to cut costs. He said that this will help advertisers assess the planning capabilities of the media agencies.