With digital forecasted to take up 49% of branding and performance media spending in Pakistan by 2023, marketers around the country are grappling with either analysis paralysis or investing in creating direct to consumer ecosystems that acquire first-party data. 
Ten months ago, Google announced that it would phase out third-party cookies on Chrome by Q1 2022. Since then, the global advertising industry has realized the advertising trade press was right all along: invest in data assets and marketing partners that capture first-party data. 
Today, the cross-platform web browser developed by Google, has a nearly two-thirds market share in the business of search, the first path to information or product discovery. Both Google and Facebook, which were unintentionally strengthened by GDPR, are foreseen to reach a new powerset once third-party cookies are banned, given that both technology companies have a large addressable first-party audience at scale. Eight of the top ten publicly traded companies by market capitalization in Q3 2020 have sizable recurring revenue streams from advertising products for a reason.
Prior to COVID-19, a forecast by Magna stated that by 2021, the global ad market would grow to $745 billion. After COVID-19, the IPG Mediabrands intelligence firm adjusted its forecast and said that the global ad market would grow to $647 billion by 2021. According to GroupM, advertisers will spend $109 billion on search marketing by the end of 2020 and spend an additional $172 billion on digital advertising that is an extension of traditional media. 
In this report, Profit will explain how a business decision by the largest technology company in the media and advertising space is forcing demand generation leaders and marketers around the world to accelerate digital transformation in the context of customer engagement, much like how COVID-19 purportedly did the same on an operational level.
In the realm of being proactive, Munchies and SuperSauda by Unilever Pakistan are two examples of smart investments from marketers to own an ecosystem and acquire first-party data for the purposes of understanding end customers and building an environment that rewards engagement. Both investments require customer log-in, the addition of products in a shopping cart, an understanding of purchase frequency, and storing app preferences. 
Article continues after this advertisement
"The closure of IDFA and third-party cookies by Google doesn't mean the end of tracking, I would like to call it a new beginning for tracking the consumer interest on the world wide web and apps," said Suboorah Rizwani, the co-founder of ViralManjan. "The route however is going to change, whether it be APIs by Apple or Sandbox by Google – everything is going to be consent-based. Consent will be the king in the new/revised era of ad tracking soft-wares."
She told Profit that when advertisers invest in building relationships based on a consented database, it could grow loyalty and preferences, adding that this approach can be relatively more productive than the cookie or API oriented approaches that are widely used today.
"First party data is the most unique and treasured asset for any brand/company with low CPAs and higher chances of repeat ROI," said Shumaila Firdous Ali, head of digital strategy at Havas. "It becomes imperative in the evolving digital landscape to invest in data foundations and develop your own data infrastructure, CRM and attribution modelling to ensure you are future ready. Third-party data is a commodity, but still a useful tool. It is used in combination with first-party audiences, and it makes a contribution to measurement.
The difference between a first-party cookie and a third-party cookie
Invented in 1994 by Lou Montulli and John Giannandrea, cookies are text files stored by an internet browser based on sites visited by a user and can facilitate website logins, the addition of products in a shopping cart, storing site preferences – such as language settings – and more. When the cookies on Facebook are blocked, the site crashes for this reason.
If you are reading this on a desktop, click the lock icon next to the Profit website URL, which will display that nearly 60 cookies are in use. When readers visit a site, Profit, for instance, the browser contacts the web server, which sets a cookie to identify the browser. When the domain setting the cookie is the same domain the user visits – profit.pakistantoday.com.pk – the cookie is classified as the first party.

If, in the same example, the Profit web page includes a code that asks the Chrome browser to contact the server of a third party – such as a programmatic advertising service – which in turn sets its own cookie to identify the browser. In this example, the domain setting the cookie – an advertising service – is different from the domain the user visited – profit.pakistantoday.com.pk – and so the advertising service can follow the website visitor through her browser.
Of course, if Google does away with third-party cookies, no advertising service can track people using third party cookies anymore. All businesses with first-party cookies will succeed with customer acquisition and retention in the long run. This is why, in order to circumvent Safari's restrictions on third-party cookies, Facebook introduced a first-party cookie for its pixel.
"We use third-party cookies to do everything from targeting, attribution, frequency capping, as well as respecting consumers wishes around privacy opt outs," said Amber Tomlinson, the demand-side platform (DSP) lead for the EMEA region at Magnite, during 'The future of Identity: building an infrastructure that benefits brands, publishers and consumers' panel at Advertising Week 2020. "When there's no identifiable user we see CPMs [being] 50% lower and that has a massive knock-on effect on publisher revenue and that's the last thing that we want."
Why and how did we get here?
As stated above, the majority of users of the open internet can roam around the web and consume content at no charge. The data on the user, what they watch, what they read, what they buy or add to a wish-list, all this data is captured and then used to market products to them. This is the value change between the demand and supply sides of the open internet.
"A lot of this is happening because of privacy," said Stephanie Layser, the VP of advertising technology & operations at News Corp, during the "Protect Your Assets: Post-Cookie Identity Solutions" panel at Advertising Week 2020. "We have, over the past ten years, lost trust in the general user and consumer of what information [is gathered] and what people can do with their data. And a lot of that is because there's information in the bid request [and the] bid stream that can be collected by anybody that has a DSP and they can essentially collate that together and do some very invasive tracking and targeting. Something very similar to what big tech already does as well."
She added that the advertising ecosystem needs to now create an environment where they are clearly communicating the value exchange to the user – such as the cookie acceptance pop-ups that can be seen over the internet today – with the planners needing to experiment with ad formats outside contextual.
"Publishers that own the end relationship with the user need to control the amount of information that exists in the ecosystem [about their site visitors and readers] – which has been [historically] pushed along to all the people bidding for their inventory," she said. "From a publisher's perspective, we need to do a good job of protecting that user and protecting that data as it goes through the value chain."
The fallout from all this is that regulators stepped in to enact the General Data Protection Regulation (GDPR) and the California Consumer Privacy Act (CCPA) which are a regulation in EU law and a state statute, respectively, around data protection, enhanced privacy rights, and consumer protection. 

Browser owners have also stepped in to give users more privacy and as a result of both these steps, the advertising ecosystem has lost 40% of web traffic due to third-party cookies tracking removal from Apple Safari and Firefox. Tracking will go on Chrome in January 2022 and the changes to the identity for advertisers (IDFA) by Apple will play its role as well. 
At the Worldwide Developers Conference, Apple announced changes to its IDFA changing the default setting for IDFA sharing from automatic to user opt-in. Mobile advertisers that rely on IDFA told MediaPost that they are not confident that users will take the option to opt-in, especially as concerns around data sharing and privacy loom large.
Among the major browsers, Apple has the strictest attitude towards user tracking – rather unsurprisingly, considering Apple's limited reliance on advertising revenue. Safari was the first browser to automatically block all third-party cookies by default. In 2017, Apple went a step further by rolling out Intelligent Tracking Prevention ("ITP"), which blocks alternative methods of tracking such as those relying on first-party cookies.
Since then Apple has released various ITP updates to tackle various practices in which ad tech companies have resorted to circumventing ITP, engaging in a constantly evolving cat-and-mouse game.
Within months of these events, Nielsen announced an overhaul of its digital methodology citing privacy concerns and Conde Nast launched a targeting solution for its health upfront that doesn't need cookies. Kantar told MediaPost that the elimination of third-party cookies tracking in the Chrome browser means an inability to determine the brand lift of a campaign. A few months later, the insights company announced Project Moonshot, which intends to measure the effectiveness of advertising in the absence of cookies.
The following month, a brand safety report by GroupM said that the erosion of cookies endangers independent third-party measurement adding that without data access, measurement may stop being impartial. 
How will this impact Google and Facebook?
Before COVID-19, a forecast by Magna stated that by 2021, the global ad market would grow to $745 billion. After COVID-19, the IPG Mediabrands intelligence firm adjusted its forecast and said that the global ad market would grow to $647 billion by 2021. According to GroupM, advertisers will spend $109 billion on search marketing by the end of 2020 and spend an additional $172 billion on digital advertising that is an extension of traditional media.
As reported by Profit, both Google and Facebook were unintentionally strengthened by GDPR and the banning of third-party cookies from Chrome will further strengthen both technology giants because of their large addressable first-party audience at scale. 
The biggest losers in all this will be publishers who will be unable to monetize content as very few have large addressable first-party audiences at scale. As a result, the walled gardens of Google and Facebook will be preferred by advertisers given their intact ability to target users on a one-to-one basis. Both companies are, of course, backing every privacy regulation.
This situation reminds Profit of the public policy and relations jujitsu that Amazon is famous for, which in August 2020 backed a bill that would make all online marketplace companies such as Amazon responsible for its 3rd-party sellers. In a blog post, Amazon said that it would back the bill, adding that companies should be liable for damages or injuries caused by items sold by third-party sellers on all online marketplace companies.
As reported by The Hustle, while the bill would certainly protect end consumers, it could particularly hamper Amazon's competitors that don't actually hold inventory namely, Etsy and eBay, who both oppose the bill because it would stretch liability for online sellers beyond the limits faced by brick-and-mortar stores. 
"Amazon has the tech and legal resources to weather stricter e-commerce regs," said the report by The Hustle. "Such rules could block upstarts, hurt existing competitors, and, ultimately, reduce consumer choice. Two previous Amazon moves — supporting an online sales tax and a hike of its minimum wage to $15 — were judged by critics to come from the same playbook. Amazon could afford it (while its competitors couldn't). And a good PR point ends up being the cherry on top."

In a similar manner, Profit acknowledges that the erosion of the third-party cookie and the rollout of the IDFA will only strengthen Google and Facebook, both of which do not rely on cookies and instead have direct identifiers whenever a user on the open web signs into either service. Both businesses can save the browsing history of the user and personalize the experience accordingly. The decision by Google to automatically sign in Chrome users was met with considerable backlash, primarily due to the dark pattern in the user interface.
Given the track record by Google, Apple, and Facebook in self-preferencing tactics, advertisers, agencies, and marketing technology companies are unclear and uncertain on whether the buy-side software by Google will have access to the same aggregated user data that will be offered to advertisers, publishers, and other ad tech vendors. 
"By making advertisers, publishers and other ad tech vendors dependent on its Privacy Sandbox, Google will effectively control another part of the ad tech ecosystem," said Damien Geradin, a partner at Geradin Partners, a Brussels-based boutique law firm specialized in competition law with a focus on the tech, media, and telecommunications markets. "In fact, Google's approach here is not unlike its controversial decision to rely on the General Data Protection Regulation to prohibit marketers from exporting data from its buy-side facing products."
He said that this killed independent attribution and forced marketers to use Google's own Ads Data Hub analytics solution which is part of the Google Cloud suite of products. While there may be already good reasons to be concerned about Google's control of the ad tech ecosystem, the Privacy Sandbox will further strengthen Google's grip on it, he said.
Geradin added that because Google's own inventory – such as YouTube – is competing with third-party publishers for ad revenue, it is subject to question whether Google will invest in the APIs that will allow advertisers, publishers, and rival ad tech vendors to access user data stored on the browser. 
He said that should the ability of advertisers to accurately target their ads on non-Google inventory decrease, they might increasingly turn to the walled gardens of Google since, as noted above, their targeting ability will remain intact.
"While Google's collaborative narrative with respect to the development of its APIs may sound appealing, it remains to be seen how much influence other ad tech vendors (or more broadly advertisers and publishers) will really have in the process," said Geradin. "At the end of the day, Google may simply impose its will on others whether or not they agree with the approach pursued."
What can or should marketers do about this today?
For marketers that don't have the authority, leadership, or working culture for proactive decisions, the advertising technology industry is working on identity resolution services. Established software and technology companies in the advertising ecosystem such as LiveRamp, PubMatic, DoubleVerify, and Salesforce are leading the charge, with some alternatives including contextual ads and Prebid.
"There's going to be a bifurcation of the internet," said Layser. "A certain portion of it [is going] to function with people-based marketing and have users that are logged in. I think there's also going to be a portion of the internet that's going to be more contextual that will be self-declared publisher first-party data and it's not going to have identity attached to it. Those can serve different needs for the marketer."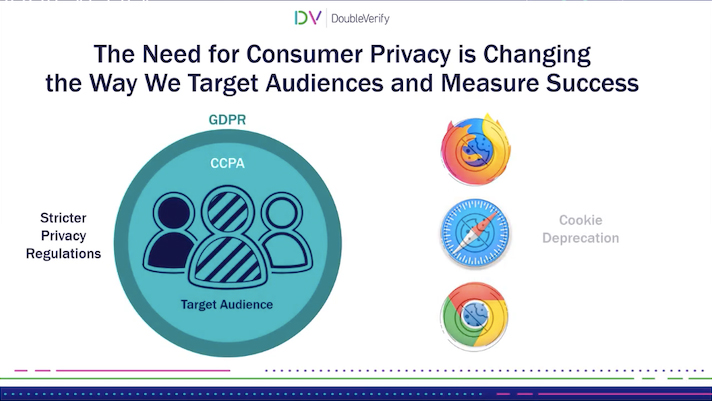 She said that if an advertiser wants to onboard their own customer relationship management (CRM) data and they want to specifically look for particular people based on email addresses then it makes complete sense for advertisers to do identity based marketing. From a yield perspective, those impressions will be worth significantly more, with marketers finding out the hard way that a good portion of the internet is not logged in, not even publishers with subscriptions.
"Marketers – if they are looking to find new consumers – maybe they don't necessarily need identity and they more of a [scalable] play there," she said. "There's different goals that marketers have and different areas in which they can choose to buy on the open internet once this all rolls out."
Kimberly-Clark Corporation, an American multinational personal care corporation that produces mostly paper-based consumer products, has created a value-based framework for acquiring first-party data with four pillars: economic incentives, community, exclusivity, and utility.
"You can put first-party [data] in [marketing software] all day to build audiences, as long as they can match at whatever match rate they might have," said Josh Blacksmith, a senior director of global consumer relationships and engagement at the Kimberly-Clark Corporation, during the "Customer Data & the Future of Advertising" panel at Advertising Week 2020. "You can build lookalike data and then we can optimise at the aggregate level for an audience as opposed to the one to one level. This is where connecting the online activity with an owned relationship as much as we can becomes really important for us."
Blacksmith said that a single consumer journey does not exist, adding that since the experience from need awareness to product purchase is not linear, marketers need to activate and invest in as many online and offline touchpoints to drive consideration and sales. He said that markers need to build an ecosystem of experiences that is always on in some capacity, to be present during key moments of receptivity.
"First-party data is at the center and included in all our strategy that we talk about," said Anuj Dahiya, the global digital media lead at Mondelez International, during the 'Driving Performance in the Age of Privacy' panel at Advertising Week 2020. "As an organization, we focus on getting the right audiences and creating those relevant experiences and building a centralized data pool that plays a very integral role in providing personalized experiences that takes into account what the consumers' views are from a brand perspective and helps us push the consumers more towards purchase and loyalty decisions."
Dahiya said that when Mondelez International took part in the Authentic Performance beta by DoubleVerify, it did so due to the quality and quantity of data, adding that he was interested in understanding the predictors for performance. He said that the investment resulted in a 10% lift in brand favorability, a 9% lift in brand consideration, and a 5% lift in purchase intent, as verified by Kantar.
"In the past, the usage [and creation of data] has been lax and going forward, we believe that the prominence of data and the manner in which it is collected is critical both from a quality angle and from a transparency angle with regards to consent collection," said Projjol Banerjea, founder & chief product officer of Zeotap. "And any downstream activity [and subsequent usage] of the data needs to have consent baked in and be transparent with regards to how the data is utilised and manipulated."
In the wake of a change in the regulatory landscape, Profit believes that advertisers cannot be dogmatic with how the universal identity is implemented, with flexibility needed in how the identity is deployed – including hybrid or on premise – and the solution needs to adaptable, such that it can adapt to the ever changing regulatory landscape.