Typically, when a company shares pertinent information to shareholders, via the Pakistan Stock Exchange, there is usually some semblance of details – the who, the why, the how much, if you will. 
Not so much when it comes to Netsol Technologies. The software technology company issued a notice to the Pakistan Stock Exchange on December 12, which is unusual not so much for what it said, but what it left out. 
According to the notice, Netsol's sister concern in China has signed an agreement with a global automotive financial services company, to upgrade from the company's legacy NFS system, to its premier, next-generation Ascent platform. According to Netsol, the Ascent program was chosen because it had a proven track record for success in Asia-Pacific and globally. 
This agreement is a multi-million dollar agreement, which includes licensing, implementation and support services. It also includes comprehensive data migration from the old system to the new platform. 
Why is any of this relevant? Because Netsol Technologies Pakistan, will directly benefit from this contract. It will provision the license and other services to the sister concern, to implement NFS Ascent at the client site. This will lead to additional revenues for the Pakistani company, which are to be recognised over the life of the contract.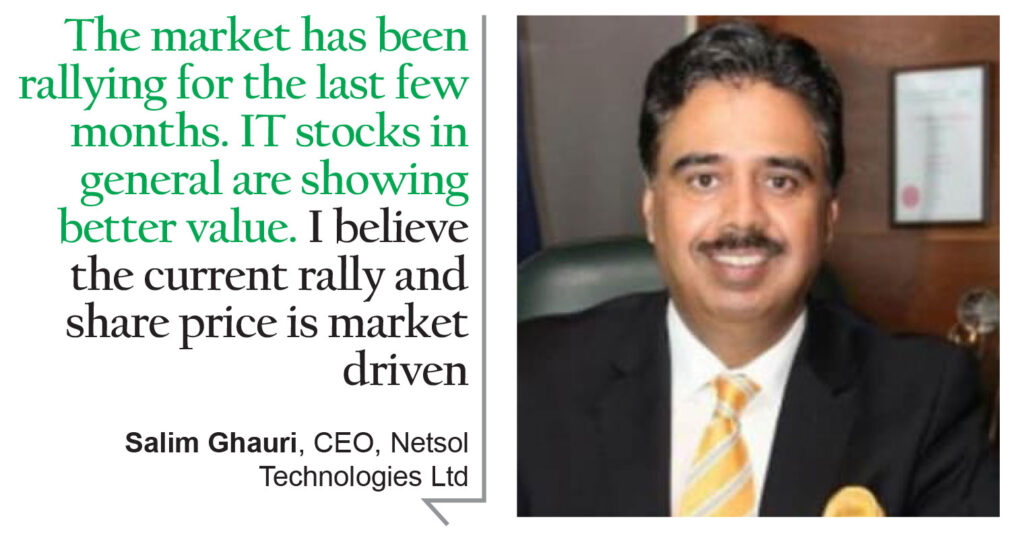 Article continues after this advertisement
This is great news, except we still do not know who the client is. All Netsol tells us is that "the longtime company customer provides automotive installment loans, credit loans, interest subsidies and other services and mainly conducts business domestically in China." One would imagine if they could mention all those details, they could also slip a name in. 
Netsol also does not provide how many millions we are referring to here. It also does not even tell us exactly, which 'sister concern' it is in China that is handling it (Netsol has two offices for its Chinese subsidiary, Beijing, and Shanghai). 
So let us work with what we have. First, let us get into the who. Some company history and context would be helpful here: Netsol Technologies' origins are not in Lahore, Beijing or Shanghai – they are in sunny Calabasas, in the Los Angeles county of California. Calabasas, in case anyone was wondering, is one of the richest cities to live in in the United States, and is home to the Kardashians. 
And speaking of reality TV, Najeeb Ghauri, the Pakistan-American founder of Netsol, has actually appeared in an episode of "The Simple Life", where he introduced Paris Hilton to the traditions of Pakistan. 
We mention this anecdote because Netsol would not be possible without the drive, ambition, and larger than life arc of Najeeb Ghauri, who really should be a by-word for the 'American Dream'. His US student visa was rejected six times, before officials relented and let him study in the United States in 1977. He earned a bachelor's degree at Eastern Illinois University in 1979, and a master's degree in business administration from Claremont Graduate University in 1981. He then spent the next 15 years in corporate jobs at places like Unilever and Atlantic Richfield Co.
In 1997, Ghauri launched NetSol, after buying a technology company from his brother in Pakistan. The idea was to hire highly educated software engineers and IT workers in Pakistan, his home country, thereby lowering costs. In 2004, NetSol opened a 50,000-square-foot technology campus in Lahore, where most of the company's workers are based. The company was listed on the Pakistan Stock Exchange and is currently the only Pakistani company to also be listed on the NASDAQ in the United States. 
Though American, Ghauri runs the company like any other good Pakistani seth sahib – with the help of his brothers. Naeem Ghauri is based in Thailand, while Salim Ghauri (the current CEO) is based in Pakistan. 
So, what does the company do? It provides IT solutions and software to the global asset finance and leasing industry. Its program, NFS, and its other variations, are widely used in automobile leasing in particular. Its clients have included, in the past, automakers such Mercedes-Benz, Volkswagen, BMW, Nissan and Hyundai.
It has a solid base in North America, but has spent the last two decades amping up its presence in Asia, particularly in China. It has offices in Beijing, Shanghai, jakarta, Lahore, Bangkok, sydney, London, and of course, Calabasas. 
Now, it is natural for eyes to glaze over when reading about random awards a company wins that it mentions in its PR releases. But not so for Netsol. In 2019, it was the best-selling leasing solution provider for the seventh consecutive year at the annual China Leasing Summit. That is a big deal, and explains why this unnamed client is based in China – the country really enjoys Netsol's products. 
As for why it is unnamed – that is typical. Netsol does not ever share its client name. Previously, Netsol had signed a $20 million agreement with a company in Thailand – unnamed. In 2015, it signed a $100 million deal with a client, the largest in its history – again, unnamed (sources say that the client was BMW). In 2018, Netsol signed a $30 million agreement with an unnamed client in China. According to sources, this new deal is of a much smaller amount, somewhere around the $10 million mark – however, there is a lack of consensus on the matter. 
Now, here is what is interesting. In the company's annual report for the fiscal year 2020, Netsol mentioned that it had made some deals already in China. For instance, a major American multinational automaker went live in China with Netsol's product NFS Ascent's Retail Platform. The report also included this note: "The Company, through provisioning of both license as well as major services to the sister concern, has also successfully implemented NFS Ascent Wholesale Platform in China for a tier-one auto captive finance company. This deployment was part of the multimillion dollar contract for implementations of Netsol's next-gen solution NFS Ascent's Retail and Wholesale Platforms in China."

Does this sound familiar? Indeed, several sources indicated that this was the very deal that Netsol had publicly announced to the PSX on December 9. 
In an emailed response to Profit, Salim Ghauri said that such information was inaccurate. "The contract was signed as reported to PSX. Implementation is now underway," he said. 
Perhaps the reason for such speculation to begin with, is because observers have been noting Netsol Pakistan's share prices. Its share price on November 17 was hovering at around Rs66; when the news was announced, it had climbed to Rs146. In particular, its ascent really took off at the beginning of December. As of time of writing, the share price is sitting at a cool Rs170. The rise has been very noticeable; in fact, in a note sent to clients by Investor's Lounge on December 9, the analyst said that Netsol was an 'overbought' stock, along with some other technology companies. Another way to think about this is to look at the price to earnings ratio, which is an indication of whether a company is overvalued or undervalued. According to the latest annual year ending June 30, Netsol's price to earnings ratio stands at a whopping 373; a comparable technology company's price to earnings ratio, say, Avanceon, stands at 19. However, it is important to note that Netsol's ratio is so remarkably high, because Netsol's net income for that year was much lower than usual, due to Covid-19. If one annualizes the first quarter of fiscal year 2021, then the price to earnings ratio is much lower, at 32. 
For his part, Salim Ghauri finds this pattern normal: "The market has been rallying for the last few months. IT stocks in general are showing better value. I believe the current rally and share price is market driven."