It all starts with the reign of one of the most influential Kings that the Indian subcontinent has witnessed. In his five year reign in the early 16th century, Sher Shah Suri built the administrative and infrastructural framework that the Mughal empire would later use as a foundation for its governance. 
Sher Shah is remembered most for his system of coinage and the Grand Trunk road, but one of the other things we have him to thank for is the Patwari system for land revenue. At the time, it was revolutionary, and it was followed first by the Mughals, and then by the British colonialists that built the institution further. 
Fast forward to today, and the word Patwari has been demonized by the Pakistan Tehreek i Insaaf (PTI) as a symbol of corruption, resistance to change, and everything that is wrong with Pakistan. In many ways, they are not wrong. As the most basic unit of administration, Patwaris often had unusual sway over people much richer and much more powerful than them, and leveraged the position to its maximum utility. 
So when the PTI came into power both at the center and in Punjab, the expectation was that the patwari system would be one of the first things to go both because it is about time and for symbolic purposes. And while efforts were made to this end and to digitize existing land records, in February 2020, Dawn reported that instead of completing the digitisation of land records in the province, the PTI-led Punjab government has begun to reintroduce the patwari system. A senior Punjab Land Record Authority (PLRA) official even said that the Punjab Board of Revenue has asked divisional commissioners to allocate two revenue circles – known as kanungoi – in each district that will be controlled by a tehsildar and patwaris and serve as a model.
So what is the Patwari system? And why has it proven so difficult for Pakistan to let go of it, even when across the border in India the sway of the patwaris ceased to exist relatively quickly? 
The Patwari system
Article continues after this advertisement
The role of patwari initially was often hereditary. From the 16t century onwards and all the way into the 19th and even 20th century, roles like the patwari were a basic building block of administration. Record keeping was done orally for the most part, with village mirasis being protectors of an entire community's miras (genealogy). Land records were a little different however. 

You see, the Mughals would hand out jagirs to their courteries and anyone they wanted to bestow favours on. Nawabs were often the owners of multiple jagirs, and this meant they had effective control over hundreds of villages. The ruler in Delhi would expect them to manage the land and make a profit out of it, and in turn give a tax to the center – land revenue tax. 
For this, every village had an appointed accountant, or patwari. The patwari would keep a record of who owned what land where, and also keep tabs on crop rotation so that no jagirdar could fleece the emperor in Delhi out of taxes. Since the patwari held all of the records, they were also involved in the buying and selling of land, and could also block or report it, which gave these otherwise junior level government employees the judges of the fate of large landowners. Naturally, they were easy picks for flattery and bribery.  
When the British came into power in India, they tried to stamp out the corruption on the lower level and gave more power to white bureaucrats so that they could then make bank in India. However, they did not get rid of the system. The British-imposed this system by reinforcing the spirit of control and exploitation rather than empowering the right, as it was designed with colonialism in mind. In this system, there was a system of strict accountability for government employees, but the responsibility of accountability was in the hands of the seniors rather than the people. This same system was then inherited by both India and Pakistan after partition. 
Any person in Pakistan that owns or has owned land or has been involved in the agricultural sector have to be patient whenever they have to reach out to the land management staff to get a record of their land or transfer of ownership. As the country's population grew, so did the number of landowners and with the complexities of the existing system of land management, conflicts and corruption were on the rise. Over time, the system has become so notorious that even the manifestos of political parties claimed to change this system.
This whole system was manual and its drawback began to emerge in Pakistan very quickly. Fees collected in respect of various land documents being pocketed by the staff of the Board of Revenue, especially the patwaris, became a common and accepted practice. For example, if the fee for the land document for record was scheduled at RS 500, then Patwari took RS 5,000 from the applicant and did not deposit a single rupee in the exchequer.
It was keeping all these issues in mind, the process of computerization of land records in Punjab province of Pakistan was started, and in this regard the Punjab Land Record Authority (PLRA) was also established and the authority officials claim that the situation is much better than in the past and efforts are being made to bring about further improvements.
However, during an interactive session, PLRA Director General (DG) Moazzam Iqbal Sipra informed Profit that evolving and dynamic characteristics is the secret by which existing systems remain intact. 

"The systems keep on changing as static things eventually die. Initiative and changes in any existing system is neither a single step movement nor that certain development in a specific time frame will be enough. It is the first step to digitalize the land record when a point about major cons and reason was raised that led the department to improvise the British system and recently taken initiatives," he says, defending the switch back to the patwari system. "Any system is neither good nor bad as it depends upon how effectively, efficiently and well-mannered the system is being implemented. One hundred years back when the transaction rate of land was low, there was an existing hierarchy and great supervision. People usually did not commit fraud in those decades but with the passage of time the number of complaints regarding record authenticity increased and the requirement of certain initiative and change raised." 
Where does the digitization stand
Let us get this much straight – this should have happened a long time ago. And no matter what Chairman Sipra says, the patwari system continues to lag behind. It has implications in both urban and rural settings. In urban settings, patwaris are less relevant but often still hold records to old land that have not been digitized and can put a lot of people in messy legal battles. In rural settings, landowners both large and small have to deal with the immense power that patwaris do have. 
A patwari can withhold the transfer, sale or purchase of your land. They have the authority to make changes relating to ownership, use and taxation in the original land record. The patwaris are the sole authority to issue copies of land records ('Farde Malkyat'), which are required for many other government-related services i.e. in court cases and obtaining domicile certificates. This leads to a lack of transparency, inaccuracies and complexities, and thus land disputes.
At one point, all of this was necessary because these constantly changing records had to be stored somewhere and it made sense to do it on a village level where everyone knew each other personally. However, with digitization, these records can be a click away from everyone. While it was hoped that the formation of PLRA would end the patwari system, progress seems to be very slow.  
Sipra believes that the initiative of establishment of PLRA is really important to understand for people as artificial intelligence and computers did not exist a few decades ago."These [computers and artificial intelligence] have only become available for the general masses in the last couple of decades. As we have entered the modern world with the advancement in technology and the expectation of people has enhanced the services but on the contrary part, certain complaints have been registered about the services and process.  I.T. base development and digitalization is far different from just typing the manual record on computer software," he explains.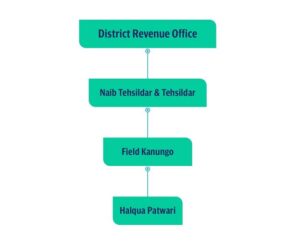 "Digitization is a complete development of the system. There is a huge difference in the services and process today than there was a few decades back. What used to happen in the past was that checking land documents in urban areas, especially in rural areas, was a very difficult task for the owners to access. Anyone had to go to the Patwari to get a record of their land or change it, and it was done after paying a reasonable bribe. Now, the record of JamaBandi [Periodical record of rights] has been scanned and is available. Fee of fard [land document] is attached with the document. For officials related to adjudication the record and data is available on one click whereas prior data has not been linked and shared in the access of different administrative departments."
Sipra insists that the computerized land record system is really designed to eradicate Patwari culture. According to him, the major reason for the start of PLRA is to end the long existing monopoly of the Patwari system. Officially, there used to be 18 different duties on a patwari's shoulder, including Gardawri [periodical crop inspection], cite markation, fard issuance and to handle certain litigations etc. From compiling land records to reporting small-scale clashes in the area, it is Patwari's job. With the initiation of PLRA, only two duties has been conferred upon the authority which are issuance of Fard and mutation. However, it must be noted that these are the two most important duties that involve the most power as well, since the patwari can block sale and purchase of land. 
There has also been the issue that even when digitization has happened, it has happened without any check and balance. This means that the errors which were made by the patwaris earlier have all gone in as it is and have been digitized. Sipra responded to this with a strange candor, saying that life is not a bed of roses, and there would be many other difficulties and problems faced during the advancement.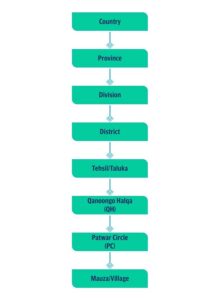 "Of course, there may be certain mistakes in manual records like name, address or markation. If things are shifted as it is to a computerized record it would be garbage in garbage. The first task of PLRA was to eliminate these mistakes and we've corrected a lot of mistakes from the record. CNIC numbers have not been in revenue records for the last 70 years. PLRA has printed all Jama Bandis and sent those to field officers. They have been ordered to visit every plot, correct any error and attach the CNIC number with it too. Prior to computerization, in the manual system after every 4 year the records were archived and Jama-Bandis were updated. But today the things are completely different," he explains. 
Essentially, this means that the process is slow because the manual records must first be fixed before they can be digitized. And for this, they do need the help of the old order. 
What has changed
For starters, there are a lot fewer patwaris around now, mostly because those that retired were not replaced. There have also been changes in the agricultural census. Nowadays, at the time of mutation, the data is automatically updated in Jama-Bandi in real time. Similarly, Girdawari is an agricultural census. It provides the statistics about the crops, but in the last decade there was no real-time girdawari because it is considered the duty of patwari, and the centre has not been recruiting patwaris for a few years. 
"As a result only 20 percent of patwaris are left. Girdawari helps to make assessment about the production in certain crops. But as this system has not been carried through for a long time, Pakistan has to face certain difficulties. In the last few years, the government has not been well aware of the actual number as a result a shortage of some prominent crops have to be faced. Girdawari includes possession matter, type of crops yielded from a land, output land yielded and waste or deficit in the crop. It is processed twice a year," claims Sipra.
Meanwhile, other well placed sources in the PLRA informed Profit that the PLRA had set up land record centers in various tehsils for the convenience of people, and in the areas where land records have been computerized, these centers have been set up whereas the staff at the centers demand bribes in exchange for providing services to the people there.
The sources further informed that the staff of PLRA puts the fees collected in the form of land documents for records in their pockets instead of depositing them in the public treasury.For example, if someone does not have to pay a fee of RS 500, he can pay half the amount to the PLRA staff and take a screenshot of his document through WhatsApp and due to these issues, a lot of money cannot be deposited in the public treasury. When the same matter was discussed with Sipra he replied that this has definitely been happening, but it has been almost controlled by the authority.
"In fact, in the areas where land records were computerized, our land record centers were set up and people turned to these centers instead of the patwaris. Now, technically speaking, there are fifteen Naib Tehsildars and about two hundred patwaris working under one Tehsildar who are working in different parts of the entire Tehsil. But when we took over the responsibility of mutation and issuance of land documents, the load of an entire tehsil fell on one service center. People had to travel as there used to be one branch in every district and certain people exploited and tried their best to tarnish the image of PLRA." 
All of this meant that while the monopoly of the patwaris ended, it gave great opportunities to the staff at the center. And as long as more centers like this cannot be setup, the sheer volume of people coming to these centers means there will always be room for oversights. So when the rush of people started at these centers, the staff also took bribes, and Sipra admitted to this happening rampantly. "In fact the physical access and monopoly were grave concerns of the PLRA as the work load of issuance of fard mutation on 150 branches created a monopoly. PLRA is handling litigation, fard for record, fard for sell and mutation. Things which should have developed with the passage of time already exist but due to some misfortune could not develop has proven harmful," says Sipra. 
"In addition to this, because of low in-house IT capacity, it has taken five months to develop the software and still we have only 14 or 16 IT employees. So to end this monopoly, we first expanded the scope of services. For example, 80% of the whole workload is issuance of fard for record. After providing certain credentials, verifying oneself and after paying the fee charges one can attain fard for record. We just introduced the online payment module which includes debit/credit card, Easypaisa paisa, Jazz cash and Bank account. The purpose of introducing online facilities is to eliminate human interference as much as possible. Similarly, we collaborated with NADRA for CNIC verification and now a step forward is taken by authorizing and permitting 2385 branches of NADRA Punjab-wide to access and issue the fard for record to end this monopoly so that people do not have to go to just one land record center for convenience and provide services to them." 
According to Sipra, all of this has cost not a single penny to PLRA. On average, 46,000 fard for records are being issued from NADRA only on a daily basis which helps to increase the revenue. Similarly, the next big concern was mortgage as people and banks remain under great tension for managing certain documents of fard for mortgage at the time of issuance mortgage and to redeem it. Through the State Bank of Pakistan, the PLRA has signed an agreement with all 49 banks in Punjab and now they do have access to PLRA certain data. With this step, whenever someone comes to apply for a mortgage or redeems it, banks themselves can send an electronic request which will entertain in a certain time from PLRA centre. 
"Things become very different with the passage of time. Some officials exploited the human interference and even started to think they were bigger than entire departments.To end these corrupt practices, PLRA is planning to launch universal access. This project will be revolutionary as no official will be aware beforehand who has appointments the next day for mutation. All the LROs and ADLRs will be transferred back to the centres in Lahore. Citizens via NADRA, Arazi centre or e-khidmat markaz can make their appointments for mutation. All this process will end direct human interference with LROs and ADLRs and make the process effective. Check and balance is important to make the system dynamic and effective," he said. 
Sharing statistics, he claimed that 243 employees have been punished under different inquiries. 73 employees have been terminated in the previous year and more than 300 inquiries and transfers have been initiated. "Things develop with gradual and continuous improvements but in the last decade no certain improvement of initiative can be seen. Mind set and behavioural change issues are currently something that people have to work on. In property dealing it is very seldom that direct sale and purchase happens. Rather mostly some agent, wasiqa navees or lawyer is involved in it." 
"Complications usually exist in urban areas. There is also the problem of a lot of rural areas turning  into urban areas, but PLRA would have a record of rural period but not urban area demarcation. This then becomes the responsibility of the local government. PLRA do have Khasra numbers but not cadestal numbers. Prime Minister Imran Khan and Chief Minister Buzdar have given directions to develop cadestals for urban areas as well and develop a law for the multi story buildings," he said, adding that after receiving a few complaints of transfer of registry of land to a second or third person without mutation, the concept of separation of power was adopted for the purpose of effective implementation of the regulations. 
All 200 Sub-registrar in Punjab have been authorised to issue mutation on the time of registry to avoid any other obstacle. For check and balance, one person is appointed from PLRA in the sub- registrar office  under the project of RDO. The right to issue mutation has been shifted from ADLR (additional director of land record) to sub-registrar. To some extent, Covid-19 lockdowns have been a blessing in disguise in this regard.  It helped to revive the system and the new category of booking pre-appointment was introduced by PLRA. Pre-appointment can be reserved by four methods,  from ufone helpline, website, calling the arazi record centers and through the under process app of PLRA. "This has helped us to tackle the load of masses at centers. More than 9000 transactions are carried out daily by PLRA, out of which more than 8000 are booked via pre-appointment. Providing facility is the duty of the department. In order to end corruption and bribe for early work, special services in the name of executive services and express facilities have also been introduced. By paying Rs 1000 extra to the government one can avail oneself of early appointment. Similarly, In the process of computerizing data, the PLRA has stored upto 70 years old registries of Lahore  in its server and the relevant citizen to the registry can verify or even print the registry after providing credentials and verification. This project has been underway for the last two years. On 31st Jan 2021 data related to registries in Lahore was completed. All these registries are online and archived," he said.
Speaking about the revenue generation he informed Profit that the revenue generation was also the main responsibility of PLRA. "There remain two ways to increase revenue either the department increases the service charges or make certain business developments that help to increase the revenue. PLRA has been successful in increasing its revenue by 100 percent in the last 1 year by just stopping the leakages and making some linkages.
However, the Director Communication of PLRA, Nadia Ahmed, while sharing the statistics with Profit said that the number of service delivery centers of PLRA is continuously increasing.The number of land record centers has increased from 152 last year to 5,000 this year, including 2,300 e-service centers in NADRA franchisees and commercial banks. Similarly, out of 115, 60 Qanoon Goi Centers and 20 Mobile Land Centers have been started. Meanwhile, 11 missions of embassies of four countries USA, UK, UAE and Saudi Arabia have been trained and services will be launched soon. 
"These services will be for overseas Pakistanis who will not have to come to Pakistan to get or change their land deeds and will be able to do their work online. About 100,000 errors have already been fixed in the computerized record and about 98,000 errors out of pending mutations have been corrected. On a daily basis, out of an average of 9,000 transactions from all Land Record Centers, 8,000 transactions are booked under the pre appointment system. Expanding the scope of all these services has also increased our revenue and this year we have so far deposited RS 7456 million in the exchequer which is more than one hundred percent more than previous years," she concluded.