Where do you park your money in this economy? With the interest rate at 22% and rumours abound that the State Bank is about to raise it to 24% one would think putting cash in a savings account would be enough. But these are not normal times. With the inflation rate hovering around 30%, volatility in the stock market, and foreign currency short in money exchanges, avenues for investment seem dormant at the moment. 
Even real estate, Pakistan's national mode of investment, seems to be in the doldrums. Property markets in traditionally safe regions have been tanking. People with plots that they had bought as investments in areas like DHA Lahore and DHA Multan are finding it hard to get buyers and property prices have dropped. 
So what do you do? One argument would be to get into an early stage ponzi scheme. One thing people might forget about ponzi schemes is that as long as more money is coming in than going out the scheme will stay alive. And that means a lot of people, at least in the initial stages of the scheme, will make a buck or two off of it. 
But in the absence of a (very obvious) ponzi scheme, one up and coming real estate company claims they have the answer. Billing themselves as a 'real estate marketing agency' (a suitably vague enough term), Aetmaad is promising new clients guaranteed annual returns ranging from 30-48% with investments starting at Rs 10 lakh. In a nutshell, high returns with little to no risk. Sounds too good to be true? It is.
The plot thickens 
So how does Aetmaad work exactly? To start off let us get a few things straight. The company is not a real estate developer. That means they do not buy undeveloped land and build real estate projects on them. What they are essentially are a real estate marketing agency — a fancy way of saying property dealers. 
Article continues after this advertisement
According to their representatives and senior officials, Aetmaad 'represents numerous real estate projects, both commercial and residential'. On their website Aetmaad has listed Lake City, Serena Homes, Bahria Town, Zaitoon City, New Lahore City, Etihad Town, Kings Town, and Dream Housing and other notable real estate projects in and around Lahore as falling under their umbrella.  
But what exactly does being under their 'umbrella' mean? Essentially, Atemaad claims to have bought property in a number of different real estate projects across Lahore. According to their management the company has around 200 plots under its wing. Using these plots as leverage and as collateral Aetmaad promises rich returns. So when a customer comes to Aetmaad, they ask their client to make a partial payment on one of the plots they already own.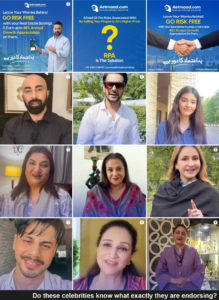 At the time that this partial payment is made, Aetmaad promises that in one year's time they will buy back the same property from that client at a set rate of return. The rate list for this is set. This means if you come in and make a down payment of Rs 25 lakh on a plot worth Rs 1 crore in New Lahore City, you do not have to pay the full amount. Instead after one year, the company will buy back that Rs 25 lakh from you at a predetermined high rate of return.  
The playbook 
Something doesn't quite add up about this, but aggressive marketing, rosy pictures, and salesmen as sweet as honey seem to have been enough to rope a number of people in. People in Pakistan are worried right now. The middle and upper middle classes are worried about what to do with their savings and guaranteed returns of up to 48% are far too attractive to let go. 
In fact, if you walk into their offices, the rates of return are almost all too enticing. At an investment of Rs 10 lakh Aetmaad promises a return of 30% for example. This would mean a year later Aetmaad would return Rs 13 lakh to this investor. Similarly the company promises as 40% return on investments of Rs 20 lakh and 48% return on investments of Rs 25 lakh and more. 
The company's claim is that because property values appreciate and they pick prime locations in prime real estate projects they manage to make these returns and keep a small percentage for themselves as well. The only problem is that they are making this claim in a real estate environment that is very much in a slump. 
In an attempt to understand the 'business model' better, Profit spoke with Syed Bilal, Chief Operating Officer of Aetmaad. The crux of what he explained is that Aetmaad facilitates property purchases for its customers. He explained that their operation basically revolves around a buyback option for the customer. 
"When we take Rs 10 lakhs, it serves as a down payment for a property. If a buyer wishes to complete the purchase after making the down payment, they can pay the balance in fixed instalments. Alternatively, if someone makes a booking with the intention of investing in the property, we provide them with the opportunity to sell the same property back to us after one year if they desire and we offer them a fixed profit in this case. If they choose not to sell to us and find a better offer elsewhere, they are free to sell to whomever they prefer," Bilal explained.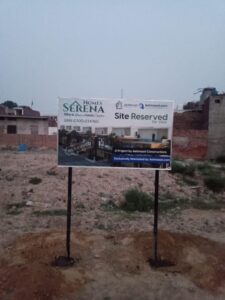 But there are serious problems with this. For starters, what Bilal's statement essentially means is that Aetmaad collects investments and has 200 plots in different real estate projects in Lahore as collateral. It gives these plots as collateral in exchange for these investments. However, while Aetmaad does its own paperwork, these plots are never legally transferred to this new investor. That means there is never really any guarantee for the investor in case the investment goes wrong. Then there is the other problem. If the plot is not actually being transferred and Aetmaad's own paperwork holds no legal weight, how many investors is Aetmaad promising each plot as collateral to? After all they only really have 200 plots so does that mean they cannot have more than 200 clients at any given time? 
When someone pays Rs 10 lakhs, the plot is not legally transferred to that person until it has been paid in full. If someone can afford to buy the plot within a year after making the down payment, why would they go through Aetmaad? Why not simply use the conventional channel of going to a developer through an estate agent? 
When Aetmaad offers to buy back the property from the customer after a year, what exactly is the customer selling back to Aetmaad? Through what instrument is Aetmaad generating enough profit to offer a 'fixed return on investment' to its customers? Property trading? Which housing society project in the country is offering 30% to 48% return on investment within a year and why is Aetmaad the only 'real estate marketing company' privy to this information? More importantly, with no property in their ownership, what 'property' is Aetmaad handing over to these investors? 
Bilal had no answer to any of these questions. Instead, he simply took a curt line and emphasised that Aetmaad does not collect investments "but engages in the safe and reliable buying and selling of properties"
Marketing mayhem 
So this is what we have. There is a real estate company operating in Lahore which apparently does not have any property. They are not developing any projects. They have no products to offer. And they are promising returns ranging from 30-48% at a time when the entire country's economic system is overheating and malfunctioning. 
So with all these red flags, how are they getting people to bite? The answer lies in aggressive marketing techniques. You see Pakistanis are obsessed with buying land as an investment. Over the decades this has inflated property prices in the country leaving huge amounts of capital laying around uselessly. And as a result of this obsession real estate has also gotten the reputation of being a dirty business occupied by kabza groups and Double Shahs. 
That is why real estate companies pick names like Aetmaad. It is also the reason they embark on elaborate marketing campaigns by getting celebrity endorsements and plastering their name and project details all over posh localities. A simple drive around Lahore's DHA in recent days will reveal the aggressive marketing approach that Aetmaad has taken. 
Normally these marketing techniques are employed by new housing societies. These are those projects where the developer buys a partial amount of land and offers to sell "files" for plots that will be developed in the future. People fall for this thinking they will be "allotted" a plot later when in reality the developer has not even bought the land that is to be developed yet and is simply collecting investments. If a government permit does not go through or the project goes kaput that money is lost as part of the failed or stalled project.

In Aetmaad's case they don't even have this partial land or a project. Instead, they have employed different actors and prominent personalities to promote themselves. Actors such as  Babar Ali, Bushra Ansari and Samina Ahmed have lent their names to Aetmaad's citywide promotional campaign.Some of the endorsements have also featured celebrated fashion designer Hussain Shehreyar Yasin as well.
There is one problem in all of this. Many of the people that have invested with Aetmaad have gotten the promised returns. But in this real estate environment, how are they making this much money? With only 200 plots in their arsenal, we also know that no real estate project is giving them these kinds of returns. One possibility is that Aetmaad is playing a risky game and investing in some high volatility stocks and making enough of a return to pay their clients and also take a cut. After all, their returns at 48% are believable. The other possibility is that they could be moving money from one place to another.
If the shoe fits …
Let us forget about Aetmaad for a moment. To take a quick recess from the complexity of this story it might be worth revising an important concept in the world of business: ponzi schemes. Here's how it works in simple terms:
The Promise: Someone, let's call them the "Ponzi schemer," tells people they have a fantastic investment opportunity. They promise to make them rich quickly and with very little risk.
Investment: People who believe this promise give their money to the schemer to invest. They think they're putting their money into a legitimate business or investment.
Fake Returns: Instead of actually investing the money, the schemer takes the new money from investors and uses it to pay returns to earlier investors. They make it look like the investments are doing really well by giving people their promised profits.
Attracting More Investors: When the earlier investors see their money growing, they tell their friends and family about this amazing opportunity. This brings in even more people who invest their money.
The Problem: The scheme can only keep going as long as there are new investors bringing in fresh money. Eventually, there are not enough new investors, and the schemer can't pay returns to everyone.
Collapse: When the scheme can't pay out anymore, it collapses. Many people lose their money, and only a few who got in early may have made some profits.
The key idea here is that the scheme relies on using new investors' money to pay off earlier investors. It's like a financial house of cards that eventually falls apart, leaving most people with losses and only benefiting the schemer and a few early participants. Very basically speaking, the money put in by new investors is used to pay returns to older investors. As long as new investors keep coming in, the older ones are happy. Ponzi schemes when managed well can go on for ages. The American financier Bernie Madoff famously kept a massive ponzi scheme running for 17 years before it caught up with him. 
Classic signs of a ponzi scheme include: 
Bold promises made on the back of a vague product 

Get rich quick claims 

Aggressive sales pitches
The 200 plots problem
For just a moment, set aside the glitz of the marketing and the stink of suspicion and take Aetmaad's claims at face value. Let us put aside the sceptic's glasses and really try and understand what they are claiming to do. Aetmaad's entire schtick revolves around their 200 plots. Just to estimate the amount of capital required to make such a purchase, we calculated the average price of a 5 marla plot in both housing societies. 
There are no details available about which plots Aetmaad has purchased but even when one assumes, for sake of argument, it bought just one plot in New Lahore City, a more expensive society are at around an average price of Rs 1.18 crore and 199 plots in New Lahore City at a rate of Rs 72 lacs, the total spend comes to around Rs 1.44 billion, by no means a small investment in a stagnated sector of an economy that is crashing. 
In fact, any combination of quantities of the plots bought in each society provided a figure that corset the 1 billion rupees mark. 
Additionally, Aetmaad claims that they have managed to attract and gather capital from three hundred investors up until now. But there are only two hundred plots. Aetmaad has sold something it does not own.
If, hypothetically, Aetmaad was to abscond with the investors' funds, it could potentially lead to a situation where the three hundred investors turn against each other instead of going after Aetmaad. This is because the same plot might have been used as collateral and transferred to multiple investors under the company's agreement; a potential disaster. 
A property dealer, wishing to remain anonymous, familiar with prices and transactions involving plots and files in New Lahore City dismissed Aetmaad's claim. He pointed out that these types of housing societies don't typically deal with actual plots but files, and according to him, Aetmaad hasn't grown into a significant enough player to purchase two hundred plots.
Regulatory problems
Since Aetmaad is in the business of making investments with other peoples' money, it is required to obtain certain licences and permissions from the Securities Exchange Commission of Pakistan (SECP). 
As per SECP, such licences are issued to companies that deal with or manage investments, and such companies may undergo audits perhaps twice a year. However, Aetmaad does not possess such a license.
On the regulatory aspect of the business, Bilal argued that they are not asking for any form of investment from individuals. He claimed that their business plan does not include any intention to raise any kind of investments, and that they fully adhere to SECP rules. 
However, the only two options mentioned under the 'purpose' section of its sign up page on the company's website are "buy a property" and "investment". But more importantly, why is Aetmaad guaranteeing exorbitant returns to investors who work with them? That is the definition of investing on behalf of another individual. Mr Bilal's argument does not make much sense in this respect. 
Aetmaad's COO claims they do not ask for 'investment' despite there being concrete evidence to the contrary. The SECP feels differently. According to the commission's spokesperson, Sajid Gondal, Aetmaad lacks the required licence for such activities. It's noteworthy that a company named Aetmaad Projects Limited is indeed registered with SECP. 
However, even this registered entity does not possess the essential licence for soliciting investments. This scenario, where a company is collecting investments from individuals without proper authorization, is characterised as both unauthorised and illegal according to SECP regulations.
It is pertinent to mention here that SECP issues a stern warning to the public regarding various forms of fraudulent investment schemes. To ensure the safety of potential investors, SECP outlines several common types of schemes that investors should approach with caution. One prevalent type is Ponzi Schemes, which entice investors with the promise of high returns. These schemes operate by using funds from new investors to pay off earlier ones. However, these unsustainable practices eventually lead to a collapse when the influx of new investors diminishes.
Not the only ones 
Regrettably, Aetmaad is not an isolated instance of an allegedly illegal and unauthorised real estate investment company operating within Pakistan. A multitude of analogous companies and websites are exploiting people by masquerading as legitimate investment opportunities.
Another example of the same is 'Ismmartindustries', affiliated with the ISMMART Group of Industries. This website asserts to have bases in Dubai and Islamabad and is also touting returns comparable to Aetmaad's in the real estate domain. 
With a specific focus on one of its ventures, Tower 17, an incomplete high-rise structure situated in Islamabad,Ismmart is looking for investments. It promises profits to investors based on this ongoing project.
According to the website's claims, it guarantees a return on investment for this incomplete venture. It offers a fixed monthly rental rate of 1%, accompanied by an annual increment of 10%. This offer pertains to a project that remains in an unfinished state. Additionally, the same website extends its promise of a "Guaranteed Monthly Rental Payment" from the time of booking for another incomplete project named Crystal Tower, situated within Park View City in Islamabad.
At the end of the day, Aetmaad's fundamental function is to deliver a promised rate of return on the money entrusted to them by their customers. There are no assets being purchased or sold by either party in the transactions that Aetmaad is making here. It seems like a cash-based operation being run under the guise of 'real estate property management'. 
It isn't a terrible idea to get into this business as an investor as long as you are early. It is usually the tail end of investors that get the short end of the stick in such shady investments; the ones without a chair when the music abruptly stops. 
But there are still two aspects to consider here. Firstly, gauging from what Aetmaad has been doing and what it plans to continue on doing, whoever is an early investor and gets paid back with profit, it's likely not generated through 'returns from the real estate sector' and is more likely someone else's money. This is an ethical dilemma, even though one is making money.
Secondly, it is still a high risk investment. There are plenty of more legitimate high-risk, high-reward investment options available in the market providing a level of transparency Aetmaad simply cannot and does not want to for obvious reasons.
Like the SECP spokesperson said, exercise caution, read the small print. And if we may add, use your brain!