Pakistan Gasport is pursuing a spot deal for liquefied natural gas (LNG) in November, ending a 16-month drought in the country's spot LNG market. The deal is the possible resolution of a protracted dispute between Pakistan LNG (PLL) and Gasport over the utilisation of excess capacity at an LNG terminal.
The two parties signed an agreement in August 2022 to exploit the idle capacity of Gasport's terminal, which can accommodate 750 million cubic feet per day (mmcfd) of LNG, while PLL only has an allotment of 600 mmcfd. The agreement would enable Gasport to import LNG on its own and slash the capacity charges from $0.42 to $0.38 per million British thermal units (mmbtu).
However, the previous government renounced the agreement, leaving the terminal languishing. The caretaker government has vowed to enact the agreement by 17 September 2023, paving the way for private sector involvement in LNG imports.
"I believe there's immense potential in terms of empowering a private sector company to import LNG. It's undoubtedly a welcome development because it's the first step in moving away from the single buyer model that we have for energy in Pakistan," contends Mustafa Pasha, Chief Investment Officer at Lakson Investments.
Why don't private companies import LNG in Pakistan? 
Private sector companies in Pakistan have historically refrained from importing LNG for a number of reasons. Firstly, the government owns all of the capacity in the country, and until the Oil and Gas Regulatory Authority passed the Gas Third Party Access Rules (TPA) in 2018, the two Sui Companies had a monopoly on the gas delivery system in Pakistan.
All of this, however, has fortuitously fallen in place for Gasport on account of its aforementioned agreement to allow it to proceed with its maiden venture. "There are no risks at all. We need more private parties doing this, and less government," declares independent economic analyst Ammar Habib Khan.
Whilst historical obstacles might be out of the way for Gasport, it has to grapple with more contemporary ones.
Getting the price right 
"Various countries have presented us with a range of options. If the government or any other entity can procure LNG at a price equivalent to or lower than 12% of Brent, there is a market for it," Ahmed Z. Iqbal, Chairman of Gasport, informed the media. Ahmed's calculations amount to approximately $11 per mmbtu.
However, on a global scale, futures contracts for LNG in October are trading at $13.32 per mmbtu on the LNG Japan/Korea Marker (JKM), and $10.78 on the Dutch TTF Natural Gas index. Although TTF may appear to be the optimal purchase, it is important to note that TTF is a physical pipeline index and may not fully account for the cost of liquefying natural gas or accessing the pipeline grid. TTF has become the most liquid pricing location in Europe and often serves as a pricing proxy for the overall European LNG import market, but this caveat remains.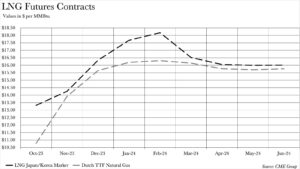 Looking beyond October, futures contracts only increase in price, peaking in February for both indexes. However, even from February to June, they remain above the $11 price that Gasport is seeking from the spot market. The spot market is typically more expensive than the futures market, but that does not mean it is impossible to achieve.
"We usually purchase at rates lower than the Japan/Korea Marker. The JKM is generally at a premium compared to the Middle Eastern market, so it is entirely possible to obtain it at a lower price than JKM," Khan asserts.
However, there is no certainty as to whether this can be accomplished. "It's unlikely, especially when you factor in country-specific premiums that would apply to Pakistan," Pasha remarks.
Pakistan currently has access to LNG at approximately $11-$12 per mmbtu through its long-term contracts, which include agreements with Qatar Energy, Qatargas II T1, and a recent agreement with Azerbaijan.
Nonetheless, Pakistan has not shied away from the spot market. According to data provided by the International Group of Liquefied Natural Gas Importers, Pakistan has obtained LNG cargoes from the spot market from Egypt, Malaysia, Oman, Qatar, the UAE, and the USA.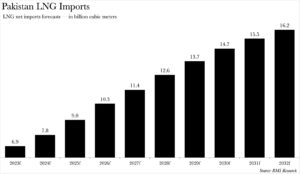 However, when it is not the Government of Pakistan purchasing these contracts, it becomes an entirely different matter.
Circumventing big brother 
"It remains to be seen if the government allows private entities to sell to private parties or it requires them to sell to the grid and system. If that is the case then you're back to square one in terms of circular debt and line losses and theft etc," States Pasha. Whilst the TPA does exist, actually going through with third party access to Pakistan's gas infrastructure is another matter entirely, and one that remains to be seen. 
Even if the Government of Pakistan were to allow Gasport to go ahead with the contract, and even sell directly to private buyers, Gasport would need to contend with Pakistan's archaic gas infrastructure or devise their own delivery mechanism in order to avoid Pakistan's circular debt ridden system. 
How is this deal going through at a time when Pakistan is in the midst of a forex crisis, and banks are wary of opening letters of credit? Gasport says it will employ a barter system to carry out its trade. 
Is there a market for this if they pull this off? 
The output from Pakistan's mature fields is on an inexorable downward trajectory. BMI Research paints a grim picture, forecasting a steady decline in gas output from 32.39  billion cubic metres (bcm) in 2023 to a paltry 25.59 bcm by 2032. This compels Pakistan to dig deeper into its pockets for LNG imports, a formidable challenge given the country's balance of payment crisis and the sky-high global gas prices.
The influx of LNG is set to balloon at a compound annual growth rate of nearly 10% over the same period, escalating from 6.90 bcm to a whopping 16.2 bcm. Intriguingly, the government may not be the lone wolf initiating these imports.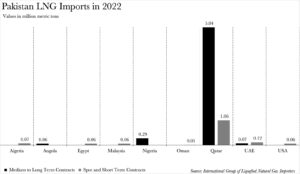 "The current economic quagmire in Pakistan has forced the Energy Ministry's hand to impose curbs on LNG imports, directing PLL to scale back its purchases. Amidst this backdrop, private entities find themselves in a favourable position to step in and facilitate LNG imports."," explains Jawad Majeed, General Manager at Tabeer Energy. 
Majeed further sheds light on the potential windfall this arrangement could bring about, which could include "stemming forex outflow, stabilising prices, ensuring greater availability, and fostering a potential marketplace teeming with participants in the future."
As it stands, Pakistan is steeling itself for a grueling winter marked by gas supply rationing. Gas will be doled out thrice daily for cooking to households due to severe foreign exchange shortages, as per officials from the country's petroleum ministry. Pakistani households will have gas at their disposal for three hours in the morning, two hours in the afternoon, and three hours in the evening. The country has also been grappling with procuring LNG from the international market due to prohibitive spot prices.
However, a mild winter in 2022-2023 coupled with reduced gas demand in Europe have resulted in storage levels being significantly higher than usual. Consequently, futures contracts are not trading at last year's exorbitant rates.
So maybe Gasport is into something that could surprise us all?