Hot on the heels of an acquisition spree AsiaPak Investments has proposed an initiative that would convert Block 5 of the Jamshoro Power Plant in Sindh into a coal powered electricity generator powered entirely by Thar Coal. 
So what does this mean? 
Essentially, the Jamshoro Power Plant near Hyderabad is a power producer that uses a mix of gas, coal (both imported and local) and furnace oil to produce electricity. The Government has wanted to shift the plant to more affordable electricity options such as local coal, in hopes of which it sought out to build Blocks 5 and Block 6 of the plant. Neither of which is operational as of yet. More on that later. 
Since it is close to Karachi it generates power for the port-metropolis. The problem is that since the prices of gas and other imported fuel sources are so high, electricity is incredibly expensive. One possible solution that has been proposed time and again is Thar Coal. Cheap, indigenous, and plentiful — Thar Coal has the capacity to be the fuel source for the production of cheap electricity. 
The concept of cheap electricity through Thar Coal has been a major talking point of AsiaPak Investments which recently acquired K-Electric. The investment company also owns Daewoo in Pakistan and is an early investor in Block 1 of the Thar Coal fields which is also a project of the China Pakistan Economic Corridor (CPEC). 
If the Jamshoro Power Plant agrees to the plan AsiaPak has claimed they will have the plant up and running on coal by next year. At present, Block 6 utilises an entirely Thar based generation architecture whilst Block 5 of the Jamshoro Power Plant harnesses a blend of imported and local coal for power generation. The current coal composition, as per design, leans heavily on imported sub-bituminous coal at 80%, with local Thar lignite coal making up the remaining 20%. The envisaged transformation of Block 5 from a mixed-coal power plant to an entirely local operation comes with a hefty $50 million price tag, a sum that AsiaPak appears undeterred by. The particulars of the financing for this ambitious venture remain under wraps.
The Thar potential
It is a simple problem. Pakistan relies heavily on imported fuel sources such as reliquified natural gas (RLNG) to produce electricity. Whenever there is an international crisis, such as the Russia-Ukraine war, Pakistan's energy sector is rocked by the ripple effect. There is a simple solution. Cheaper fuel — something like coal perhaps. And the source is right there too. Spread over more than 9000 km2, the Thar coal fields are one of the largest deposits of lignite coal in the world — with an estimated 175 billion tonnes of coal that according to some could solve Pakistan's energy woes for, not decades, but centuries to come.
The question is, if this rich natural resource is available, why has it not been utilised more than it is currently? Discovered in the early 1990s by the Geological Survey of Pakistan (GSP), Thar Coal accounts for  around 2000 MW of electricity produced in the country. The potential is much greater. If new projects that are currently under construction become operational, in the next year electricity production from the Thar coalfields is expected to be much higher. 
In short, Thar Coal offers a cheap, alternative, local source of energy that can be used to produce electricity and help Pakistan escape its topsy-turvy reliance on international markets to maintain its energy supply.  The concept is pretty simple and AsiaPak's interest in it is obvious. 
What's in it for AsiaPak? 
K-Electric, akin to any other distribution company (DISCO), is unable to impose a separate electricity tariff that deviates from the uniform one established across Pakistan. Therefore, residents in Karachi are not privy to cheaper electricity than those in other parts of the country — at least not on the base tariff. If the cost of generation is reduced, customers benefit from fewer fluctuations in fuel charge adjustments. Moreover, transitioning to local fuel sources is crucial as it diminishes reliance on imported fuels and mitigates exposure to USD/PKR fluctuations.
XWDISCOs (all DISCOs excluding K-Electric), and K-Electric submit separate requests each month to the Government of Pakistan for fuel cost adjustments to the units of electricity they supply to consumers. How does a more sustainable fuel source benefit K-Electric beyond potential goodwill with customers? Lower receivables.
K-Electric's receivables have surged at a compound annual growth rate of 60% from Rs 56 billion in 2018 to Rs 375 billion in 2022. As of March 2023, they stood at Rs 404 billion. The primary cause for these increases are tariff adjustment payments that K-Electric needs to collect.
K-Electric also attributed tariff adjustments as one of the main reasons for its negative operating activity cash flow in 2022 due to the increases in working capital. A reliable power supply from Jamshoro provides some form of future insurance against the amount increasing at the rate that it already is.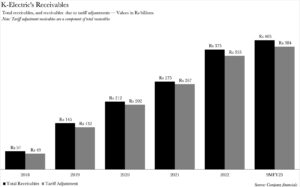 And what better way to improve K-Electric than to improve your own group revenue? 
Take from Peter to pay Paul 
AsiaPak Investment owns a share in Thar Coal Block 1. If Jamshoro is converted to a completely Thar based power plant, and if that coal were to come from Thar Block 1 AsiaPak would make money either way. 
If anything, not that Thar Coal needs one at this point, but the Jamshoro Plant can also be the mascot that AsiaPak needs for Thar Coal. 
Buying your brand ambassador
Presuming no other Thar-based power plants commence operations prior to Jamshoro Block 5, it could potentially be hailed as the sixth of its kind in Pakistan. The pioneering quartet comprises Thar Coal Rock-1, Engro Power, Thar Energy, and Thal Nova. Lucky Electric is poised to transition to Thar once supplies from Thar Coal Block 2 become accessible.
There's more to Jamshoro Block 5 going the Thar route than just it being the sixth power plant to possibly do so. Earlier this year, the National Electric Power Regulatory Authority rebuffed the proposed generation cost of Rs 32 per unit conveyed by the yet-to-be-operational Jamshoro plant — these figures being tentative estimates. If AsiaPak can significantly pare down this per-unit cost, it could serve as an unparalleled mascot for the company to optimise their returns from their stake in Thar Coal Block 1.
Is there a need for a mascot? While it's not indispensable, it certainly doesn't hurt to have one. Particularly at this intriguing juncture for our coal reserves, as entities beyond the energy sector may also be casting speculative glances.
"Some cement players are also testing Thar coal for viability. I believe we will witness an increased demand for Thar coal in non-power sectors in the future.," explains Fahad Rauf, Head of Research at Ismail Iqbal Securities. 
K-Electric's infatuation with the Jamshoro plant predates AsiaPak, and it seems that the new owners want to start their tenure with a bang.