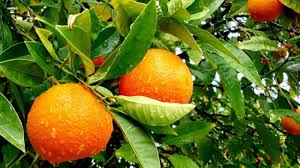 Citrus sector were among the earliest achievements of Pak-US partnership, says Hale
The Ambassador of United States David Hale has said that the US will help Pakistan to expand the kinnow exports and boost sales both on the local and international level.
David Hale was inaugurating Citrus Expo along with Minister for National Food Security and Research Sikandar Hayat Bosan here on Thursday. The expo was organised by the United States-Pakistan Partnership for Agricultural Market Development.
The United States Agency for International Development (USAID) launched the US-Pakistan Partnership for Agricultural Market Development in February 2015 to improve the ability of Pakistan's commercial agriculture and livestock sectors to compete in international and national markets in four target product lines: meat, high value and off season vegetables, mangoes, and citrus.
Speaking on the occasion, the US envoy said the advances in the citrus sector were among the earliest achievements of the partnership, dating back to the 1960s, when the kinnow fruit was first developed by the University of California, Riverside.
"Scientists from both countries established the first kinnow plantation in Pakistan at the Experimental Fruit Garden at Punjab Agricultural College and Research Institute Lyallpur, now known as University of Agriculture, Faisalabad.
Today we build on those early achievements of the USAID, Pakistani government and the private sector, who are working together to expand the kinnow market to boost sales in the markets.
This partnership will help to ensure Pakistani citrus exporters become more competitive internationally," Ambassador Hale added.
Speaking at the expo, the minister for National Food Security and Research expressed his appreciation for American-Pakistani partnership in the agricultural sector.
This partnership acts as a catalyst for development and investment in the target product lines and promotes cooperation among farmers, processers, exporters, and buyers of agricultural products from Pakistan.
The United States is the largest trading partner for Pakistan, with total bilateral trade volumes approximating $5 billion annually. It is also the leading export market where more than 14 per cent of Pakistan's annual exports now find a market.