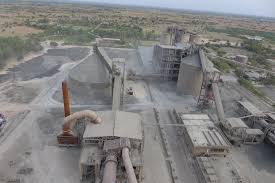 Premier Cement Company, a wholly owned subsidiary of Sapphire Fibres Limited (SFL) has been approved mining lease licenses by the Mines and Minerals department Khyber Pakhtunkhwa. This was notified by a notice sent to the Pakistan Stock Exchange (PSX). The company plans to set up modern state-of-the-art cement plant in the region to exploit the great potential that the domestic cement sector presents. Moreover the company's plans are driven by a drive to diversify into the building materials industry.
The company is hopeful that the prospective license will be converted into a full mining license in the future.
SFL is the flagship company of the Sapphire group and is a vertically integrated composite textile unit engaged in the manufacturing of cotton yarn, fabric and garments.
The company's decision to diversify into the cement industry aims at benefitting from the exponential growth in demand for the cement industry as a result of various infrastructural projects that are underway in the country including the development initiatives under the CPEC.
SFL's stock closed at a price of Rs 1,049.98 registering an increase of Rs 49.99 ( 4.76pc) on Thursday.