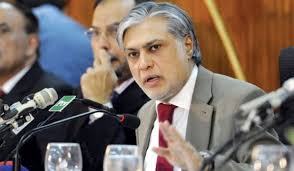 The present Government is committed to ensuring transparency in all sectors of the economy working closely with international organisations like OECD etc. for bringing good governance through transparency and fighting against corruption & tax evasion, Federal Finance Minister, Senator Mohammad Ishaq Dar told the US-Pakistan Business Council (USPBC).
According to a message received from Pakistan embassy in Washington DC early Tuesday morning, he was addressing the members of USPBC at US Chamber of Commerce in Washington DC. After having achieved the macroeconomic stability, Dar said the Pakistan government was making concrete efforts to achieve sustainable and inclusive higher growth.
He apprised the audience that international rating of Pakistan has improved significantly from negative to positive during the span of last four years. Our stock market has emerged as the 5th best performer in the world which clearly indicates that Pakistan has huge potential for investment. Pakistan has so far introduced 24 laws to make the environment business friendly whereas ten more such laws are in the making.
While stating that Pakistan and the US have a long history of strong bilateral relations particularly in the arena of trade, business & social development, the Minister urged the US investors to take advantage of the tremendous investment opportunities opening up in Pakistan. The international Companies must consider relocating their manufacturing operations to Pakistan as the country has an abundant supply of cheap labour and provides convenient access to a very large regional market, he suggested.
Presently, Pakistan is offering low-interest rate and is in the process of setting up Pakistan Infrastructure Bank led by IFC to provide capital for infrastructural development to the private sector. Finance Minister Ishaq Dar added that financial & digital inclusion of Pakistani population is among top priorities of the government.
The event was attended by the representatives of large US multinationals including GE, Boeing, LockHeed Martin, Proctor & Gamble, Monsanto, ExxonMobil, Motorola, Uber, Coca-Cola and others who greatly appreciated the robust improvement in economic & business environment in Pakistan.