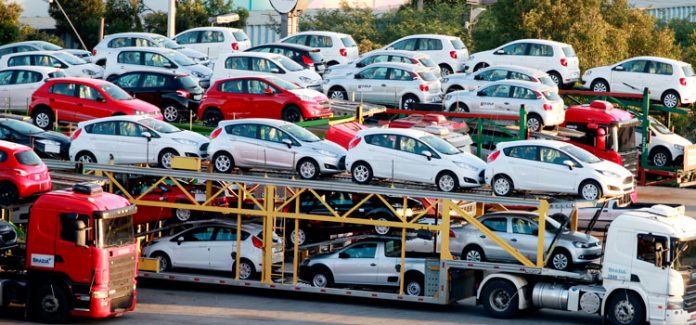 Total car sales of the local manufacturers and assemblers have touched 155,960 units up by 2.39 per cent in the current fiscal year compared to 152,229 units sold in the same period last year, Pakistan Automotive Manufacturers Association (PAMA) said here on Thursday.
In April 2017, the automotive industry sold 16,390 units down by 11.62 per cent compared to 18,295 units sold in the March 2017 but up by 8.3 per cent compared with 15,023 units sold in April 2016.
Auto sales (including LCV's and Jeeps) continued to register robust sales' trend during the last ten months of the current fiscal year (ex-Taxi scheme). "Car sales in 2016-17 would remain firm at 270,000 units, including imports of 60,000 units."
"April 2017 car sales (including LCV's and Jeeps) came at par with our expectations," the analyst said. On a MoM basis, volumes witnessed a contraction of  11.62 per cent (5-year Avg. contraction of 6 per cent MoM), mainly due to phase out of old 'Cultus' and 28 per cent MoM contraction in volumes of Suzuki 'Bolan' and 'Ravi'.
Pak Suzuki Motor Company's (PSMC) volumes remained strong (ex-Taxi scheme) due to the healthy sales volume of 'Wagon-R', while strong LCV sales further supported volumes during last ten months.
Volumes of 'Cultus' went down 13 per cent YoY in the outgoing month, due to phase out of the older version as PSMC launched all new Suzuki Cultus on 22nd of April. The base variant is available at a premium of 30,000 for immediate delivery.
The PSMC sold ( only Car) 81,018 units in last ten months down by 2.6 per cent compared to 83,205  units sold in same period 2015-16. The major reason for this decline was the Taxi scheme of Punjab government, the analyst said.
Due to the operational issues in Indus Motors (INDU), its sales witnessed a decline of 6.06 per cent and stood at 45,447 units in July-April period compared to 48203 units sold in the same period last year. 'Fortuner' witnessed a surge YoY. The waiting period on the car is more than six months, highest among INDU's product line up.
Toyota sold its 45,447 units down by 6.06 per cent in the said period compared to 48,203 units sold in the same period last year.
Honda Car (HCAR) sales continued to depict buoyant trend. There is a premium of 350,000 on the newly launch BRV. The dealers said around 3,000 BR-Vs had been booked up till now.
Honda sold 31,639 units in last ten months up by 32.7 per cent compared to 21,293 units sold in last ten month of 2015-16.
Tractor sales continue to follow the upward trajectory with off-take growing 69 per cent in ten months 2016-17. The analyst expects lower retail prices (reduced GST), improving crop yield and continuation of fertiliser subsidy to alleviate liquidity concerns among farmers, thus improving the overall tractor off-take during 2016-17. Moreover, with the election year approaching, announcements of tractor subsidies in the upcoming federal budget cannot be ruled out.
Truck sales of PAMA member companies in July-April 2016-17 remained strong. Major increase was seen in sales of GHNI followed by Master Corporation and HINO. This up streak is to continue, fueled by increased demand under CPEC and infrastructure related activities.
Volumes of two and three wheelers continued to post growth on the back of improvement of law and order situation in the country.