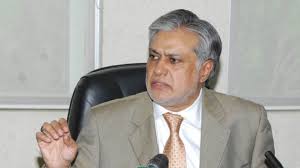 Minister for Finance Senator Mohammad Ishaq Dar said on Sunday that the government was fully cognizant of the need to boost the country's exports in order to achieve higher, sustainable and inclusive export-led Gross Domestic Product (GDP) growth.He was chairing a preparatory meeting for the upcoming budget for FY 2017-18 here at the Ministry of Finance, a press release said.
The Secretary Commerce presented budget and tax related proposals for the trade and commerce sector to the finance minister, based on consultations he had held with representatives of various industries and exporters. The minister said the proposals would be accorded due consideration in the budget preparations. He said that the government announced the Prime Minister's Package of Incentives for Exporters worth Rs 180 billion earlier this year. The Secretary Commerce informed the minister that the incentives provided under the Prime Minister's package were having a positive impact, and the export figures had shown a noticeable improvement in recent months as a result of that.
The minister stated that Pakistan achieved 5.28% GDP growth during FY 2016-17, which was a ten-year high, and the target for FY 2017-18 was 6% GDP growth. He also reviewed the tax and relief measures to be announced in the forthcoming budget. He said improving the well-being of general public and addressing their needs was the utmost priority of the government in the budget.
He instructed officials of the Ministry of Finance and Federal Board of Revenue (FBR) to complete the budget work as early as possible according to the prescribed timelines.
Finance Secretary, Secretary Economic Affairs Division (EAD), Secretary Commerce, Chairman FBR and senior officials of Ministry of Finance, FBR and State Bank of Pakistan (SBP) attended the meeting.