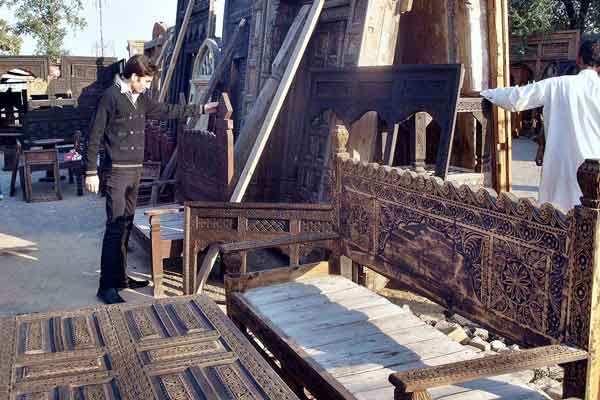 KARACHI: Federation of Pakistan Chamber of Commerce and Industry (FPCCI) President Zubair Tufail on Saturday said Pakistan's furniture industry has a big potential to dominate global markets with innovative designs and can significantly contribute to exports; however, it direly needs a package of incentives and facilitation for boosting exports.
Talking to media men at Expo Centre on the 2nd day of 3-day mega 8th Interiors Pakistan organised by Pakistan Furniture Council (PFC), he said , unfortunately, the furniture sector remained badly neglected; it needs special attention of the federal and provincial governments for the training of woodworkers on modern lines.
Zubair Tufail further said there is an urgent need to explore international market for boosting our exports as there is a lot of potential in Pakistani products, adding he said the value of furniture export was very nominal but the beginning had been made, and with aggressive marketing strategy the value of exports could be doubled in a short span.
He said if the government extends its support to furniture companies, the volume of export could touch the figure of $ 5 billion for the next five years.
Talking on this occasion, SAARC Chamber Vice President Iftikhar Ali Malik said our global image of a producer of low quality, cheap, selected goods and services is hurting our export potential to the maximum. "We need to increase our productivity by increasing our efficiency, profitability by providing export incentives, competitiveness by rapid globalisation and sustainability by protecting the environment.
He further said that foreign companies have shown a keen interest in Pakistani market. He urged the Pakistani businessmen to start joint ventures with their foreign counterparts. "All this can happen if there is government's will and a vision amongst furniture traders. Joint ventures with foreign companies through trade commissions for providing machines on the lease can bring product quality at par with highest international standards.
FPCCI Senior Vice President Aamir Atta Bajwa suggested that a programme for developing and promoting the furniture sector both in rural and urban areas could be feasible, and also stressed upon the urgent need for implementing modern techniques which not only enhance productivity but also develop skills of labourers and meet requirements of local and global markets.
He said, additionally, there is a need to increase our export surplus, product utilisation capacity, productivity, enhanced quality control and private-public partnership. We need to strengthen the practices to attract foreign direct investment and economic diplomacy while SMEs shall be facilitated and encouraged to export.
SAARC Chamber of Commerce and Industry Vice President Iftikhar Ali Malik, FPCCI Senior President Aamir Atta Bajwa, PFC Chief Executive Mian Kashif Ashfaq, PFC GM Hamid Mehmood and coordinator Adnan Afzal were present on this occasion.