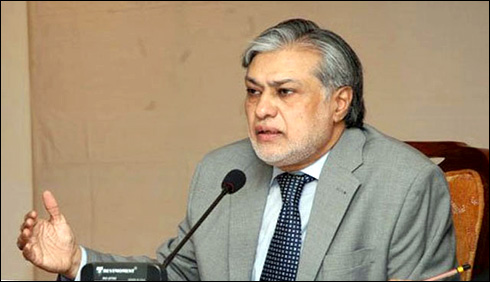 ISLAMABAD
Finance Minister Ishaq Dar has claimed that the number of net taxpayers has surged by almost 50 per cent during the past four years. The tax revenue subsequently has enhanced from Rs 1946 billion in 2013 to Rs 3362 billion rupees in 2016.
Addressing a launching ceremony of the tax directory for the year 2016 at the Federal Board of Revenue (FBR) in Islamabad on Friday, the minister said that the 17,000-page document featuring tax details of 1,216,614 taxpayers was issued for the fourth consecutive year.
The minister said that over 1.2 million people filed their returns in 2016. He said that this increase in revenue has been witnessed by bringing the privileged class into the tax net and gradually removing the exemptions.
"In line with our tradition of last three years, I am pleased to present the tax directory of all taxpayers for the tax year 2016, prepared by the FBR," the finance minister said.
The tax directory comprises three sections including corporations, Associations of Persons (AOPs) and individuals, listed in alphabetical order.
Dar said that the initiative taken by the government to broaden tax base were yielding the desired results due to which the total number of taxpayers, who have filed the returns and included in this directory to 1,216,614 compared with 1,074,418 taxpayers in the directory for the tax year 2015.
The finance minister said that the tax directory was the manifestation of government's commitment to providing access to information to the general public and should help in creating public awareness, motivation and transparency.
Dar lauded efforts FBR chairman and staff of the board for their contribution in the publication of this directory. The minister on the occasion called upon the senior officials of the board to contribute to their best to achieve current year tax collection targets.
The finance minister said his government had taken difficult decision to ensure expansion in tax collection which included the end of subsidy and bringing major tax evaders into the tax net.
He also claimed that the government has signed an agreement with Switzerland for the exchange of information on tax evaded money during the current month. He said, meanwhile, Pakistan also approached to become a member of Organisation for Economic Cooperation Development (OECD) and after detailed deliberations, Pakistan became the 104th member of this organisation meant for sharing information about tax evaded money.
It may be recalled here that FBR last month, had also launched the 'Parliamentarians' Tax Directory' for the fourth consecutive year, ending on June 30, which is now accessible on the FBR website.
The tax directory contained tax details of 1,010 parliamentarians as against last years' tax details of 996 parliamentarians from the upper and lower houses, and provincial assemblies were disclosed to the public.