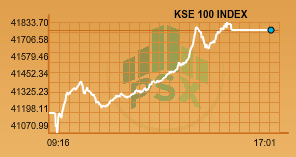 LAHORE
The Pakistan Stock Exchange (PSX) resumed trading with bulls showing their power. After an initial dip, the market recovered, though participation remained low. Pakistan's annual inflation rate increased to 3.42 per cent in August from 2.91 per cent a month earlier, the state Bureau of Statistics said on Tuesday. On a month-on-month basis, the inflation rate was 0.19 per cent in August.
The benchmark KSE 100 index recovered by 626.71 points to 41,833.70 intraday after a fall by 136.00. The Index landed up 572.21 points at 41,779.20.
The KMI 30 index recovered 1,503.66 points to 71,210.48 while the KSE All Share Index gathered 379.48 points.
The advancers to decliners' ratio stood at 250 to 92.
The market volumes accumulated to 107.77 million with TRG Pakistan Limited (TRG +4.97 per cent) in the lead, volume 9.49 million. Aisha Steel Mills Limited (ASL +5.27 per cent) followed with 8.13 million and Sui Southern Gas Company Limited (SSGC +2.86 per cent), volume 6.37 million.
The pharmaceutical sector topped the chart with 4.71 per cent added to its market capitalization after news from the Drug Regulatory Authority of Pakistan (DRAP). The Drug Regulatory Authority of Pakistan, along with provinces and security agencies, will conduct market inspection throughout the country to check the sale of spurious, fake, counterfeit and substandard drugs.
Highnoon Laboratories Limited (HINOON +5.00 per cent), Abbot Laboratories (Pakistan) Limited (ABOT +4.28 per cent) and The Searle Company Limited (SEARL +4.87 per cent) all touched their upper circuit breakers.
The engineering sector followed with rise of 3.38 per cent. Both Aisha Steel Mills Limited (ASL +5.27 per cent) and Amreli Steels Limited (ASTL +4.99 per cent) attained their upper locks.