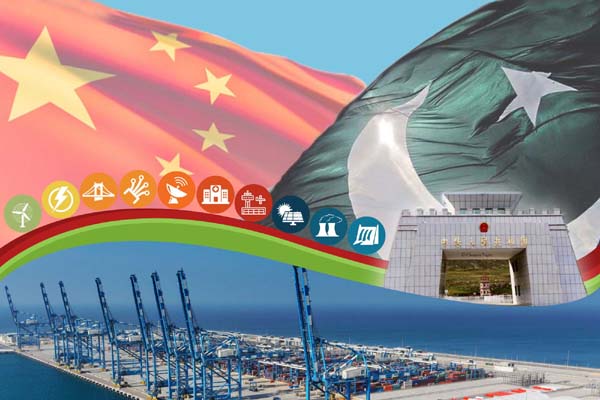 ISLAMABAD: Federal government has once again refused to share revised Long-Term-Plan (LTP) of China-Pakistan Economic Corridor with provinces.
The government on Wednesday had arranged a meeting for representatives of federal and provincial governments and special regions ahead of the 7th Joint Cooperation Committee (JCC), the highest decision-making body on CPEC.
It was presided over by Planning Minister Ahsan Iqbal and Khyber Pakhtunkhwa Chief Minister Pervaiz Khattak and other representatives of all four provinces also were part of the meeting, reported a local newspaper.
This meeting deliberated on the progress of implementation of all issues linked to CPEC aside the LTP, which will formulate the foundations for Pak-China cooperation till 2030.
An official speaking on condition of anonymity said the federal government hadn't provided any details about China's feedback or the revised LTP to the provinces during the meeting.
On the contrary, Planning Ministry stated it already had shared the original LTP with the provinces and no major changes had been conducted in the revised draft.
LTP will cover all areas of cooperation, which includes energy, trade, connectivity, industrial parks, agricultural development, poverty alleviation, tourism and financial cooperation.
7th JCC meeting to be held on 21st November, will evaluate the reports of LTP Working Group, Industrial Cooperation Working Group, Gwadar Working Group, Transport Infrastructure Working Group and Energy Working Group.
Planning minister stated Main Line-I project of Pakistan Railways (PR) and Karachi Circular Railways (KCR) project were part of CPEC and he expressed hope that PR and Sindh government would resolve its issues in the next two days.
An official of Planning Ministry said $2b KCR project will be given go-ahead during the 7th JCC meeting contingent on PR and Sindh government resolving their dispute over rail corridor of mass transit scheme.
KCR alignment was creating issues over another critical CPEC project, the ML-I which envisages upgradation of main line from Karachi to Peshawar. As per planning minister, where KCR is overlapping the ML-I, a flyover will be established to resolve the problem.
ML-I project has also been marred by delays and was initially supposed to be completed in two phases between 2016 and 2020. PC-I of the phase one of the project is yet to be submitted to the planning ministry for go-ahead.
PC-I's initial estimated cost is said to be around $3.2b. Iqbal during the meeting stated the laying of a cross-border fiber optic line (Khunjerab-Rawalpindi) will be a game-changer for the Gilgit-Baltistan region.
Work on laying this fiber optic line began in October 2015 and will be completed by August 2018, he added.