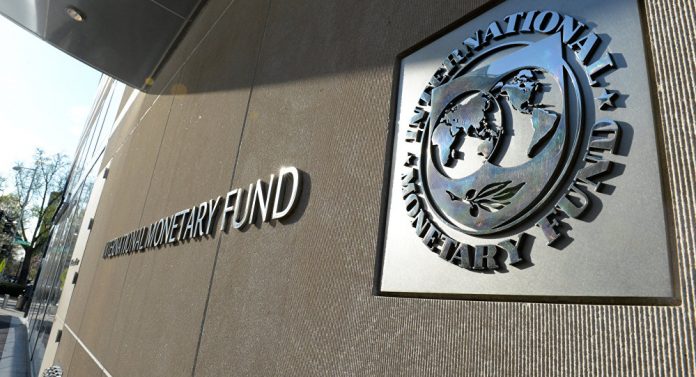 ISLAMABAD: While rejecting the impression that it has any role in the sudden devaluation of currency in Pakistan, International Monitory Fund (IMF) mission welcomed the State Bank of Pakistan (SBP) decision to allow rupee devaluation as it would support exports.
Addressing a press conference in Islamabad on Thursday, the Washington-based lender's country mission chief, Harald Finger, said that it was a sole decision of Pakistan's central bank to flexible currency. The SBP's recent move to allow the currency exchange rate to adjust to market conditions was a good decision and continued exchange rate flexibility in the period ahead will be important. It may recall here that there was an impression that the rupee depreciation up to close at 110.52 against the US dollar in line with demands by the IMF.
The IMF delegation is visiting Pakistan for meetings with Pakistani officials as part of its post-program monitoring. The mission concluded its first round of discussions on the country's economy last week and was expected to conclude its policy-level talks by the end of this week.
He said IMF forecasts economic growth of the country to 5.6 per cent during the current fiscal year falling short of a 6 per cent GDP growth target set by the government this year. However, "Tight monetary stance was required to keep fiscal discipline in order to reverse widening external imbalances. Besides, strong reform effort is needed to maintain external stability and ensure debt sustainability. The government should pursue broadening of the tax base and strengthening of the monetary policy framework," said Harald Finger.
He clarified that Pakistan has not requested for another loan program so far. "After seeing the current reserves position, Pakistan does not need any IMF program," he said.
However, he negated that the ouster of former prime minister Muhammad Nawaz Sharif from his seat had affected the economy of the country. "The difficulties of the government may increase with every passing day ahead of general election. However maintaining the reform program and financial discipline could be challenging for the government during its remaining term," the IMF director said. "The government's biggest challenge is political uncertainty. The second biggest challenge for Pakistan has been maintaining foreign exchange reserves. To contain fiscal deficit has been the third biggest challenge for Pakistan," he said.
The IMF director said Pakistan's economic growth has been accelerating, with subdued inflation and reserves despite higher external financing. "Inter-company arrears in the power sector continue to accumulate which needed to be addressed decisively," he said.
Talking about the privatisation program of government, the IMF's mission said that program was fully implemented. Herald Finger claimed that China Pakistan Economic Corridor (CPEC) will definitely benefit the economic activities in the country but it would not support exports.
He also said that the government would face difficulties in repayment of foreign loans in future. IMF also suggested Pakistan take strong reforms to maintain external stability, ensure debt sustainability, broadening of tax base, strengthening of monetary policy framework etc.
IMF mission visited Pakistan from December 5th to 14th, 2017 for the first Post Program Monitoring (PPM) since the end of Extended Fund Facility (EFF) in September 2016.
The Fund mission held detailed technical discussions with senior officials in the Ministry of Finance and State Bank of Pakistan, besides ministries of Energy, Planning Development and Reforms, Commerce, Privatisation, Railways, and Federal Board of Revenue, Board of Investment, NEPRA, OGRA, SECP. The Mission also held a consultative session with Academia, Think Tanks and Bankers. Pakistan team was led by Finance Secretary Shahid Mahmood and State Bank of Pakistan Governor Tariq Bajwa.
Discussions were largely focused on the recent economic developments and its outlook. Deliberations were also held on reform efforts undertaken by the government including fiscal, monetary, financial, energy policies and strengthening investment climate. The Mission recognised that Pakistan's growth momentum continues to be on a relatively high trajectory while inflation continues to remain low and stable, helped by supportive fiscal and monetary policies.  Continued policy reforms are likely to contain external imbalances while supporting economic growth in the medium term.
The Mission also recognised notable improvements in Foreign Direct Investment, pickup in exports and recovery in workers' remittances. Furthermore, it also focused on addressing some of the vulnerabilities emanating from the higher level of imports and pressure on country's foreign exchange reserves. However, the Mission welcomed the new policy actions to address these concerns.
The government reiterated its commitment to stay on the path of fiscal consolidation supported by an increase in FBR revenues and prudent expenditure management. The government also shared its commitment to continue with reform effort for public sector enterprises and protecting the vulnerable segments of the society.
The mission was pleased to visit Pakistan after a gap of 4 years in an improved and secure environment. The Fund and Pakistani authorities will continue discussions during Article IV consultations tentatively scheduled for first half of 2018.