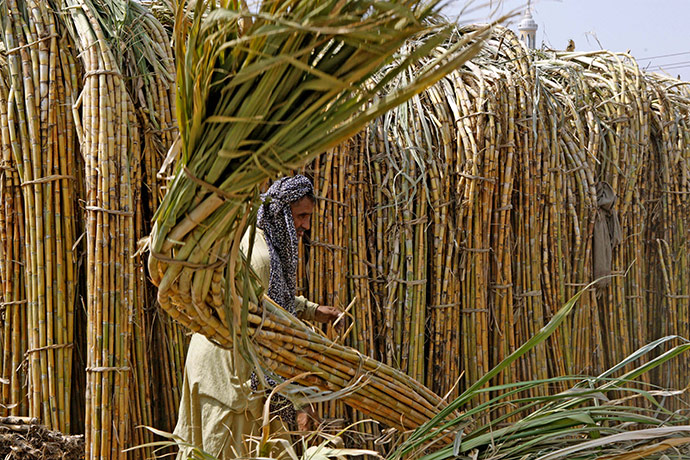 ISLAMABAD: Despite countrywide uproar, protests and strikes of sugarcane growers, none of the members of Council of Common Interests (CCI) under the chair of Prime Minister Shahid Khaqan Abbasi not only remained mum over the summary of commerce ministry for completely lifting ban for sugar export, but advocated doubling the subsidy for the commodity, Pakistan Today learnt reliably.
Sources told this scribe that not a single person including political representatives and government servants from all provinces talked about the issues of sugarcane growers.
Sugarcane growers face numerous issues including billions of rupees outstanding against the sugar mill owners moreover issuance of manual Cane Purchase Receipt (CPR) and up to 20 per cent underweight is still on hold.
Commerce Minister Pervaiz Malik informed the CCI meeting last month that sugar industry has an installed production capacity of around 8.5 million metric tonnes against 5.1 million metric tonnes of estimated annual domestic consumption of sugar.
Meanwhile, commerce secretary in his summary submitted the proposal that CCI may advise the ECC to consider lifting the ban on export of sugar permanently furthermore provincial governments may be advised to consider discontinuing the intervention in the pricing mechanism of sugarcane, which induces overproduction and distorts cropping patterns in the country.
In addition to this, in case any provincial government continues with the practice of intervention in the pricing of sugarcane, it may make provision for freight support for the export of surplus sugar out of its budget and the federal government may provide its committed share of 50 per cent in the freight support for the exports of sugar made during the current fiscal year 2017-18, up to June 30, 2018, to the extent and as per the mechanism approved by the ECC decision of September 14, 2017. This arrangement may be discontinued for any future sugar exports.
Chief Minister Sindh proposed in a meeting that federal government should increase the export rebate from Rs 10.70 per kg to Rs 20 per kg.
Prime Minister Abbasi said that the federal government will not give any subsidy on sugar export and directed to send the 1.5 MMT export sugar summary to ECC. It is worth mentioning here that the ECC gave the approval of 0.3 MMT sugar export on December 22.
Sources further told that the commerce ministry high ups have not raised the issue of purchasing sugarcane at lower rates despite the fact that provincial governments have fixed standard rates.
The Sugar Advisory Board in their last meeting decided to recommend the 1.5MMT export of sugar and set the conditions that only those sugar mills shall export that will pay the outstanding amounts to growers.
Kisaan Board Pakistan Senior Vice President Sarfaraz Ahmad while talking to Pakistan Today stated that billions of rupees are outstanding towards growers. Mills owners are purchasing the sugarcane from farmers at Rs 150 whereas the rate is Rs 180. "We raised these issues at every forum including with Chief Minster Punjab, but it seems Punjab government is helpless on this issue", he added.
Commerce Ministry official on the condition of anonymity told that government should not give any subsidy because provincial government themselves fix sugar prices. "Federal government only gives subsidy on export if they fix the prices higher than its fair value", he added. The mill owners get a profit of Rs 5.1 billion if prices increase by Rs 1, the officer further added.
While talking to Pakistan Today, Commerce and Textile Minister Pervaiz Malik said that the provincial Cane Commissioners can solve the grower's problems. Commerce ministry has highlighted the sugar subsidy issue in CCI meeting; however, the issue is that mill owners do not have funds to pay growers. The minister added that sugarcane and sugar prices should be decided on market value and not by the government.