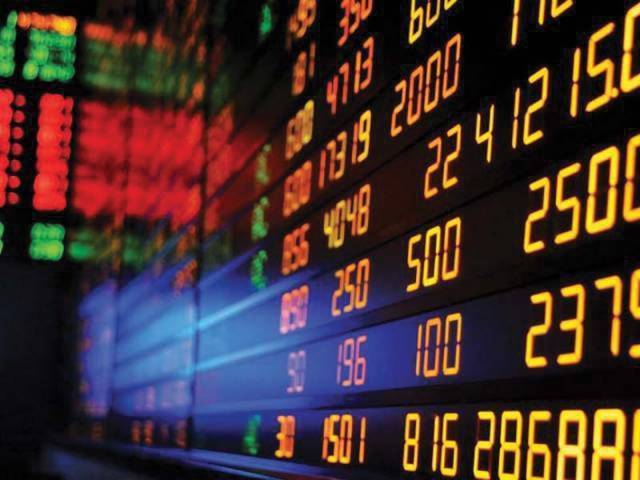 LAHORE: Wednesday's gains on the Pakistan Stock Exchange (PSX) reversed on Thursday, as investors fretted and with sentiments mixed in global markets and foreign investors among the net sellers for current week, the benchmark KSE-100 index fell 416.62 points to close at 43,679.87 points.
KSE-100 index was able to attain an intra-day high of 44,151.54 points, experiencing only a 55.05-point increase and reached a low of 43,629.82 points after incurring a 466.67-point fall. KSE 100 index traded both in red and green zone initially but thereafter traded volume was down 9 per cent, whereas traded value declined 16 per cent.
The KMI-30 index recorded a fall of 921.44 points during intra-day trading, before closing the session short of 708.00 points. And KSE All Share Index was also lower by 260.39 points at close of trading on Thursday.
Lack of any positive trigger, fall in WTI prices to $ 61 (6 week low) and continuing weakness in global markets remain key concerns for investors.
Worst index point performers were PPL (-2.8 per cent), MCB (-2.2 per cent), DGKC (-4.6 per cent), OGDC (-1.3 per cent) & HBL (-0.6 per cent) withholding 194 points; while NBP (+3 per cent), ENGRO (+1 per cent), EFERT (+1.8 per cent), SNGP (+1.6 per cent) & MUREB (+5 per cent) added 64 points.
On the sector front; Commercial Banks and E&P sector cumulatively eroded 341 points, while Fertilizer sector led by EFERT robust financial results and payout added 45 points, followed by Pharma contributing 43 points to the index.
Advancers to decliners ratio was recorded at 118:224. Market volumes decreased to 246.02 million, with Bank of Punjab (-4.24 per cent) dominated trading with exchange of 16.59 million shares, followed by Fauji Foods (+4.96 per cent) 16.15 million and Unity Foods Limited (+4.72 per cent) 14.12 million respectively.
Unity Food stocks garnered investor attraction after its proclamation of commencement of operations at their edible oil refinery, followed by news of their solvency plant would also start functioning after expected arrival of imported raw materials by March 2018.
Engro Fertilizer also posted its financial year results for 2017 ending December 31, with its sales shrinking 9 per cent, but gross profit margin increased from 25 per cent to 32 per cent. And it was followed by a 12 per cent rise in net profit, which contributed to net profit margins of 16.09 per cent.
The company reported earnings per share of Rs 7.60 and announced a final cash dividend of Rs 5.50.