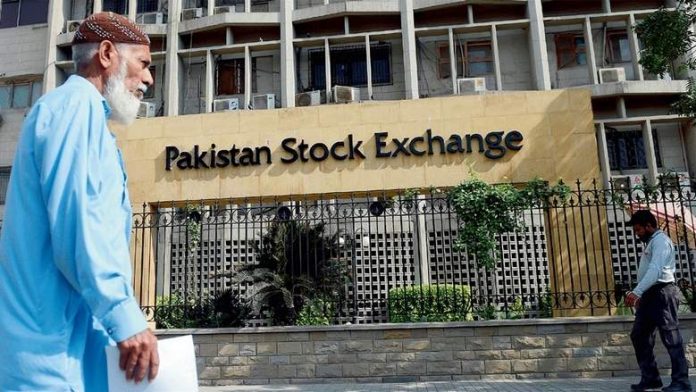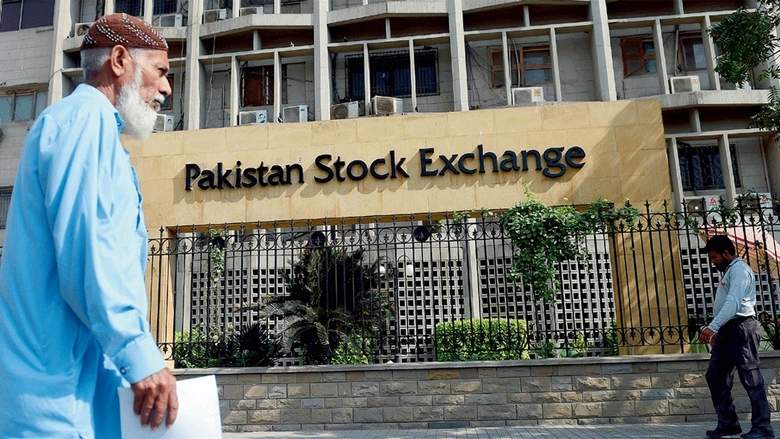 LAHORE: The Pakistan Stock Exchange (PSX) shed blood for another session as foreign investors look to close another week as net sellers. Indices closed negative for the second consecutive session with KSE 100 shedding 411 points to 42,942 index level. However, volumes settled at 220 million shares, up 6 per cent from Wednesday's closing.
After a five week-long buying spree which started in late December, foreign investors have been selling. The ongoing week is the third one where they look to close as net sellers. In the absence of any exciting trigger, volumes remained stable.
The KMI 30 index depreciated a further 1.53 per cent to settle at 71,660.03 while the KSE All Share Index declined 305.05 points. A mere 92 scripts advanced while 264 declined.
The market volumes clocked at 219.25 million with Azgard Nine Limited (ANL +4.73 per cent) in lead. A total of 19.86 million shares were exchanged in the script. Pakistan Telecommunications Company Limited (PTC -0.16 per cent) and Fauji Foods Limited (FFL +0.95 per cent) followed with 15.39 million and 14.03 million shares traded.
Investors trod cautiously ahead of the Financial Action Task Force's (FATF) key meeting in Paris next week, February 18-23, 2018, as USA and few European countries plan to table a motion with FATF, to put Pakistan back on its watchlist (jurisdictions with deficient anti-money laundering regimes), where it was last put from 2012-2015.
The news flew in from the oil and gas marketing sector where Hi-Tech Lubricants Limited (HTL +0.23 per cent) received regulatory approval from Oil and Gas Regulatory Authority (OGRA) to apply for no-objection certificates (NOC) for setting up 26 petrol pumps across Punjab.
Hascol Petroleum Limited (HASCOL -1.33 per cent) announced entering into a joint operations agreement with Total Parco Pakistan Limited, with latter purchasing oil storage assets worth Rs 400 million.
Both the companies will undertake their operations jointly at Sahiwal and Daulatpur oil storage depots and will share the costs on throughout basis respectively.
Interest was seen in mid-tier banks amid attractive valuation. HMB, FABL and BAHL rose 3.9 per cent, 3.0 per cent and 3.2 per cent, respectively.
MCB Bank Limited (MCB +0.59 per cent) declared profit after taxation of Rs 5.45 billion for the financial year 2017. The profit growth of 3 per cent year on year came after 10 per cent rise in markup earned. Earnings per share stood at Rs 19.56 against Rs 19.67.
Top 10 Index point decliners were LUCK (-2.3 per cent), DAWH (-3.0 per cent), HUBC (-1.9 per cent), POL (-2.1 per cent), NESTLE (-4.3 per cent), PPL (-1.1 per cent), SEARL (-3.7 per cent), FFC (-1.6 per cent), SNGP (-2.7 per cent) and TRG (-5 per cent); withholding 240 points.
Sector-wise data suggests that fertilizer sector eroded 75 points from the index, followed by cement and oil and gas marketing that cumulatively took away 126 index points.
Technically speaking, 200EMA (43,034) gave way to market bears in Thursday's session and found a toehold at the falling trend line support. For now, immediate resistance is 43,451 (Intraday high) while 50EMA (42,715) and 38.2 per cent retracement level (42,531) is expected to be the next possible supports.