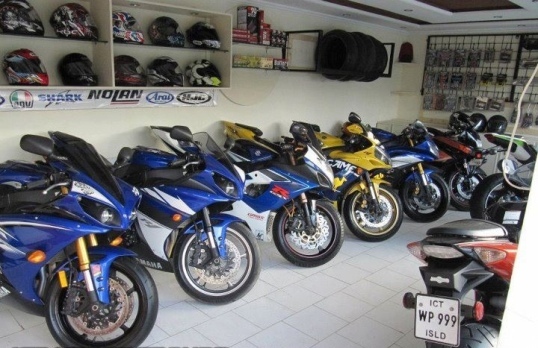 KARACHI: Heavy bike imports have recorded a major surge due to major demand from Sindh and Punjab governments.
This increase in demand of heavy bikes has largely driven by Punjab and Sindh government's drive to improve the security situation, reported Dawn.
According to data released by Pakistan Bureau of Statistics (PBS), bike imports during the first seven months of FY 2017-18 surged 150 percent, touching $3.86 million from $1.5 m in same period of last financial year.
Pak Suzuki is selling heavy bikes in a price range of Rs599,000 and Rs1.95m for 250-600CC. And Atlas Honda Limited offerings range from Rs640,000 to Rs1.25m in category of 150-500cc.
Bike industry sources claim heavy bikes usage are being procured by provincial governments for usage by law enforcement forces, traffic police, highway authorities and motorway police.
Sales of these heavy bikes have been restricted to law enforcement agencies, whilst commercial sales are insignificant due to high prices.
Also, market sources revealed imports of Chinese heavy bikes has also reported a healthy increase.
Interestingly, Association of Pakistan Motorcycle Assemblers Chairman Mohammad Sabir Shaikh revealed some importers were bringing imitated bikes from China, which are nearly equivalent to branded Japanese bikes.
He added a significant spike had been witnessed in imports of used 250-700cc heavy bikes which were predominantly being procured by young affluent customers.
Aside importing of heavy bikes in CBUs, some Chinese manufacturers were also importing completely knocked down (CKD) kits of 150-250cc bikes to assemble here in Pakistan, he shared.
Locally produced motorcycles have seen a major rise, which can be gauged from the increase in imports of semi and CKD units which touched Rs60.5 million during July-January of FY 2017-18 against $48.7 million in same period of last financial year.
During FY 2016-17, imports of bike parts was recorded at $92 million.
Atlas Honda aside posting record sales of 100,000 bikes in January this year also witnessed an increase in sales during July-January 2017-18, touching 645,029 units against 544,769 units in same period of FY 2016-17.
Pakistan's second largest bike assembler, United Auto Motorcycle sales grew, touching 235,890 units during July-January of FY 2017-18 against 189,988 units in same period of last financial year.