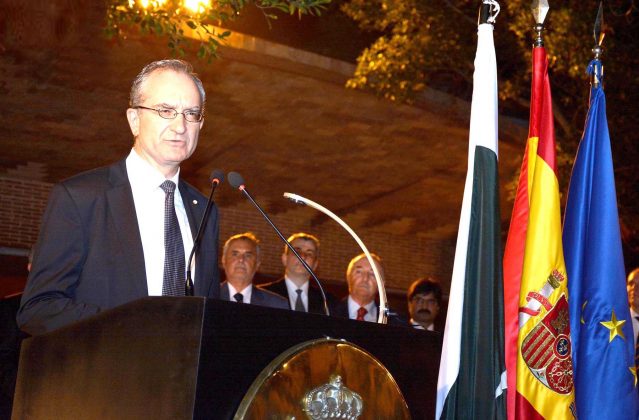 SIALKOT: Ambassador of Spain in Pakistan Carlos Morales said Spain was keen to develop strong business-to-business (B2B) contacts with Pakistan besides focusing on promoting SMEs in Pakistan along modern lines, and boosting the transfer of advanced technology.
He stated this while talking to leading exporters in a visit to leading industrial units in Sialkot here today. He said that B2B contacts could help boost mutual trade ties between Pakistan and Spain, saying that Spain was ready to make strenuous efforts for this purpose.
The Spanish Ambassador added that Spain was keen to boost bilateral trade and reduce any hurdles which might make it difficult to conduct business between the two countries.
Later, while addressing a meeting held at Sialkot Chamber of Commerce and Industry (SCCI) here, the Spanish enoy said that the time was high to do more to further increase the mutual trade ties between Pakistan and Spain. SCCI President presided over the meeting, while other senior officials of the Spanish embassy were also present.
Ambassador of Spain invited exporters from Sialkot to divert their business activities to Spain, saying that they were aware of the international quality standards and had great potential to explore and capture the international trade markets of Spain and EU countries through Spain.
He also asked the Sialkot exporters to participate the international trade fairs and exhibitions to be held in Spain as well.
Exporters from Sialkot narrated that both Pakistan and Spain should facilitate single country trade exhibitions and encourage frequent exchanges of trade delegations to enhance private sector contact.
They asked the Spanish Ambassador to kindly facilitate for investments and joint ventures in the value added industries of Sialkot which would be beneficial for both sides. Spain's advances have led to success for industries not just in Spain, but around the world.
"We firmly believe that with Spanish technology and Pakistani craftsmanship, we could do wonders in international markets", the exporters stated.
SCCI President added that the total trade volume between Pakistan and Spain was around 1.1 billion euros with a balance of trade in favour of Pakistan at 927 million euros.