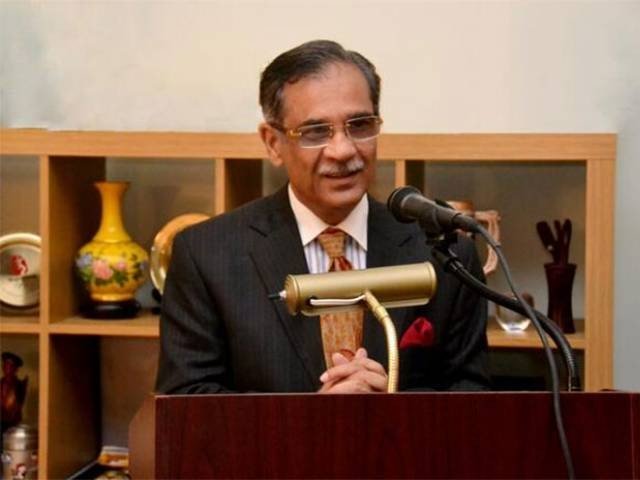 ISLAMABAD: A hearing held in the apex court on Wednesday saw Chief Justice Pakistan Saqib Nisar asking if it was possible for the Supreme Court to ban foreign currency accounts.
While assailing the performance of the Federal Board of Revenue regarding investigation of people named in the Panama Papers in April 2016, the CJP said money sent overseas without valid reasons could be catastrophic for Pakistan, reported an English daily.
CJP Pakistan asked if the apex court could enforce a ban on opening of foreign currency accounts in Pakistan and in response Justice Umar Ata Bandial, a member of the constituted bench said the law needed altering.
SC bench observed the FBR had been unable to discover individuals who had stashed their money in off-shore accounts in global tax havens as pointed out in the Panama Papers.
And the apex court bench chose Mahmood Mandviwalla and Shabbar Zaidi as amicus curiae in the case and a hearing to this effect will be held on March 20th in the SC Karachi registry.
A committee constituted by the Supreme Court headed by State Bank of Pakistan Governor Tariq Bajwa including FBR Chairman, Tariq Pasha and Finance Secretary Arif Ahmed Khan was directed to explore a way of tracing and bringing back to Pakistan; bank accounts and properties held overseas.
In its report submitted to the SC, the committee proposed changes in deposit of foreign exchange currency from the open market into foreign currency accounts held in Pakistan.
It also proposed revisions in the law to limit movement of foreign currency without proclamation and observed Section 111 (4) a of Income Tax Ordinance allowed protection without any limit on foreign exchange remittances brought into Pakistan via banking channels.