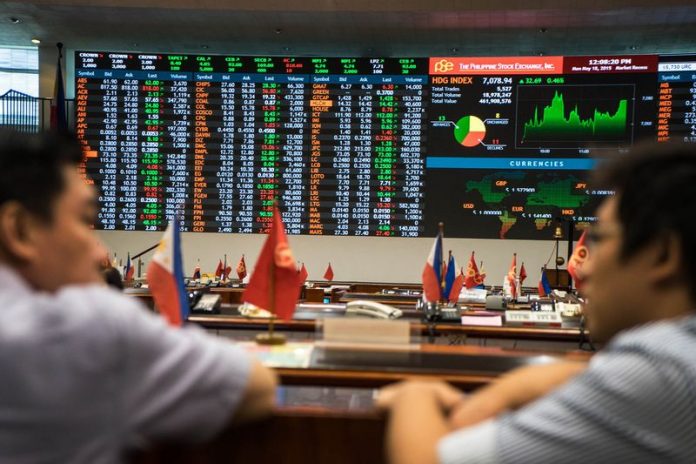 TOKYO: The rumblings of a global trade war sent shivers through stock and currency markets on Friday after U.S. President Donald Trump announced long-promised tariffs on Chinese goods and China retaliated with a pledge to fight to the end any such war.
Trump signed a presidential memorandum on Thursday that could impose tariffs on up to $60 billion of imports from China, although the measures have a 30-day consultation period.
Investors fear that the U.S. measures could escalate into a trade war, with potentially dire consequences for the global economy.
Beijing urged the United States on Friday to "pull back from the brink".
"China doesn't hope to be in a trade war, but is not afraid of engaging in one," the Chinese commerce ministry said in a statement.
On Friday, China unveiled plans to impose tariffs on up to $3 billion of U.S. imports in retaliation against U.S. tariffs on Chinese steel and aluminum products.
MSCI's broadest index of Asia-Pacific shares outside Japan fell 2.1 percent as stocks across the region dropped.
Shanghai shares were down 3.2 percent.
Australian stocks lost 2.0 percent and Japan's Nikkei dropped 3.5 percent. Hong Kong's Hang Seng was down nearly 3.0 percent, Taiwan shares slid 1.7 percent and South Korea's KOSPI retreated 2.2 percent.
Setting the downbeat tone in Asia, the Dow on Thursday shed 2.9 percent, the S&P 500 dropped 2.5 percent and the Nasdaq fell 2.4 percent.
As equities took a beating, the yen, often sought in times of market turmoil, rallied against the dollar.
The greenback fell roughly 0.5 percent to as low as 104.635 yen, its weakest since November 2016. The dollar was down more than 1 percent on the week.
The euro was 0.3 percent higher at $1.2336.
The dollar index against a basket of six major currencies slipped 0.3 percent to 89.605. It has lost roughly 0.7 percent this week, weighed down by a steady decline in U.S. Treasury yields.
Yield on the benchmark 10-year Treasury US10YT=RR fell 7.5 basis points overnight as bond prices rose on jitters gripping the broader financial markets.
The yield fell further on Friday to 2.792 percent, its lowest in six weeks.
The 10-year Japanese government bond (JGB) yield dipped to a four-month trough of 0.025 percent.
In commodities, oil prices recouped overnight losses after Saudi Arabia said that OPEC and Russian-led production curbs introduced in 2017 will need to be extended into 2019.