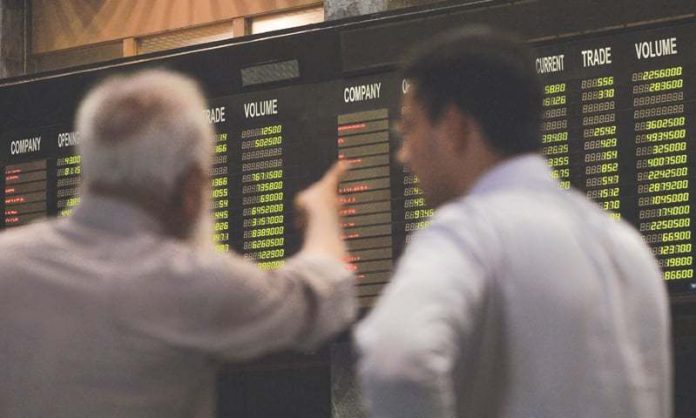 LAHORE: The Pakistan Stock Exchange (PSX) put up a confused show again on Tuesday. Indices swung on both sides in search of a clear direction ahead of the monetary policy statement announcement later this week. On the positive side, foreign investors were net buyers in the last two sessions.
The benchmark KSE 100 index traded in the range of 44,936-45,307 and managed to close above the psychological barrier of 45k (45,004), erasing 79 points from the index. However, volumes and value showed recovery, growing by 25 per cent and 18 per cent, respectively vs. yesterday, as investors preferred to trade in small-cap stocks.
The KMI 30 index appreciated 607.84 points during the session and later settled lower down by 69.27 points to 76,211.08. The KSE All Share Index dipped 43.27 points with 153 advancers and 179 decliners.
Total volumes were recorded as 235.44 million with K-Electric Limited (KEL +3.63 per cent) on top with 30.28 million shares traded. The script gathered attention after the Shanghai Electric Power Limited sought government's support in accelerating the process of regulatory approvals to facilitate the completion of Sale-Purchase Agreement (SPA) of majority shares in the company, after Shanghai Electric's fresh public announcement of intention to acquire 66.4 per cent equity stake of KEL.
Fauji Foods Limited (FFL -0.40 per cent) followed with a volume of 16.07 million along with Engro Polymer and Chemicals Limited (EPCL -0.12 per cent), volume 9.84 million.
Similar to the last session, large market cap sectors changed just a little. The commercial bank sector inched lower by just 0.28 per cent while the oil and gas exploration sector slashed 0.87 per cent off its cumulative market cap.
Systems Limited (SYS -2.56 per cent) declared financials for the year ended December 31, 2017. The company posted an increase in sales of 8.60 per cent taking it to Rs 2.91 billion. But higher costs dragged net profit down 8.10 per cent compared to the last year. Earnings per share clocked at Rs 4.24 and the board proposed a final cash dividend of Rs 1.75.
Fertilizer sector contributed 41 points to index followed by transport (14 points) and insurance sector (9 points). Meanwhile, commercial banks and E&Ps eroded 83 and 59 points, respectively from the index.
Top five stocks Stocks including MCB (-2.9 per cent), HBL (-1 per cent), BAHL (-2.2 per cent), PPL (-0.9 per cent) & OGDC (-0.7 per cent) withheld 78 points from the index whereas stocks including, ENGRO (+1.1 per cent), PIBTL (+5.7 per cent), DAWH (+1.8 per cent), KEL (+4 per cent) & PSO (+1.2 per cent) added 79 points to the index gain.
GlaxoSmithKline (GSK) announced that it will buy Novartis's 36.5 per cent stake in their consumer healthcare joint venture for $13.0 billion in cash. The deal is set to complete in the second quarter subject to necessary approvals.
Meanwhile, Pakistan is depleting its dollar reserves at the fastest pace in Asia and may soon have a buffer that's smaller than Cambodia, an economy that's less than a 10th of its size. Pakistan is facing a balance of payments crunch. Its current-account deficit has ballooned by 50 per cent in the past eight months to $10.8 billion, fueled by rising imports as the economy grows close to 5 per cent and China adding new power plants. With reserves coming under pressure, authorities devalued the currency for the second time in four months last week, reported by Bloomberg.
Technically speaking, the KSE 100 index staged a minor retreat in Tuesday's session following a weak close in the previous session and closed on an indecisive note with a doji. Immediate support is 44,785 (Monday's low) and 44,334 (50WEMA).