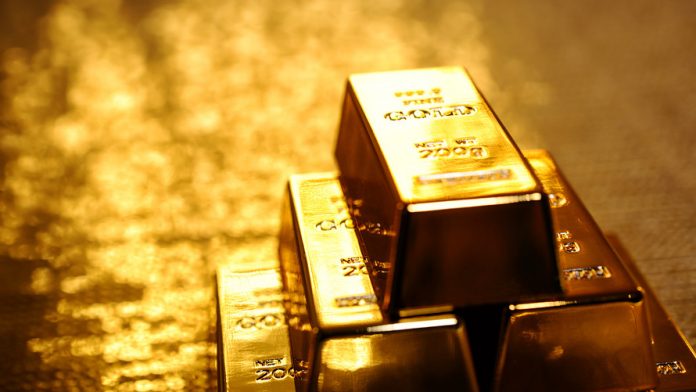 BENGALURU: Gold prices rose on Friday and were set to post a small gain for a second week running, supported by tensions over Syria.
Spot gold was up 0.1 percent at $1,336.45 an ounce as of 0648 GMT and was set for a weekly gain of 0.3 percent. U.S. gold futures eased 0.2 percent to $1,339.50 an ounce.
Prices are gaining on tensions over Syria, that has stoked geopolitical concerns, said Richard Xu, a fund manager at HuaAn Gold, China's biggest gold exchange-traded fund.
President Donald Trump and his national security aides on Thursday discussed U.S. options on Syria, where he has threatened missile strikes in response to a suspected poison gas attack, as a Russian envoy voiced fears of wider conflict between Washington and Moscow.
Trump, however, cast doubt over the timing of his threatened strike on Syria on Thursday, by tweeting that an attack on Syria "could be very soon or not so soon at all."
Global stocks recovered, and the dollar firmed after Trump's comments, which weighed on the dollar-denominated bullion.
Gold prices dropped 1.3 percent on Thursday, the biggest single-day percentage fall since March 28. Prices have fallen over $25 an ounce since climbing to an 11-week high of $1,365.23 an ounce on Wednesday.
Easing concerns over the trade war between China and the United States also weighed on gold prices in the previous session.
U.S. President Donald Trump said on Thursday that the trade "negotiations" between Washington and Beijing were going well.
Meanwhile, holdings of SPDR Gold Trust, the world's largest gold-backed exchange-traded fund, rose 0.69 percent to 865.89 tonnes on Thursday.
Holdings rose to their highest since June 2017 and were up about 3.5 percent so far this year, suggesting an increase in investor appetite for the metal, seen as a safe investment during times of financial and political uncertainties.
In other precious metals, spot silver rose 0.3 percent to $16.48 per ounce and up nearly 1 percent so far this week.
Platinum was 0.1 percent higher at $925.74 an ounce. For the week, the metal was set for an over 1 percent rise, the most in about two months.
Palladium climbed 0.6 percent at $969.45 an ounce and was on track for an over 7 percent rise this week, its best since atleast October 2017.