LAHORE: "The haircut you see here is the haircut I had from Peshawar two weeks ago. If you do not believe me, check my Twitter account," said Federal Republic of Germany Ambassador to Pakistan Martin Kobler while addressing a ceremony recently held by Roshan Packages Limited (RPL) here, dismissing all unfair perceptions of unfavourable security conditions in Pakistan.
He said that when he first came to Lahore, instead of using a car, he took a train from the Rawalpindi Railway Station to reach the city costing him a mere Rs700. This, however, goes against the image of Pakistan that is portrayed abroad in an unfair manner, and does not reflect reality, the German ambassador added, stressing the need for politicians from both sides to work on improving the perception.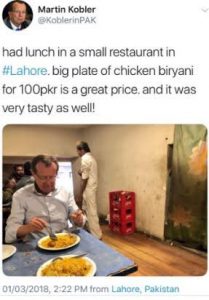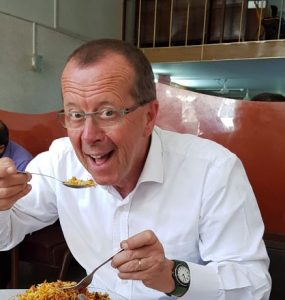 Making comparison between Pakistan and India he said that there is a lot that needs to be done in the country to increase trade and investment as the bilateral trade between Pakistan and Germany, even though being a positive $2.6 billion, is still low.
Article continues after this advertisement
He said that examples of best practices like RPL transmit a positive message to the world that things are possible in Pakistan. Currently, 28 per cent of all Pakistan's exports goes to the European Union (EU) with the United States and China having a 10 and 9 per cent share in Pakistan's exports respectively, which make EU Pakistan's natural trade partner outside the region. After the implementation of GSP Plus, Pakistan's exports to EU have risen to 38 per cent, which the German ambassador termed as a good sign.
According to a United Nations Development Programme (UNDP) report released recently, Pakistan's current population stand at 210 million, which is expected to reach 400 million by 2050. In 2015, 64 per cent of Pakistan's population was under the age of 30 and every year around three million people enter the labour market. By 2050, a total of 100 million people would have entered the labour market.
"A situation like this might present problems, but it also presents an enormous opportunity but only if the education system in the country is able to provide highly educated individuals to companies like RPL," Martin Kobler said. Pakistan currently spends only 3 per cent of its Gross Domestic Product (GDP) on education, which is much lower than its own target of spending 7 per cent on education by 2009, he commented and added that Pakistan's biggest resource is not what is under the earth but what is over it, stressing the need for Pakistan to invest more towards improving its human resource and education sector.
Talking about the nine Special Economic Zones (SEZs) to be set up in the country, he also urged the need for a transparent tendering process to ensure that the best bidders win the contracts. The ambassador also stressed the need to establish a German Pakistan Chamber of Commerce, as Pakistan is the only country in the top 10 most populated countries to not have such a body.
Here are a few pictures of what the German Ambassador has been busy doing in Pakistan: