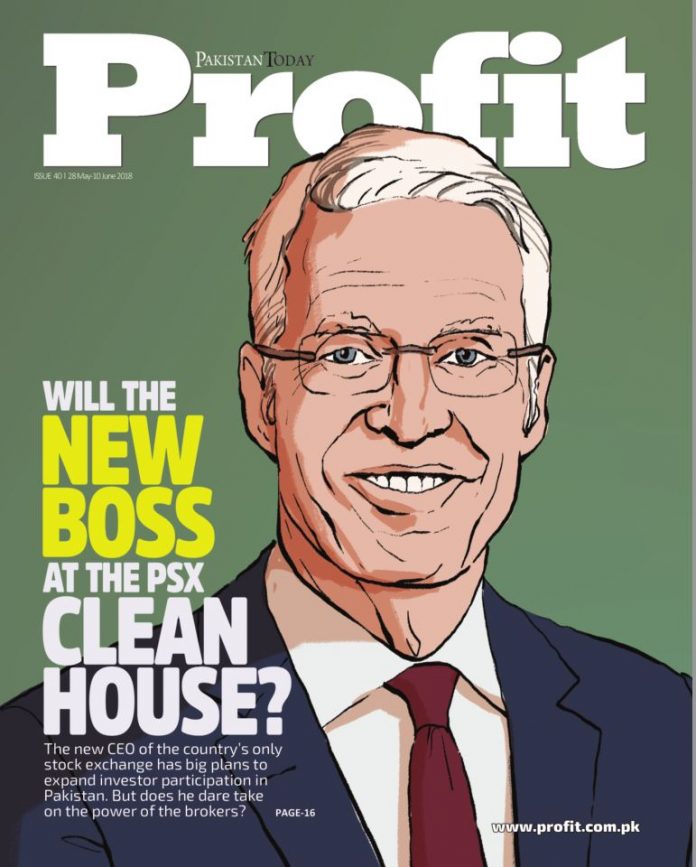 At Profit, we see it as our role to ensure that those rays of optimism that one may feel from the generally positive long-term trend of the economy do not go unreported.
One of the most common pieces of advice given to young men and women who attend colleges in the United States is that if they wish to have a career in American business, they should start reading The Wall Street Journal. Read the WSJ for a year, it is said, and you will have a stronger understanding of the American economy than most of your competitors. Similar advice is no doubt given to students in Europe, substituting the WSJ for the Financial Times or The Economist, perhaps.

But what would you tell a young Pakistani student, who wishes to make a career in Pakistan, or generally understand the Pakistani economy?

The equivalent newspaper in Pakistan is Business Recorder, which is a useful resource for people who are already market participants in Pakistan's commodity, industrial, and financial markets, but not very well suited for people who are seeking to learn about how the country's economic machine works.

That leaves the business sections of mainstream newspapers. Some English newspapers occasionally do good reporting and produce reasonable content, but if you read a full year of the business stories in Dawn, The Express Tribune, and The News combined, you would be only marginally more informed about the workings of the economy than before you started. And the less said about the sad 'commerce pages' in Urdu newspapers, the better.

So how did this happen? How is it that a nation of 207 million people, with a $300 billion+ economy, does not have a single mainstream source of daily news on the economy that could do as good a job as such publications in advanced economies? The simple answer: nobody has cared enough yet to try to explore the market. The working assumption among most editors at news organisations in Pakistan is that political news is all that matters, and sells better than most other forms of news (except entertainment news, which is a highly lucrative business).

At Profit, however, we believe that a higher standard of business journalism is not simply a nice-to-have, but an essential component of the national conversation. The fundamental nature of Pakistan's economy is changing, and with it, the way we think and look at the world. The ordinary Pakistani has, in the span of just one generation, gone from a grinding, subsistence level of poverty, to one who can dare to dream of a good life for their child.
Consider just a few of the following facts.

On the day this magazine will go into print, my father will retire from a 40-year career in the government. His last salary will equal – in nominal terms – almost exactly 1,000 times his first salary, when he started as graduate of the Pakistan Naval Academy, in 1978. During that time, of course, inflation has decreased the purchasing power of the rupee manifold, but even accounting for that depreciation in the value of the rupee, his last salary is 33 times higher, on an inflation-adjusted basis, than his first one.

That has consequences on the nature of life even within a single family. When I was a child, the idea of getting a bag of potato chips from the corner store was a luxury for which I would have to save up a whole month in order to be able to afford. My sister, who is 13 years younger than me, on the other hand, thinks nothing of ordering in from the hundreds of restaurants that have opened up over the last decade in Karachi.

The low frequency with which I – and many others – purchased goods just 20 years ago, versus the much higher frequency with which people today can make purchases has enormous consequences. A low purchase frequency translates into lower revenues for the businesses that sell the products and services that consumers would buy. Lower revenues translate into lower capital available for further investment, and thus fewer jobs created, thus lower average incomes and again, lower purchase frequencies for non-essentials. By contrast, the current state of the Pakistani economy is quite the opposite: new industries seem to attract investment every day. (In this fortnight's issue of Profit, we explore two: diagnostic laboratories, and graveyards.)

Of course, one might argue that my family is nonrepresentative and unusually fortunate by Pakistani standards, and that is indeed true. But over the same period that my father had his career, the average Pakistani grew richer by seven times, again in inflation-adjusted terms.

Or consider the fact – explored in this issue's cover story by Kazim Alam – that the Pakistan Stock Exchange has yielded hefty returns to investors over the past two decades: a person who put their money in the market in 1998 and never sold anything would have 49 times as much money today as they did 20 years ago. In inflation-adjusted terms, they would be 12 times richer than where they started.

Those kinds of returns have enormous consequences for the millions of Pakistanis who are looking to build financial security for themselves and their families, especially in a country where the government provides very little by way of a social safety net.

Knowing and understanding these deeper, longer-term trends that are improving our lives – and the lives of virtually all Pakistanis every day – is important to the national conversation. Here is how.

Pakistan is still resolving many deeply fundamental questions about its national identity and sense of self. Not having a clearly and comfortably defined identity that everyone agrees upon can be a deeply uncomfortable experience, which many people seek to cope with by looking for markers of identity from history. Typically, this means finding a time in history when their ancestors were doing well. This manifests itself most commonly in the "we have a glorious past and we need to return to it" syndrome.

This attitude can result in wide variety of character traits, which can be mildly annoying at best, and murderously violent at worst (such as ISIS).
Having a more accurate, and optimistic, sense of one's present reality, by contrast, can help a person engage in a more rational conversation about one's identity and sense of self. At Profit, we see it as our role to ensure that those rays of optimism that one may feel from the generally positive long-term trend of the economy do not go unreported.

This is not to suggest that it will be all sunshine and rainbows here, or that we will not engage in serious investigative reporting that may be unpleasant for those with wealth or power. The annoyed letters and e-mails our editors receive on a regular basis are testament to our willingness to speak truth to power. But we do have a fundamentally optimistic outlook on Pakistan and its economy. And we hope to share that with our readers in the comings months and years.
Farooq Tirmizi