ISLAMABAD: Social media websites have become a hub of sale and purchase of non-custom paid vehicles smuggled through the Afghanistan border. The traffickers, curiously, offers 'vehicle at your doorstep,' facility, by charging extra money, it has been learnt.
The Federal Investigation Agency (FIA)'s Cybercrime Unit and Customs Authorities have turned a blind eye over this irregularity which could cause a hefty loss to the national exchequer.
On a renowned social media website, Facebook, pages named, "Chaman non-custom cars," operating from Afghanistan, and 'Non-custom cars Alssayart moter dealer," and dozens of other pages and re-selling websites like OLX and PakWheels are full of these types of advertisements.
On these websites, a car valued Rs1.8 million is merely being sold at Rs0.25 million with the facility of providing the car at the doorstep, which minimizes the risk for customers being nabbed while transporting the vehicles from remote areas to their places.
Moreover, the smugglers give surety to the customers to deliver vehicles at their desired places in the country by charging an additional cost.
Interestingly, the smugglers' have mentioned their mobile numbers; 03178490002, 03146143795, 03341270209, 03434473187, etc. But the authorities have failed to trace them.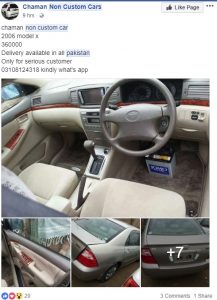 The smugglers also mentioned on social media websites, 'only serious buyers can contact on Whatsapp (only)". The smugglers advise their customers to use WhatsApp while contacting them as the messages and calls through WhatsApp are encrypted.
The traffickers used to post multiple pictures of every car, jeep, and also mention the model number, colour, condition, and company name.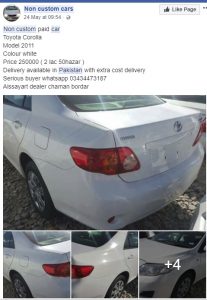 The traffickers have set up sale centres in the towns close to the border in Nangarhar, Paktia, Khost and Paktika provinces owing to a growing demand for non-custom paid vehicles across Pakistan.
Though, it is a security threat that the smuggled cars could be used in any terrorist attack, abduction, smuggling drugs and other heinous crimes as this business is on the peak and no authority is interested in putting a ban on it, tracking them, put penalties and take strict actions.
According to the reliable source, the notified check posts and unfrequented routes along the border are used to smuggle non-custom paid vehicles into the tribal borderlands and then driven to the rest of the country, as per the customer orders.
The federal government have had introduced border management system with Afghanistan to regularise cross-border movement but the flow of non-custom paid vehicles from across the border continues unabated.
An FIA cybercrime official requesting not to be named said that this is a fraud and illegal business which is being run on social media, and other websites online, and it falls under cybercrime but unfortunately no step has been taken to curb this illegal business which is not only a security risk but also causing loss to national exchequer.
Upon contact, Deputy Director Cybercrime, Syed Shahid Hassan spoke to Pakistan Today said that the cybercrime division is working on it. 'Whenever the cybercrime unit gets a complain, the agency reacts, investigate and take legal action, whatsoever is required," he said.