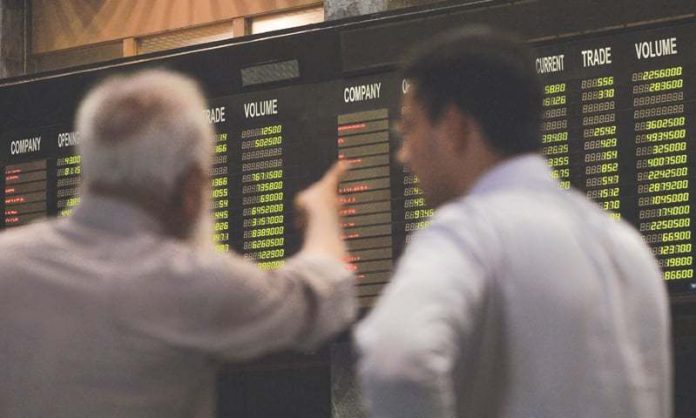 LAHORE: The Pakistan Stock Exchange (PSX) ended a range bound session in the red. With just one more day left for the current government's term to expire, political temperatures are set to rise.
Foreign investors have continued to maintain their cautious approach and offloaded a net of $4.67 million on Tuesday. According to data compiled by the National Clearing Company of Pakistan (NCCPL), foreigners have laid off a net of $51.45 million shares since the beginning of the year.
The KSE 100 index dropped by 285.23 points to reach 42,337.51 during the session, lowest level for the day before it settled lower by 76.26 points at 42,546.48.
The KMI 30 index swelled 112.11 points while the KSE All Share Index was flat, inched down 21.75 points. The advancers to decliners ratio stood at 155 to 122.
The market volumes hit 133.73 million against previous sessions 120.30 million. The Bank of Punjab (BOP +1.51 per cent) led the volume chart with 11.25 million shares traded. Faysal Bank Limited (FABL +0.85 per cent) was next with 9.56 million shares exchanged and Pak Elektron Limited (PAEL +1.09 per cent) with 9.52 million shares traded.
The Food and Personal Care Sector was the top decliner for the day. The sector lost 4.00 per cent from its cumulative market capitalization. Nestle Pakistan USLimited (NESTLE -5.00 per cent) slipped again to its lower circuit breaker along with Unilever Pakistan Foods Limited (UPFL -5.00 per cent). Rafhan Maize Products Limited (RMPL -4.14 per cent) also depreciated.
The engineering sector added 2.89 per cent to its market capitalization. Ittefaq Iron Industries Limited (ITTEFAQ +5.65 per cent) and Amreli Steels Limited (ASTL +4.33 per cent) came with decent gains.