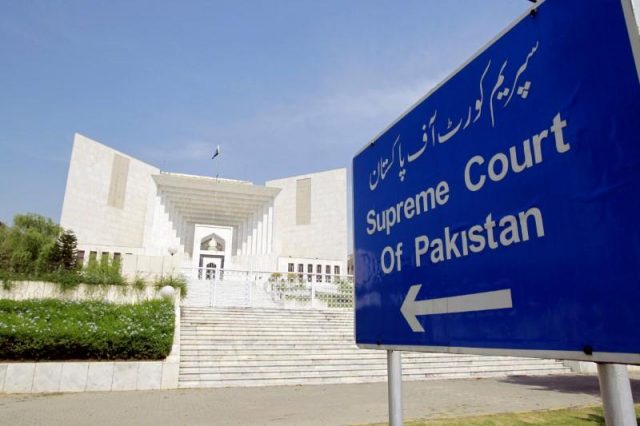 LAHORE: The apex court on Tuesday instructed the finance secretary and State Bank of Pakistan to provide recommendations on how to examine foreign bank accounts and assets of Pakistani national and repair the crippling economy.
A three-member bench headed by Chief Justice of Pakistan Mian Saqib Nasir was hearing the case about foreign bank account and assets on Tuesday and the hearing was attended by SBP Governor Tariq Bajwa and federal Finance Secretary Arif Khan, reported Dawn.
Also attending the SC hearing was Bashir Memon, Director Federal Investigation Agency (FIA).
The bench was apprised by the SBP Governor that there were several impediments to the tracing of foreign bank account due to defective laws and international treaties.
Mr Bajwa told the court new laws had been promulgated to curb smuggling and currently, nobody would be able to transfer money without a banking channel.
Also, the finance secretary told the court treaties with Switzerland and 103 other countries were in process for inspection of foreign bank accounts.
CJ Nisar asked why the governments had been procuring new foreign loans to payback for previous ones and who would pay them?
Furthermore, he grilled about the inability of the previous government to implement steps for curbing smuggling and promoting exports.
CJ Nisar noted all hopes had been affixed to China-Pakistan Economic Corridor (CPEC) and moaned over the lack of availability of clean drinking water in Gwadar.
He added think tanks need to be setup for the economy's restoration and law and justice commission forum was there to assist the government.
The other member of the bench, Justice Umar Ata Bandial said the apex court was not against any tax amnesty scheme of the government and observed it had been futile due to the inability of the previous government.
The DG FIA informed the court Pakistani citizens had invested 4,240 billion UAE dirham in the Gulf nation.
He added around 635 properties of Pakistani's in the UAE had been ascertained by FIA.
The court adjourned the hearing for a month and instructed the finance secretary and SBP governor to provide proposals on how to examine foreign bank accounts and assets maintained by Pakistani nationals.