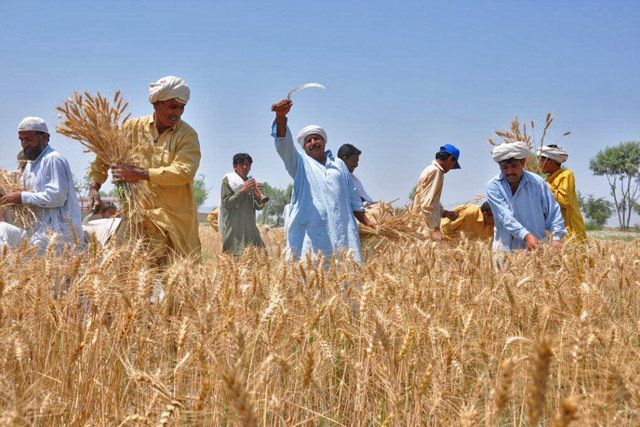 HYDERABAD: A leading farmers body Sindh Growers Alliance (SGA) has called on the government to declare Sindh a calamity-stricken zone because of continuing water shortage which has devasted the agriculture sector in the province.
The farmers have requested the provincial authorities to waive off all taxes which includes irrigation, land revenue and agriculture loans, reported The News.
According to SGA President Nawab Mir Zubair Talpur, farmers didn't have any other alternatives besides tabling this demand before the authorities.
Mr Talpur said water levels in major Rohri and Nara canals had improved but they were still facing 25 percent shortfall as per official reports.
He added the situation in tail-end areas was abysmal, where farmers didn't have any water supply for agriculture, livestock and humans.
SGA president said the water will reach other canal networks after a duration of twenty-days.
Mr Talpur said considering the situation, farmers could have an opportunity to grow rice after a long delay, but the crop yield would be impacted.
He was off the opinion the uncertainty could hit all immediate crops to be cultivated in late summer and upcoming winter, which would pinch the economy.
He added this would put 70 percent of rural population's livelihood in jeopardy since a clear majority of people including men and women are dependent on agriculture directly or indirectly.
The SGA president accused irrigation officials of helping politically influenced people by supplying them water via a direct outlet and denying others their share.
Citing his own example, Mr Talpur said he had prepared 30 acres of land recently to grow chilli and procured hybrid seed by investing Rs300,000 (Rs10,000 per acre), however because of delay in the water supply to watercourses didn't permit him to cultivate a single acre and the entire investment was lost.
Mr Talpur said his family was amongst the major producers of mango but water shortage bit them hard this year.
"The mango loss can be measured from the fact that the previous year my family produced 20 trucks but this year it was 10 trucks only because of smaller the size and lower quality of the fruit," he said.
And the farmers were afraid underground water level in Sindh had dipped to critical levels and wasn't safe for humans, livestock and crops.
Previously, farmers had the alternative of extracting underground water via tube well for saving crops, but that isn't available anymore.
As per projections, it was said River Indus would receive water by end of June for meeting irrigation requirement.
However, now the condition is said to have changed and according to reports, water may not arrive in Sindh before 1st week of July.
The water shortage in Sindh began in January this year to end of this month and is reported to broken previous records which have impacted all the crops and disturbed the cultivation of next immediate crops resulting in billions of rupees losses to the major economy of Sindh.