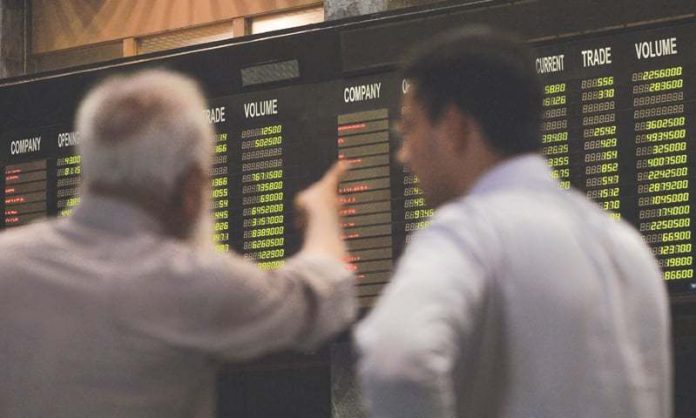 LAHORE: The Pakistan Stock Exchange (PSX) continued to bleed red again on Thursday. Bearish sentiments continued its dominance over the market as Moody's Investor's Service downgraded Pakistan's rating outlook from stable to negative. The top reasons behind this being the decline in foreign reserves to lowest in 3 years without any recovery expected in the near future and the rise in external debt which is expected to increase further.
According to Moody's, the tax amnesty scheme is expected to have only a moderate impact on reserves. Another fear hanging for the economy is the outcome of the meeting of the Financial Action Task Force is scheduled next week.
The KSE 100 Index was seen moving in a downward direction right from the word go. The index nosedived to intraday low of 42,296.07 after loss of a massive 706.77 points before it settled down 644.23 points at 42,358.61.
The KMI 30 index took 855.54 points hit on the day where KSE All index fell by 1.65 per cent. Only 57 scripts advanced while 259 felt the selling pressure and closed negative.
Total market volume was recorded at 241.68 million. K-Electric Limited (-2.48 per cent) contributed 20 per cent of the total as investors exchanged 48.33 million shares. Summit Bank Limited (-1.36 per cent) was far behind with a volume of 21.97 million. Pakistan International Bulk Terminal Limited (9.10 per cent) was next on the list. The script had 16.41 shares traded.
The tobacco sector's total market capitalization depleted by 4.97 per cent. Major players Pakistan Tobacco Company Limited (PAKT) and Philip Morris Pakistan Limited (PMPK) both depreciated to the minimum possible price for the day.
The oil and gas sector chipped off 2.26 per cent from its total cumulative market capitalization. Pakistan Oilfields Limited (POL) ended the day 2.06 per cent in red whereas Oil and Gas Development Company Limited (OGDC) and Mari Petroleum Company Limited (MARI) showed a decline of 0.81 per cent and 1.24 per cent respectively.