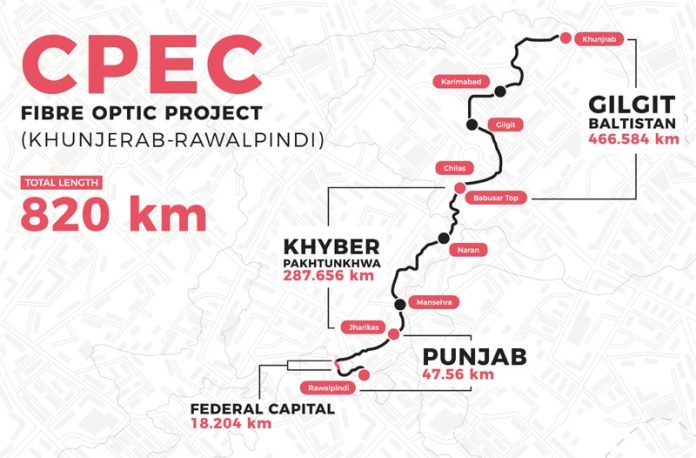 ISLAMABAD: An optic fibre cable connecting Pakistan to China will be inaugurated on Friday which has been laid to provide a direct link between Pakistan, Middle Asia and East Asia.
The inauguration ceremony is set to be attended by Army Chief General Qamar Bajwa, Prime Minister Nasirul Mulk, Chinese Ambassador Yao Jing, Huawei Middle East Region President Charles Yang and Special Communications Organisation (SCO) director general, reported Express Tribune.
The fibre optic cable connects Rawalpindi with Khunjerab at a height of 4,700 metres, making it the highest fibre cable project globally.
The cable will be further extended to Gwadar which will fully connect both China and Pakistan.
This is amongst the only information and communication technology (ICT) project under the China-Pakistan Economic Corridor (CPEC) and is part of the early harvest programme.
The projects total cost is projected at $44 million and 85 percent of the loan has been provided by Exim Bank of China at a discounted rate.
The engineering, procurement and construction (ECP) have been carried out by Huawei and the owner of this project is SCO.
The fibre optic pipeline project commenced in March 2016 and concluded in June this year. The cable extends over a distance of 820 km and has 26 microwave transmission nodes from Rawalpindi to Karimabad and 171 km of aerial fibre cable from Karimabad to Khunjerab as a back-up.
It will provide direct connectivity between Pakistan, Middle Asia and East Asia and reduce the possibility of disruption to international traffic.
Also, the cable would have multiple international links with the new Gwadar landing station to decrease disconnectivity problems.