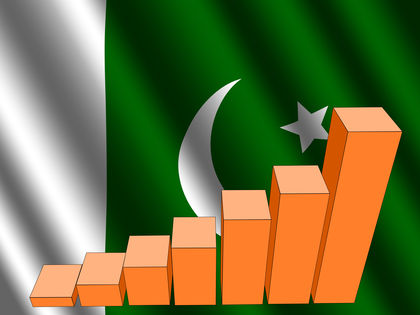 ISLAMABAD: Data released by State Bank of Pakistan (SBP) on Thursday revealed the size of Pakistan's economy was $313.13 billion as per provisional figures.
A weaker rupee had an impact on the gross domestic product (GDP) in dollar terms and the economy registered a 13-year high growth rate of 5.8 percent during FY18, reported Express Tribune.
However, the size of the country's economy in terms of dollars fell as the rupee nosedived against the greenback in four rounds of devaluation since December 2017, with a 5.8 percent growth rate falling to 2.7 percent.
The central bank utilized a period average month-to-month (MoM) exchange rate to determine the GDP, which as per calculation came to Rs108 to a dollar.
Due to further rupee devaluation, the size of the economy would contract more in dollar terms. Presently, the rupee stands around Rs128 against the greenback, as declining forex reserves and an increasing current account deficit create a problem for the country's economic managers.
Last week, the central bank had increased key interest rate by 100 basis points to 7.5 percent, the highest since 2008 to manage rising inflationary pressure in forthcoming months.
For the size of a developing economy like Pakistan, a growth rate of 5.8 percent isn't sufficient to take in the number of job seekers that increase each year.
As per global financial institutions and experts, the country requires around 7 percent growth annually to create enough jobs and arrest increasing unemployment.