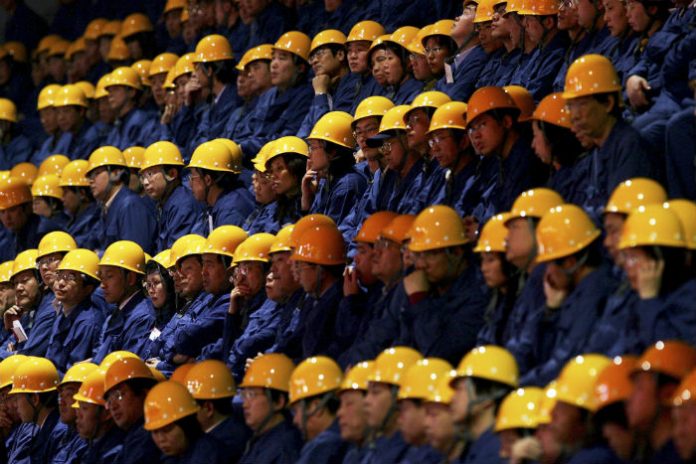 BEIJING: China's state planner on Wednesday vowed to prevent large-scale job losses across the country's economy and keep unemployment below existing thresholds as trade frictions with the United States created uncertainty in the labour market.
At a regular briefing, the National Development and Reform Commission (NDRC) said it would keep the unemployment rate below official targets and step up monitoring of unemployment, and further incentivize migrant workers in cities to return to rural areas to stoke investment in local business.
"The escalating Sino-U.S. trade frictions have brought uncertainties to our country's economic development and especially to employment stability," Ha Zengyou, a senior official at the employment department of NDRC, told reporters in Beijing.
China aims to maintain its urban survey-based jobless rate below 5.5 percent in 2018, while keeping the registered unemployment rate, another official gauge, below 4.5 percent.
Ha said the most important thing in appropriately resolving the impact of the trade friction is to guard China's employment bottom-line. "As a country of 1.4 billion people, we absolutely cannot allow unemployment risks."
China's surveyed jobless rate in June was unchanged from May at 4.8 percent, according to official data.
Many analysts say, however, that the government figure is an unreliable indicator of national employment conditions as it measures only employment in urban areas and doesn't take into account millions of migrant workers.
The state planner said it will step up efforts in luring migrant workers in cities back to rural areas to start their own businesses. This would require state policy banks to resolve "funding difficulties", the NDRC said.
Chinese commercial banks are generally reluctant to offer loans to small businesses, which they view as not sufficiently creditworthy.
NDRC's Ha said several factors would help cushion Chinese jobs from the negative impact of trade tensions. These include the labour market remaining tight and China's capacity to boost domestic consumption and investment demand, with over 560 billion yuan in its unemployment insurance fund.
He also said while China's household income in some regions and industries may suffer in the short term amid structural changes in the economy, the government would implement policies to fend off such risks.
China is looking to consumer spending to drive the economy as it rebalances away from government-driven investment and the export sector.
However, headline statistics suggest the economy was already facing some headwinds in the first half with China's year-to-date retail sales growth slowing to 9.4 percent from 10.4 percent in the first half of last year. The economy expanded at a slower pace in the second quarter, with worrying signs for investment and exporters as a trade war with the United States intensified.
China has set an ambitious goal of doubling household income by 2020 from 2010, and the NDRC said the annual growth of household income would need to maintain at least 4.7 percent to achieve that goal.