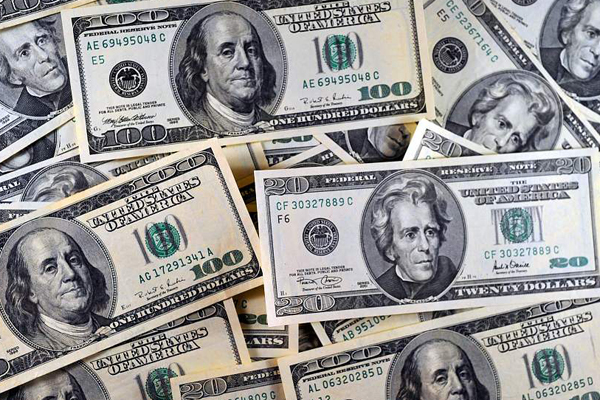 KARACHI: Causing massive losses to the general public as well as overseas Pakistanis, the Rs9 per dollar gap between the buying and selling rates in the open market is a major cause of concern with Eid just around the corner.
In remittances, overseas Pakistanis last year sent home around $2 billion in August just before Eid-ul-Azha. With less than three weeks left in Eid, the general public is susceptible to exchange companies which exploit the general public by taking advantage of the volatility in exchange rates, as inflows grow.
During the outgoing week, currency dealers have been earning Rs7 to Rs9 per dollar by buying US currency as low as Rs114-117 per dollar and selling the same at Rs122-123.
However, the persistently low rupee-dollar exchange rates in the kerb could build up pressure on the State Bank of Pakistan (SBP) to further appreciate the value of the local currency against the dollar as it did last week after July 25 general election, reported Dawn.
While the banks have maintained high rates of dollar throughout the week ended on Friday, the central bank despite being the regulator of the currency market has not interfered in the market.
The SBP depreciated the rupee by over 5pc to Rs128 per dollar on July 16, but the greenback fell back to Rs124 in the wake of steep fall in open market rates after Pakistan Tehreek-i-Insaaf emerged as winner in the 2018 general elections. The scenario did not change; dollar continues to trade lower than the banking rates.
Answering how these currency dealers were earning such high rate of profit on each transaction, a currency dealer revealed that they buy dollars from open market in the range of Rs113-118 and sell them to banks.
"We sell these greenbacks to banks which offer about Rs124 per dollar," said a currency dealer requesting anonymity.
Small-scale currency holders cannot directly sell dollars to banks as they can only buy greenback from foreign currency account holders. Most of the people with small foreign currency holdings do not open foreign currency accounts; thus they have to sell their holdings in the open market.
The representatives for exchange companies, however, deny the allegation of exploitation by all exchanges in the country but do acknowledge that 'some' currency dealers were using this method of buying from the open market and selling to banks for higher profits.
This is one of the reasons that commercial banks' dollar holdings continue to rise each week. SBP's latest data shows commercial banks' foreign exchange holdings at $6.73bn on July 27 this year. Compared to that, bank reserves in foreign currencies were $5.63bn in July 2017, an increase of $1.09bn during last year.