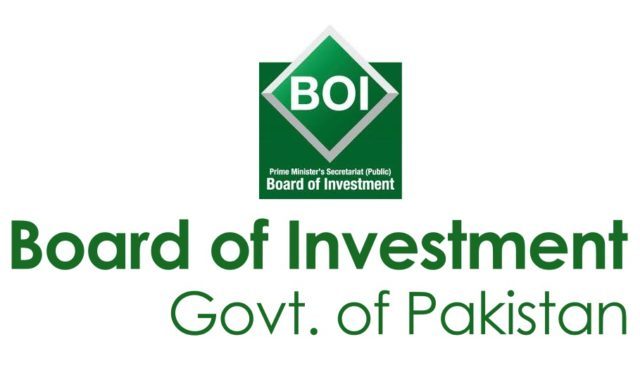 KARACHI: The Board of Investment (BoI) is seeking the business community's assistance in bringing in domestic and foreign direct investment (FDI) and formulating an effective policy which increases productivity and raises the ease of doing business.
On Friday, the BoI Secretary Mohammad Jehanzeb Khan held a meeting with Senior Vice President Mazhar Ali of Federation of Pakistan Chambers of Commerce and Industry (FPCCI) at the Federation House, reports Express Tribune.
On the occasion, BOI Secretary said the business community could play a key role in convincing stakeholders across Pakistan to take advantage of chances with a concentration on value addition.
He added Pakistan's investment policy needs to be framed to enable a friendly environment and concentrating on further opening of the economy and bringing in more FDI.
Mr Khan said the policy formulated requires providing uniform treatment to domestic and foreign investors and this could be reached with support and input of FPCCI.
The BOI Secretary said FPCCI could act as a conduit between the government and the private sector.
During FY18, the FDI posted a meagre increase of less than 1 percent, touching $2.76 billion.
Also, Mr Khan stated BOI is interested in enabling local entrepreneurs to establish industries in Pakistan.
A presentation was made by FPCCI during the meeting which compared the incentives and opportunities Pakistan gives to foreign investors with ones in other countries.
And the BOI secretary stated Pakistan lagged behind in giving business opportunities compared to other countries in the region.
He stressed on the need for frequent consultation and interaction for framing policies which are enticing for foreign investors.
SVP FPCCI said it would frame a draft investment plan 2019 as required by BoI which will assist in knowing the psyche of investors.
Mr Nasir emphasized on a "need to garner Pakistan missions abroad with commercial interest and promote investment opportunities."