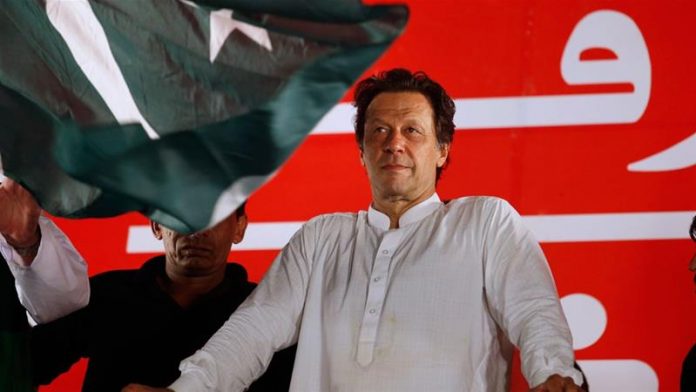 ISLAMABAD: Former cricket star Imran Khan was sworn in as prime minister of Pakistan on Saturday, taking on the challenge of forming a coalition to govern as a currency crisis looms over the turbulent, nuclear-armed South Asian country.
Khan, a firebrand nationalist, won a general election last month promising to fight corruption and drastically reduce poverty among Pakistan's 208 million mostly-Muslim people.
Wearing a traditional black sherwani coat, in the style of his hero and Pakistan founder Muhammad Ali Jinnah, Khan recited the oath of office and vowed to respect the constitution.
"I will bear true faith and allegiance to Pakistan," Khan read from the oath, standing next to President Mamnoon Hussain.
Later, he was given a guard of honour on the lawns of the prime minister's house.
Military coups have punctuated Pakistan's 71-year history, and Khan's election was only the second democratic transfer of power. If he completes his five-year term he will be the first Pakistani prime minister to do so.
His Pakistan Tehreek-e-Insaf (PTI), or Justice Party, holds 151 of the 342 seats in the national assembly, where a vote was held on Friday to decide who would be asked to form a government.
CURRENCY CRISIS
The economy is likely to preoccupy Khan's first few months in office, with his administration facing a battle to reduce a ballooning current account gap and a high fiscal deficit, which shot up to 6.8 percent of GDP in the 12 months to end of June.
To deal with current account pressures Pakistan's central bank has devalued the rupee four times since December, while interest rates have been hiked three times this year.
A sharp increase in oil prices – Pakistan imports about 80 percent of oil needs – has contributed to a current account deficit that widened by 43 percent to $18 billion (£14.1 billion) in the fiscal year that ended June 30.
China has also provided billions of dollars in loans to shore up Pakistan's foreign currency reserves, which stand at just over $10.1 billion – enough to cover two months of imports.
Earlier this week Asad Umar, widely expected to be appointed Finance Minister, told the English-language Dawn newspaper that Pakistan turning to the IMF would be a "fallback option" and that all other possibilities are being explored.