KARACHI: The Sindh Board of Investment (SBI) is assisting companies and investors who intend to invest in Sindh, and is facilitating the implementation and operation of their projects, said SBI Director General, Imran Atta Soomro.
In an exclusive interview with Pakistan Today, Soomro said, "Foreign and local investors are being provided with a wide range of services including information on the opportunities for investment."
The SBI acts as a focal point of contact for prospective investors, both domestic and foreign, and provides a one-stop window to provide all necessary information and assistance in coordination with other government departments/agencies.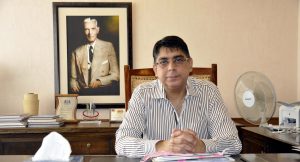 Article continues after this advertisement
He said, "In the future, the Sindh province will emerge as an economic and energy hub in this region." "The immense economic potential of Sindh requires sustained public-private collaboration and sees for itself a pivotal role in building such a relationship. SBI aims to bring public objectives closer to private aspirations," he said.
He further claimed that the vision of SBI is to develop and promote an investment-friendly environment that boosts economic activity, brings value addition to all sectors of the economy and encourages public-private partnership for the socio-economic development of Sindh.
He said that Special Economic Zone (SEZ) is a blanket term for various types of specialised zones with specific types of enterprises operating in a well-defined geographic area where certain economic activities are promoted by a set of policy measures that are not generally applicable to the rest of the country.
He further claimed that different SEZs exist, each with a different set of incentives such as a Free Trade Zone, Industrial Estate, and Industrial Park. Successful SEZs offer immediate access to high-quality infrastructure, uninterrupted power supply, clearly titled land, public facilities, and support services.
In addition, streamlined regulatory enforcement, simple business and establishment rules, expedited customs administration, and other special administrative and approval procedures are also offered in such zones, he claimed.
Keeping in view the great success of SEZs around the world, the Federation of Pakistan has passed the Special Economic Zone Act, 2012. According to the Act, the supervisory authorities for special economic zones shall be the respective boards of investment in the provinces.
He said the Sindh government is giving a one-time exemption from all customs duties and taxes for all capital goods imported into the country for the development, operation and maintenance of an SEZ entity, subject to verification and approval from the Board of Investment. Exemption from all taxes on income generated from the development and operation of the SEZs for a period of ten years, starting from the date of signing of the development agreement.
He further informed that the Sindh government has been working on multiple initiatives to institutionalise Sindh's SEZ entity and to form robust regulatory and an investment-friendly framework for creating an enabling environment and ensure investor protection.
Khairpur Special Economic Zone (KSEZ):
He said that the industry serves as the backbone of any economy and plays an important role in the socio-economic uplift of the people. It has always been the resolve of the Government of Sindh to promote investment in the industrial sector by creating a business-friendly environment.
KSEZ is being developed under the umbrella of SSBI, and is the practical manifestation of this unflinching resolve and commitment. It is the first-ever economic zone of Pakistan being developed under SEZ 2012. Here, the investors will enjoy a tax holiday for ten years and duty-free import of capital goods for one time.
The establishment of the zone will have tremendous impact over the development of not only Khairpur but the whole of Sindh. Khairpur is the single largest producer of dates in Pakistan.
To ensure the ease of doing business, a number of facilities are being provided to the investors at KSEZ. The land at KSEZ is being leased out at a nominal rate of Rs2.5 million per acre which is much less for this prime land.
To ensure uninterrupted power supply, 5MW dedicated feeder has been installed. Also, water and gas connections will be provided to each industrial unit.
He said, "Since the beginning of KSEZ, the response of industrialists and investors has been overwhelming." A number of reputed industrialists have purchased plots at KSEZ like Sachal Foods, Jumani Group of Industries, Venus Pakistan etc. Chinese investors have also shown a keen interest in KSEZ and Sun Tang Technologies Pvt Ltd has established a large plant spanning over 11 acres for steel vessels and furniture."
Korangi Creek Industrial Park (KCIP):
Soomro further informed that the KCIP had been awarded SEZ status on 4 May, 2015, which would be developed on 240 acres of land in sector 38 of Korangi Industrial Area, Karachi. The estimated project cost is Rs3.8 billion. The project is visualised to bring Rs20 billion in direct investment and contribute Rs40 billion to the GDP and generate direct employment for 30,000 individuals.
He informed that the Industrial Park is divided into two zones: a low density zone for industries and a high density zone for commercial sectors. The low density zone will include industrial units of food and pharmaceuticals, garments and textiles, light engineering, packaging and printing, warehousing and logistics. The high density zone will exclusively promote information technology, gems and jewellery and other ancillary and allied sectors.20MW Captive Power Plant to be installed and six companies are shortlisted.
Bin Qasim Industrial Park (BQIP):
The BQIP is spread over an area of 930 acres near Port Qasim, adjacent to the Arabian Sea Country Club, Bin Qasim Town, Karachi.
He said that the estimated cost is Rs9.8 billion. The project is envisioned to fetch Rs50 billion in direct investment, contribute Rs100 billion to the GDP and generate direct employment for 50,000 individuals.
The project has been designed to cater to the needs of medium and large-scale entrepreneurs aspiring to invest especially in the engineering sector and the steel industry of Pakistan. The proposed industrial clusters under the zone include engineering and equipment, chemicals and food, logistics and consumer goods, he added.
Dhabeji Special Economic Zone (DSEZ)– Thatta
Under the China Pakistan Economic Corridor (CPEC), Imran Ata Soomro said, the Sindh government has earmarked 1530 acres of land for DSEZ near Port Qasim industrial area. It is an ideal destination for businesses relocating from China and other countries with the availability of affordable labor, skilled work force and the provision of state of the art infrastructure.
DSEZ to be transformed into an Expatriate Enclave with modern infrastructure and tax incentive package which will include exemption of Custom Duties and Taxes strictly on the import of capital equipment under China-Pakistan Economic Corridor, Soomro said.
Sindh Education City (SEC):
He further informed that (EC project is one of the top most priority projects of the Government of Sindh. The SEC is comprised of 8,900 acres in Gaddap Town. Twenty local and foreign institutions have been allocated land to develop their academic campuses and some have completed their detailed design to commence construction of their campuses.