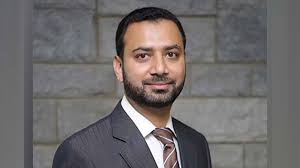 LAHORE: BankIslami on Monday announced that Mr Syed Amir Ali has taken charge as the President and CEO of the bank from 1st October (today), replacing Hasan A. Bilgrami.
In a notification sent to the Pakistan Stock Exchange (PSX) on Monday, BankIslami announced Mr Ali had replaced Mr Bilgrami as the President/CEO of the bank.
Also, the notification said Mr Bilgrami has been appointed as an adviser to BankIslami for a period of three months from October 1st to December 31st, 2018.
In April, BankIslami had announced Syed Amir Ali would be appointed as the new CEO of BankIslami in place of Hasan A. Bilgrami.
Mr Ali had been serving as Deputy CEO from June 2018 and has extensive experience in the corporate and investment banking sector.
He served as the EVP and head of investment banking at Meezan Bank from 2006 to February 2013 before becoming the SEVP & Group Head, Corporate & Investment Banking at Meezan.
Previously, Mr Ali had worked for a year in Shell Companies Pacific Islands as a financial analyst from 2005 to 2006.
Also, he was the head of treasury at Pakistan Refinery Limited (PRL), a joint venture company of Shell from 2002 to 2004.
The new CEO of BankIslami is a chartered accountant by profession and received a gold medal from the Institute of Chartered Accountants of Pakistan (ICAP) besides being a Chartered Financial Analyst (CFA) which he completed in 2009.
He is an alumnus of Hamdard University, Karachi and received his MBA degree in management with a gold medal in 2004.
And Mr Ali is also a member of the prestigious Institute of Chartered Accountants in England and Wales (ICAEW), which he completed in 2012.
BankIslami shares were trading at Rs12.99, up Rs0.10 (+0.78 percent). KSE-100 index was trading at 40,729.53 points, down 269.06 points (-0.66 percent) at the time of filing this report.