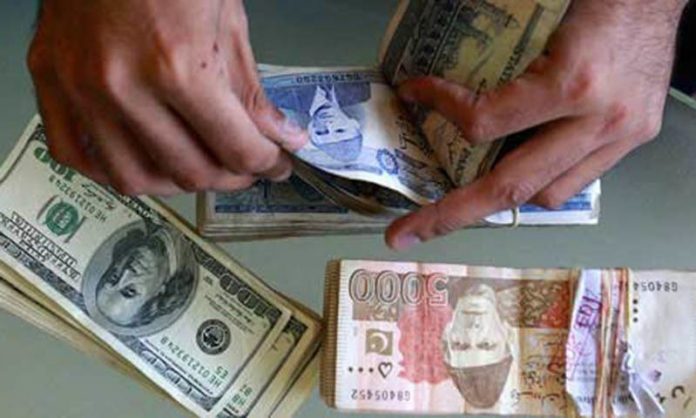 LAHORE: The Pakistani rupee is said to be the cheapest currency in South Asia, according to Renaissance Capital.
In a report shared with Profit, Renaissance Capital says Pakistan's most recent devaluation takes the rupee to just 4 percent below its long-term average rate (1995-2018).
The PKR has never been more than 13 percent weak (PKR147 equivalent) to its real effective exchange rate (REER) average rate since 1995 but may beat that in coming months, Renaissance Capital predicted.
Renaissance Capital considers Pakistan among the three vulnerable emerging markets alongside Turkey and Argentina and one investor told them the IMF is looking for rupee at Rs147 to a dollar – which would take it to a 13 percent discount to the long-term average rate.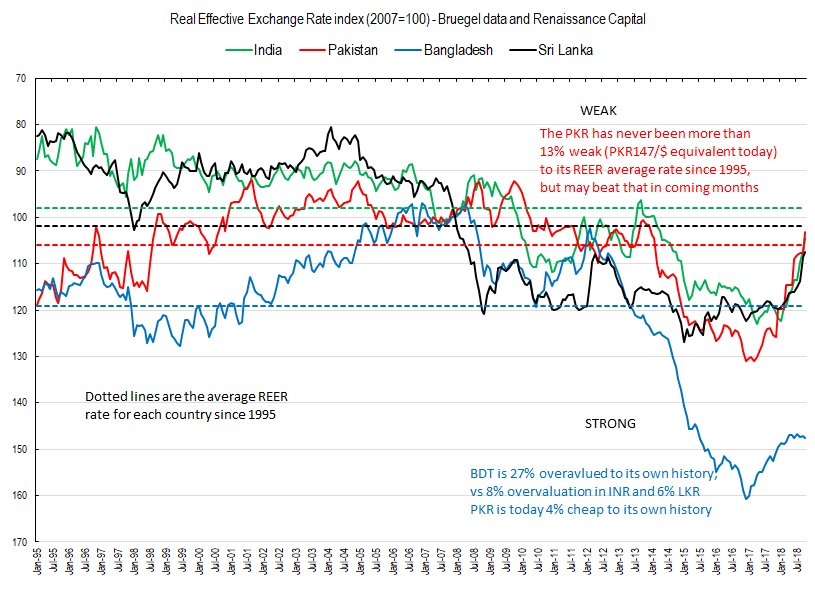 The International Monetary Fund (IMF) has currently projected Pakistan's current account deficit will contract from 5.9 percent of GDP in 2018 (the worst in emerging markets) to 5.3 percent of GDP in 2019 (again the worst in EM).
And these projections from the IMF don't assume an IMF deal, significant fiscal tightening or major currency depreciation, explained Renaissance Capital.
Moreover, the IMF is currently projecting the budget deficit to widen from 5.7 percent of GDP in 2017 to 6.5 percent of GDP in 2018 and 6.9 percent of GDP in 2019.
The report said, "Argentina has a currency that is now 20 percent cheap to fair value, and the IMF assumes this will already help reduce its current account deficit from 4.9 percent of GDP in 2017 to 3.7 percent of GDP in 2018 and 3.2 percent of GDP in 2019."
However, Renaissance Capital believes to reach Argentina's level of undervaluation would require the PKR to go around Rs160 to a dollar.
It cautioned, "Turkey has a currency that is about 40 percent cheap to its long-term average, and the IMF assumes the CA deficit will shrink from 5.7 percent of GDP in 2018 to 1.4 percent of GDP in 2019.
To get to this extreme level, would require the PKR to weaken to around Rs210."
Moreover, Renaissance Capital said the rupee has never been weaker than Rs147 per $ – which is the equivalent level that their model told the PKR got to in September 2001.
"It may be just coincidence that this is the figure flagged to us as what the IMF is looking for," it added.
It explained amongst its export peers including India, Sri Lanka and Bangladesh, the Pakistani rupee is already the only currency out of the four to be undervalued relative to its long-term history.
It predicted that the rupee will settle at around Rs140 per dollar (best case) to Rs160 per dollar and beyond Rs160 per dollar would be their worst-case scenario – e.g. if IMF talks were to fail.
It concluded that rising oil prices will hurt Pakistan and it expected Fitch to downgrade Pakistan from B to B- (in line with Moody's B3, S&P still has Pakistan on B).
On Tuesday, the central bank had allowed the rupee to depreciate by a record 7.5 percent or Rs9.371 against the dollar.
This was the fifth devaluation of the rupee since December 2017, which has seen the local currency losing a cumulative 27 percent of its value against the greenback.
A report published by World Bank on Sunday said despite a modest rebound recently, there was a 10 percent depreciation compared to the beginning of the year and a 14 percent depreciation compared to one year before.
According to reports, IMF and Pakistan had disagreed over the exchange rate parity, as the State Bank of Pakistan (SBP) believed the exchange rate of Rs 137 to a US dollar by end of the current financial year 2018-19 would be enough to address the challenges.
According to sources, IMF's determination was to the contrary and they wanted the rupee to be traded above Rs 145 to a dollar.
Pakistan has been facing a crisis on the external front, with burgeoning trade & current account deficits and depleting foreign exchange reserves.
Pakistan's gross external financing requirement has been projected at $22-25 billion for the current financial year FY19.