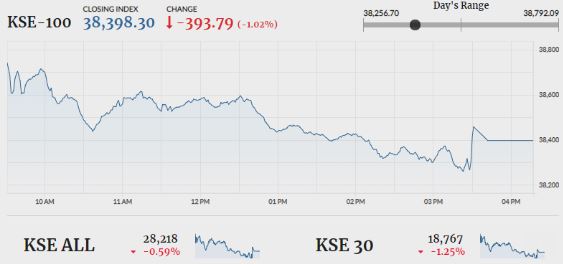 LAHORE: Volatility returned to the Pakistan Stock Exchange (PSX) after two calm sessions. Low investor confidence was not limited to PSX but was seen across major markets. While world markets were hit by rising US interest rates, trade war tensions and reports of increasing crude oil prices the local market was also worried about dwindling reserves, political noise and devaluation of currency. The finance ministry formally submitted a requested to the International Monetary Fund (IMF) for assistance on Thursday.
Foreign investors preferred to liquidity positions now standing with a net outflow of a massive US$ 426.86 million within a year's time where the benchmark KSE 100 index swung between 47,144.12 and 37,736.73. Commercial banks were worst hit by the foreign selling followed by the oil and gas exploration sector.
The KSE 100 index hovering around its 52-week low traded red all day long. The index deteriorated to intraday low of 38,256.70 with loss of 535.39 points and closed 393.79 points negative at 38,398.30.
The KMI 30 index plunged 812.76 points to 65,253.72 while the KSE All Share Index lost 166.72 points. A total of 200 scripts declined and 101 managed to stand their ground closing positive.
The total volumes traded fell to 134.604 million with blue chips at the centre of investors' interest. The KSE 100 index scripts had 84.712 million shares exchanged hands. TRG Pakistan Limited (TRG -3.38 per cent) led the volume chart with 12.02 million shares traded. The management reported a loss per share of Rs 0.40 against earnings per share of Rs 0.01 in FY17.
Amongst other major news were numbers of automobile sales. The sector witnessed its worst quarter since 2013 whereby sales decreased 4 per cent. Macroeconomic environment, budget reforms and the impact of currency devaluation were evident in this sector too.