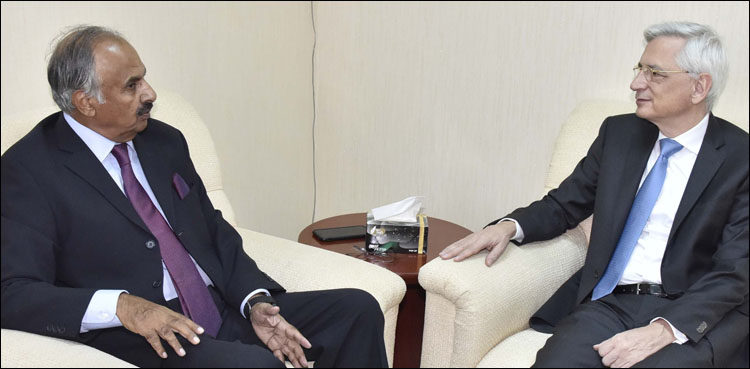 Envoy says French language institutes will open soon in Peshawar, Faisalabad and Karachi
ISLAMABAD: Senate Standing Committee on Defence Production Chairman Senator Lt Gen (r) Abdul Qayyum on Friday said Pakistan appreciates and welcomes French endeavours to increase investments in the country which is the sixth most populous of the world.
The senator, during a meeting with French Ambassador Marc Barety, also welcomed the French decision to participate in the forthcoming Asian Parliamentary Assembly's standing committee on political affairs meeting being held in Gwadar on October 29-30, 2018.
The French ambassador said that France supports Chinese Belt and Road Initiative (BRI) concept and is ready to invest in the subsequent phases of the China-Pakistan Economic Corridor (CPEC) provided balance and transparency is ensured.
He said France investments in Pakistan will be enhanced in due course of time, adding that about 40 French companies including Engie, Total and Sanofi are doing successful business and France was keen to enhance the bilateral trade which was presently 1.4 billion Euros.
He said that France and Germany were planning joint cultural events in Islamabad, Lahore, Karachi and Peshawar which are being held with desired freedom keeping in view the tremendous improvement in the security situation of Pakistan.
France is also opening French language institutes in Peshawar, Faisalabad and Karachi, said the ambassador.
The envoy showed a keen interest in investing in the defence sector, but showed concern that three tenders for radars, submarines and mobile bridges were awarded to USA, Turkey and China respectively.  However, the senator assured him that the procedures followed were transparent.