Tarek Hamdy knows his way around a construction site. The Cairo native is an experienced electrical engineer with degrees from Cairo University and the Sorbonne in Paris, and nearly three decades of experience in engineering and managing construction projects around the world. He has supervised the construction of airports, utilities, as well as a host of commercial and real estate projects around the world.
But now, his job is even more ambitious: to guide the construction of an entirely new city: a $2 billion real estate development that will effectively become a new suburb of Islamabad.
Hamdy works as the CEO of Eighteen, an ambitious real estate project that will be the Pakistan flagship project for Orascom Construction Industries, a publicly listed Egyptian construction company owned by the Sawiris family, the richest family in Egypt. The project is a joint venture with two Pakistani partners: the Saif Group, the industrial and real estate conglomerate owned by the Saifullah Khan family of politicians and businessmen, and the Kohistan Group, an Islamabad-based conglomerate.
Collaboration between the Khans of Marwat and the Sawiris goes back over 15 years, when the Sawiris bought out Motorola's share in Mobilink and became joint venture partners with the Khans in what by then had become (and remains) Pakistan's largest mobile telecommunications company.
"The project has been named Eighteen after the 'Eighteenth district' of the Twin Cities [of Rawalpindi and Islamabad]," said Hamdy, in an interview with Profit. "The development is about 10 kilometres from the new Islamabad Airport and 15 kilometres from the heart of downtown Islamabad. It's on main Kashmir Highway, which makes it a wonderful location."
The company appears to be committed to making helping the project become successful, as is evident by their hiring of Hamdy, a highly respected executive who has previously served as the general manager of Schreder Lighting in Belgium, the managing director of Technolite  in France, and the managing director for IMS, a subsidiary of the M.A. Kharafi Group of Kuwait. In late 2000, Hamdy was appointed the CEO to lead the development of Hail Economic City (KSA) for ALMAL Investment Company.
He has also been involved with city planning projects in Glasgow (Scotland), working directly with the UK's Built Environment Foundation. For a number of years, he has been on board of the His Royal Highness Prince Charles Charities Foundation, as a special project director for the Middle East.
Hamdy was born in Cairo, Egypt and obtained a degree in electrical engineering from Cairo University followed by a post-graduate certificate with Sheffield Hallam University and an MBA from the Sorbonne in Paris. He is fluent in English, French, Italian and Arabic.
The vision for Eighteen appears to be the construction of a large suburban development focused on people who want to live close enough to Islamabad to be able to commute to work there every day, but also want to come home to a luxurious, green development, preferably with close proximity to a full 18-hole golf course.
The 600-acre development will only have about 96 acres of built-up area or about 16% of the total, but over 210 acres (or about 35% of the total size of the development) will be dedicated to a full 18-hole golf course. The developers are assuming that there are enough people who either currently live, or want to live near Islamabad who love golf enough to want to be able to play a round of golf every day and are willing to base their decision on where to live on the basis of proximity to a golf course.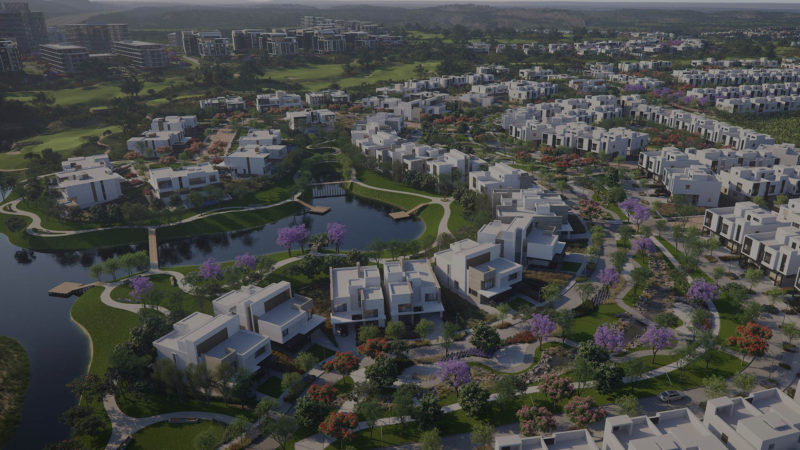 The residential part of the complex will have 2,200 housing units, with the houses varying in size from 20 square yards to 1,000 square yards. There will also be apartments, ranging from studios to four-bedroom units.
Building a large development in Pakistan, however, comes with its own challenges. Developers cannot expect the government to provide the full array of infrastructure that is often taken for granted in more developed economies, though in the case of this development, the government appears to have agreed to provide at least some assistance with infrastructure.
"The government has granted a cloverleaf interchange at the old Islamabad toll plaza on the motorway link road from our development," said Hamdy. "This cloverleaf will be built within two to three years and will divert the traffic onto a very nice service road, 56-metres wide allowing easy access to visitors and residents."
Eighteen has also received approval for a gas connection for the development from the state-owned gas utility company, Sui Northern Gas Pipelines (SNGP).
Other parts of the infrastructure, however, require investment on the part of the developers themselves. Most notably, for instance, the development has to create its own 32-megawatt power plant to serve the community, owing to the lack of reliable electricity supply in most cities in Pakistan, barring perhaps Karachi. Yet, ironically, in order to build their own power plant, Eighteen needed to get permission from the local state-owned electric utility company, the Islamabad Electric Supply Company (IESCO).
In addition, the developers had to put in their own fibre optic cable for telephone and internet connections. And, critically in a country with a severe water shortage, they have had to invest in building their own water treatment plant to handle both the development's water supply as well as sewerage system. For water supply, the development will be dependent on ground-water at a time when the water table in the Islamabad metropolitan area is already severely depleted. Hamdy, however, believes they have a plan that could work.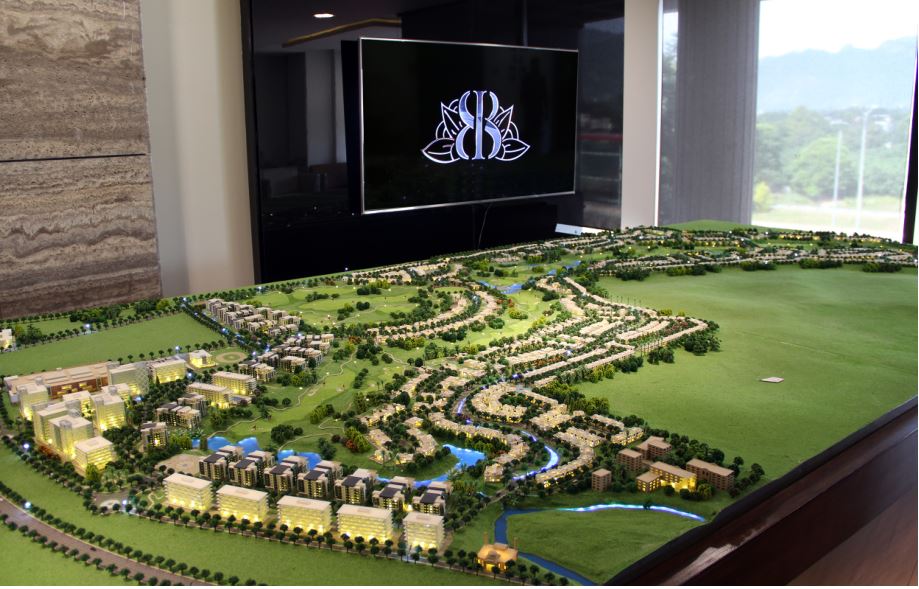 "The twin cities receive a metre of rain per year and with our land size sitting at two point seven million square yards, the annual rain reserve would, therefore, stand at two point seven billion litres of water," said Hamdy. "We will be building dams and utilising reservoirs in addition to many water wells. The irrigation system, on the other hand, is being designed by a renowned international based firm, Rembrandt."
And in a bid to address a concern that is somewhat peculiar to a developing economy like Pakistan, the Eighteen management is keen to highlight the fact that buyers in the development will receive the title deed to their property, an attraction considering the fact that in most urban areas of Pakistan, land tends to be traded on long-term leases, not outright ownership as represented by a title deed.
The development is not entirely residential, however. In addition to the golf course and the houses and apartments, there will also be a retail area called the Square, in addition to an office area that will provide 13 buildings for office space for companies and other organisations that want to base their operations in a quieter setting than the Blue Area in Islamabad.

"We did our soft launch in December 2017, after receiving an NOC [no-objection certificate] from the RDA [Rawalpindi Development Authority] in November 2017," said Hamdy. "March 2018 marked our commercial launch, earthworks were initiated in February 2018, and the construction package was awarded in May 2018. The complete delivery and project lines stand within six years. The first phase will be completed in three and a half years with the payment plan standing at four years. This basically shows our commitment to our customers and the willingness for us to deliver on our promise. By the first quarter of 2019, stakeholders will start seeing grey structures on-site and that is when our customers will start seeing higher returns on their investment."